The house at 1321 Sheldon Street in Suffield, Connecticut, around 1935-1942. Image courtesy of the Connecticut State Library.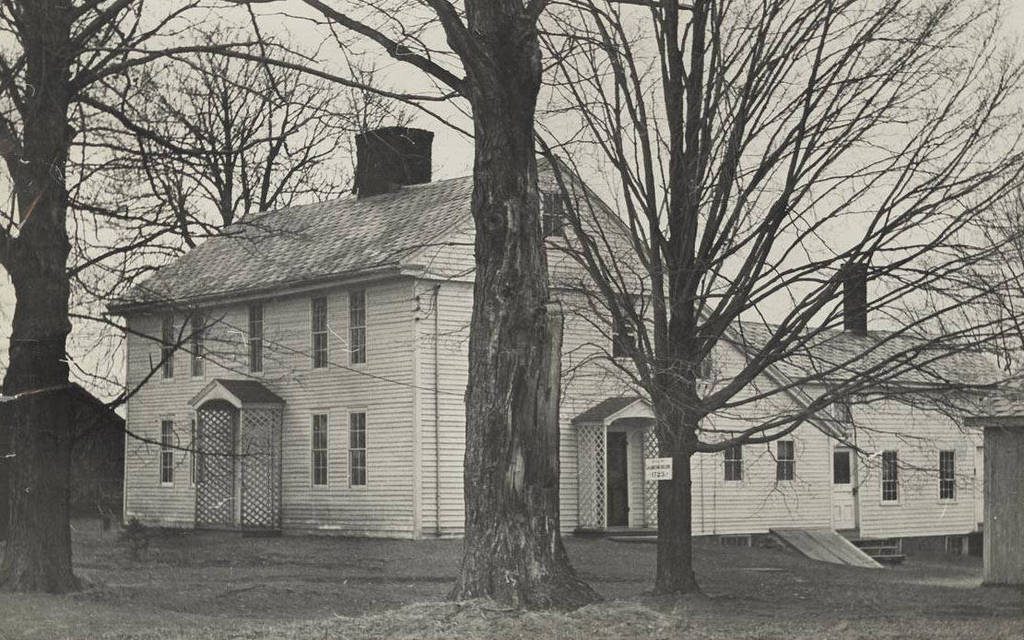 The house in 2017: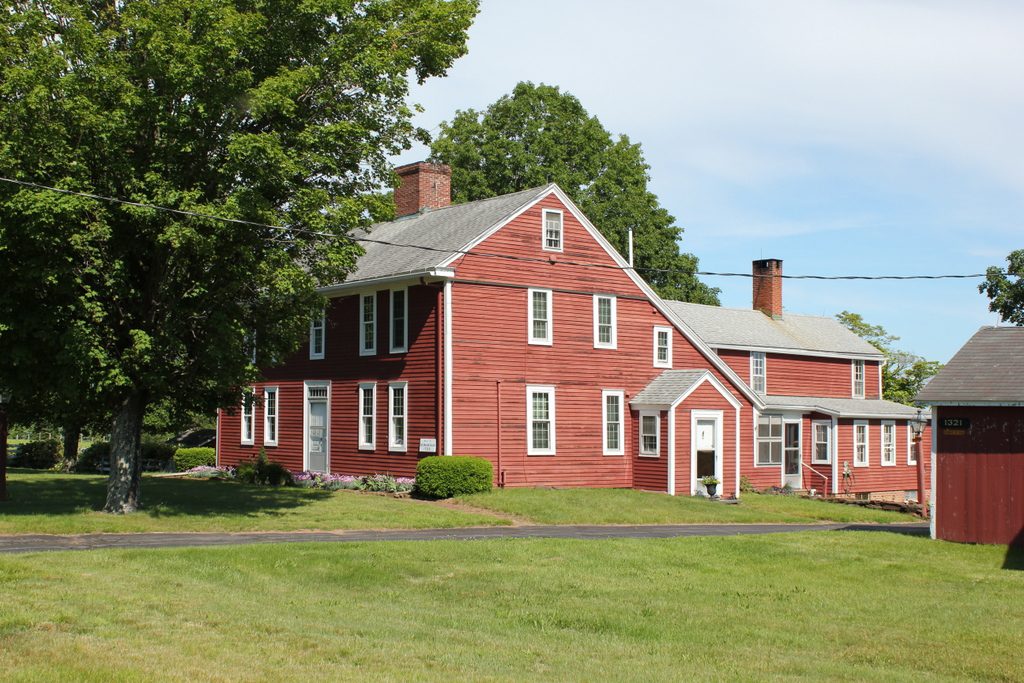 According to some sources, this saltbox-style house is the oldest in Suffield. There are a few other houses in the town that could be older, but this seems to be the oldest one with a verifiable construction date. It was built in 1723 for Captain Jonathan Sheldon, who moved here from Northampton, Massachusetts after purchasing 1,100 acres of land here in West Suffield. He became a leading resident of Suffield, including serving as a town selectman, and he and Mary had a total of ten children, three of whom were born after their move here.
Captain Sheldon built homes for five of his sons along this road, which came to be known as Sheldon Street. He and Mary lived here for the rest of their lives, until her death in 1768 and his death the following year, and their son Gershom inherited the property. Gershom's son Ebenezer later owned the house, making him the third and last generation of the Sheldon family to live here. He was a veteran of the American Revolution, serving as the captain of a company of militiamen, and he owned the house until 1800, when he sold it and moved to Ohio.
The next owner was Isaac Owen, another officer from the American Revolution. He was an ensign at the Battle of Saratoga, and was later promoted to captain before the end of the war. Along with this, he represented Suffield in the state legislature in 1781 and 1782. By the time he purchased this house from Ebenezer Sheldon, he and his wife Zerviah were in their mid-60s, and they lived here until their deaths in 1816 and 1817, respectively. Their son Benajah then inherited the property, and he owned it until the 1820s.
The house was already over a century old when Gustavus Austin purchased it around 1829, and after his death in 1855 his son, Thomas Jefferson Austin, inherited the property. During the 1860 census, Thomas was living here with his wife Charlotte, their children Charles and Nellie, and his mother Lydia. The family also employed a farm laborer and a domestic servant, both of whom lived here, and the property was valued at $10,000, plus another $5,000 for Thomas's personal estate.
Thomas died in 1891, and his son Charles inherited the property. He sold it in 1901, a year after his mother's death, and in 1904 it was purchased by Christopher Michel, a tobacco farmer who lived here with his wife Eunice and their two children, Frances and Phillip. He and Eunice were still living here more than 30 years later, when the first photo was taken as part of the WPA architectural survey of historic buildings in Connecticut. Despite being over 200 years old at this point, the exterior was still well-preserved, and survey noted that the interior of the house was original, while also describing the house as having a "wonderful setting" that "overlooks valleys and hills."
About 80 years after the first photo was taken, the setting has not changed much. Overall, the town of Suffield has changed considerably, going from a farming community to an affluent suburb midway between Hartford and Springfield. However, this house still stands as an excellent early 18th century saltbox home, and the property remains an active farm. In 2007, the town purchased the development rights of the 36-acre property, ensuring that this nearly 300-year-old farm continues to be used for agricultural purposes for many more years.