The house at 127 Mulberry Street in Springfield, around 1938-1939. Image courtesy of the Springfield Preservation Trust.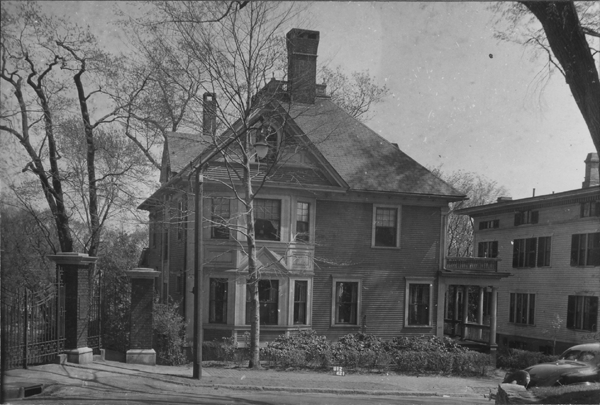 The house in 2017: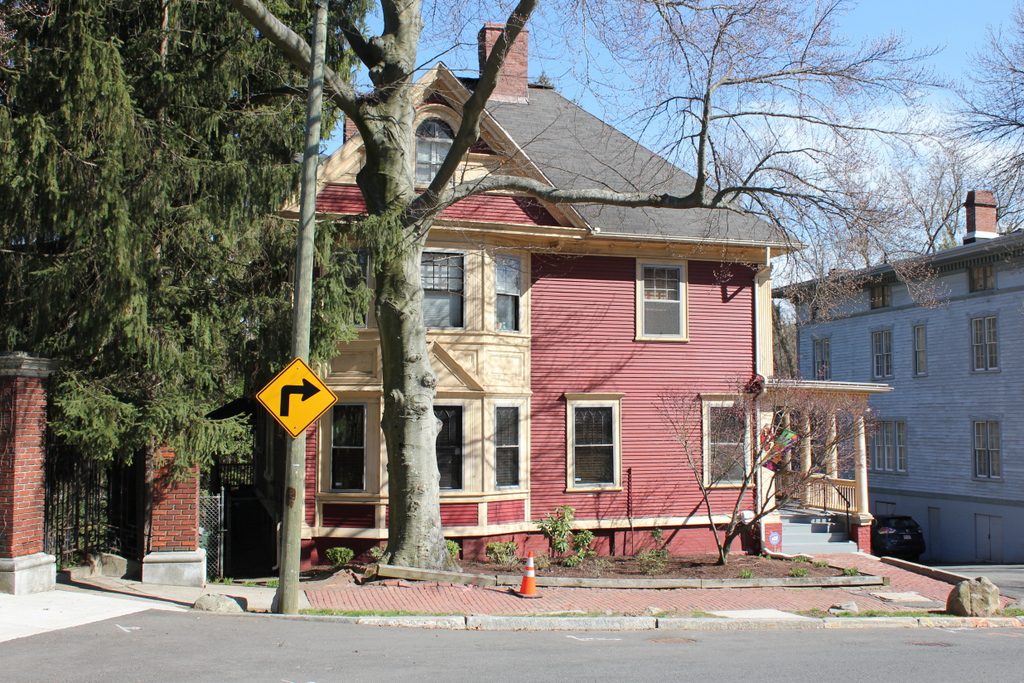 This house was built in 1894, and it is located where Mulberry Street makes a sharp turn next to Springfield Cemetery. It was originally the home of Mary A. Chapman, a widow who was in her late 40s at the time. She lived here with her three children, Temple, Grenville, and Heloise. All three were in their 20s during the 1900 census, and Temple worked as a mine manager while Grenville worked as a bank bookkeeper. Mary was living here as late as the 1909 city directory, but by 1910 the house was owned by George D. Chamberlain, an accountant who lived here with his wife Ellie and their four children, Emily, Sydney, Eleanor, and Rodger.
Chamberlain was originally from Troy, New York, but later came to Springfield. Here, he held a number of different positions, including working in the paymaster's office at the Armory, as an auditor for the Connecticut River Railroad, and as treasurer of the Warwick Cycle Manufacturing Company. He also worked in the publishing industry, and from 1898 to 1901 he was the publisher and editor of Good Housekeeping. By the time he moved into this house, he was just beginning a career in politics. From 1907 to 1908 he served on the city council, and from 1909 to 1912 he was on the board of aldermen. He then entered state politics, serving as a state representative from 1913 to 1916, as a state senator from 1917 to 1928, and as a member of the governor's council from 1929 to 1933.
George and Ellie lived in this house until the late 1920s, and by 1929 it was the home of James G. Gilkey, the pastor of the South Congregational Church. A graduate of Harvard and Union Theological Seminary, Gilkey became the pastor of the church in 1917 and went on to serve in that role for the next 38 years, until his retirement in 1955. During this time, he also wrote a number of books, mostly on theology, along with a 1942 book commemorating the 100th anniversary of the South Congregational Church.
James Gilkey was living in this house when the first photo was taken in the late 1930s, along with his wife Calma and their children, Gordon, Margaret, and Edith. They remained here until the early 1950s, and the exterior of the house has been essentially unchanged since then. The surroundings have also remained the same, including the cemetery fence on the left and the house on the right, and even the tree in the front is still there. The rest of the neighborhood is also well-preserved, and today it forms the city's Ridgewood Local Historic District.