The house at 67 Mulberry Street in Springfield, around 1938-1939. Image courtesy of the Springfield Preservation Trust.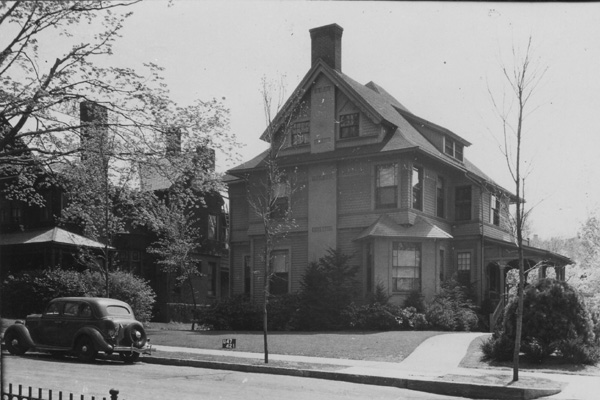 The scene in 2017: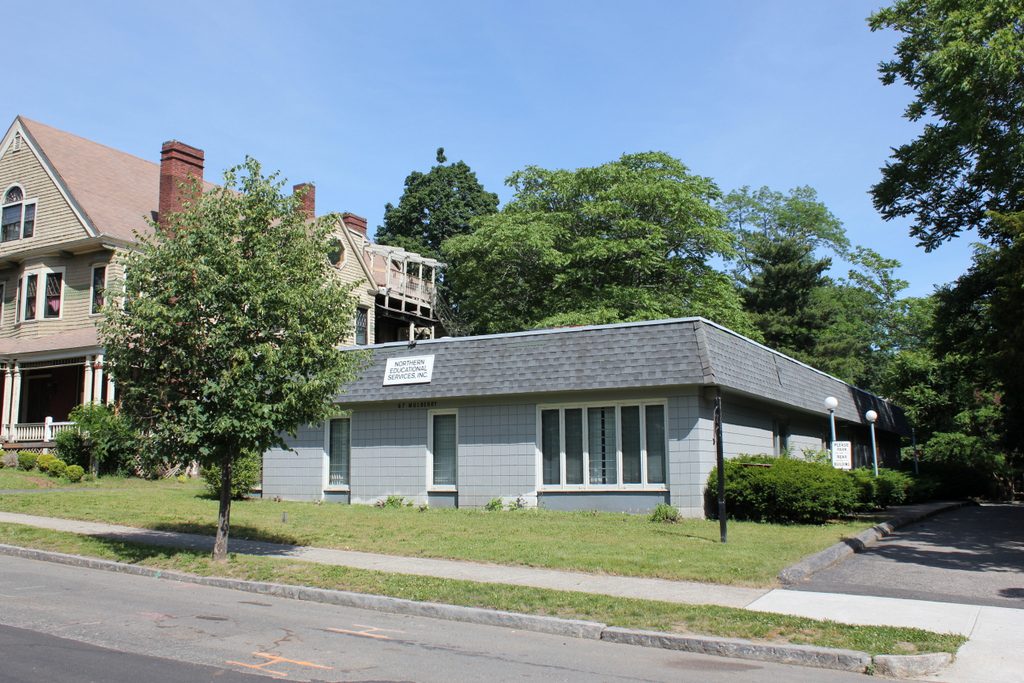 This house was built in the early 1880s for Homer Foot, Jr., the son of prominent local hardware store owner Homer Foot. The older Homer had begun his career in 1825, as a 14-year-old clerk in the old Dwight store at the corner of Main and State Streets. By the time he was 21 he had purchased the business, and he would go on to have a long career as one of the city's leading merchants. The younger Homer was one of ten children, and he grew up in his father's mansion at the corner of Maple and Central Streets. He married his wife, Katherine Bailey, in 1863, and three years later he became a partner in his father's company, after having worked as a clerk for some time.
Homer and Katherine previously lived nearby on Union Street, but in the early 1880s they moved into this house, along with their three sons: Homer, Russell, and Augustus. By the 1900 census, their two older sons had moved out, but Homer and Katherine were still living here with Augustus, as well as two Irish-born servants: Margaret Mulrone Mary Sullivan. Katherine died five years later, but Homer was still living here during the 1910 census, along with both Margaret and Mary, and he would remain here until his death in 1917.
The house does not appear to have been listed in the 1920 census, but by 1930 it was owned by Mabel B. Moore, a 54-year-old widow who lived here with her son Robert and daughter Louise, plus a roomer, a cook, and a maid. However, within a few years Mabel had moved to a nearby house at 87 Mulberry Street, and for most of the 1930s this house was the home of another widow, Louise B. Emerson, who lived here with her son Richard and her niece, Fanny R. Childs. However, like many of the other 19th century mansions in the area, this house subsequently became a rooming house, with the 1940 census listing 12 tenants. Half of them were over the age of 60, and and there were only two married couples in the group, with the rest being either single, widowed, or divorced.
Many of the elegant mansions along Mulberry Street have since been restored and are now single-family homes once again. However, this house continued to be used as a rooming house into the late 1960s, and it was eventually demolished by 1970 and replaced with a small, nondescript office building that now stands on the site.