The house at 87 Mulberry Street in Springfield, around 1938-1939. Image courtesy of the Springfield Preservation Trust.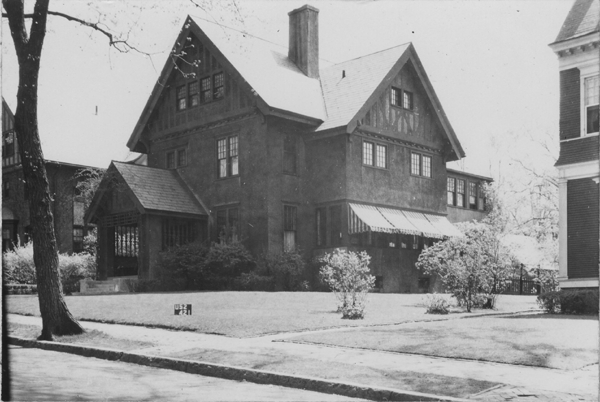 The house in 2017: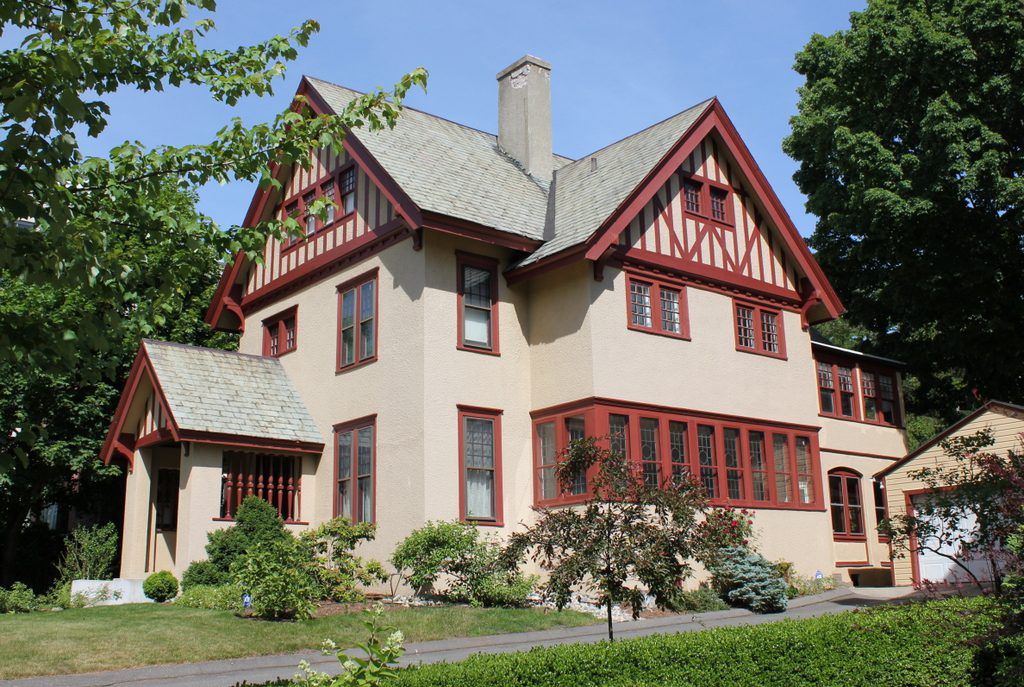 This house underwent a significant exterior renovation in the early 20th century, but it actually dates back to 1870, when it was built with a Second Empire-style design that included a clapboarded exterior, a mansard roof, and a bay window on the right side. It was originally the home of Nehemiah A. Leonard, a New Bedford native who came to Springfield after graduating from Brown University in 1848. Here, he studied law under George Ashmun, a Congressman who was one of Springfield's most prominent lawyers. After being admitted to the bar in 1851, Leonard joined Ashmun's firm as a partner, and went on to have a successful legal career.
Early in his time in Springfield, Leonard met Clara T. Chapman, the daughter of one of George Ashmun's friends. He and Clara married in 1854, and for many years they lived in rented houses in the city. However, in 1870 they built a house of their own here in Mulberry Street, in what was at the time one of the most desirable residential areas of the city. That year's census listed Leonard's real estate as being worth $12,000, along with another $1,000 for his personal estate, and he and Clara lived here with their three young daughters: Mary, Anna, and Katharine.
In the course of Leonard's law practice, one of his most important clients was the Connecticut River Railroad, which ran north from Springfield to the Vermont state line in Northfield and connected Springfield with Holyoke, Northampton, Greenfield, and Vermont. He worked closely with the railroad's president, Daniel L. Harris, who also lived in Springfield, and Leonard took over as president after Harris's death in 1879. Leonard remained the president of the railroad for the next eleven years, until his death in 1890, and three years later the line was acquired by the much larger Boston and Maine Railroad.
During this time, Clara Leonard became a prominent social reformer who was the founder and president of the Hampden County Children's Aid Society, as well as secretary of the Springfield Home for Friendless Women. In the 1870s, she led a campaign to reform the state prison system, advocating for separate prison facilities for female convicts. Her efforts were successful, and in 1874 Massachusetts became only the second state to establish women's prisons.
Then, in 1880, Governor John D. Long appointed Clara to the state Board of Health, Lunacy, and Charity. She was the first woman on the nine-person board, and was still serving when Long's successor, Benjamin Butler, became governor in 1883. Unlike Clara Leonard and Long, Butler was a Democrat, and he sought to fill the board with as many political allies as possible. As Clara's term was not yet expired, he tried several different ways of removing her, first by offering her the recently-vacated position as superintendent of the women's prison. It was a lucrative job offer, with a salary of $2,500, but she sensed his true motives and declined, choosing instead to remain on the board, and Butler then filled the superintendent position with another Clara: Red Cross founder Clara Barton.
Unable to entice her with a well-paying government job, Governor Butler next tried to remove her through legal semantics. Under state law, the Board of Health, Lunacy, and Charity was to have nine persons on the board. He argued that, since a woman was not a person in the legal sense, the phrase "nine persons" could only mean nine men, thus making Clara ineligible to serve on the board. He went as far as to appoint her replacement to the board, but the Massachusetts Supreme Judicial Court ultimately resolved the linguistic dispute, unanimously ruling that Clara was, in fact, a person, and was therefore eligible to serve on the board.
During Governor Butler's single one-year term as governor, he and Clara Leonard were also involved in a public dispute over the state almshouse in Tewksbury. Early in his term, Butler had tried to make it a political issue, arguing that the almshouse received too much state money. He claimed that the facility was poorly managed and unsanitary, and accused the superintendent and other officers of embezzling funds, abusing inmates, and even selling dead bodies to medical schools for personal profit. However, Clara Leonard was familiar with the almshouse and, along with the rest of the board, was skeptical of these accusations. She made an unannounced visit to inspect the conditions, and her subsequent report refuted nearly all of the governor's claims, while also arguing that the facility needed more state funding, rather than less.
Clara's report was well-received by the general public, and undermined some of the governor's credibility. It may have even been a factor in Butler's defeat for re-election in the fall of 1883, when he lost by a narrow margin to George D. Robinson, a Republican Congressman from Chicopee. Robinson would go on to serve three terms as governor, and during this time he reappointed Clara to another five-year term on the Board of Health, Lunacy, and Charity. However, she would only serve until 1886, when she resigned because of poor health.
After Nehemiah's death in 1890, Clara continued to live here in this house until her own death in 1904. She later became the subject of a biography written by her daughter Katharine, which was published in 1908. In the meantime, her family sold this house to Mary P. Colburn, a widow who lived here for a few years before selling the house to Richard Hooker in 1913. Before moving in, however, Hooker had the house significantly expanded and remodeled. He hired the local architectural firm of Kirkham & Partlett for the renovations, which included replacing the mansard roof with a cross-gabled one, covering the exterior walls in stucco, and building an addition to the house.
Richard Hooker was the grandson of Samuel Bowles, the prominent editor of the Springfield Republican, and after graduating from Yale in 1899 he joined the staff of the newspaper. From 1904 to 1911 he was the newspaper's Washington correspondent, where he worked during the administrations of Theodore Roosevelt and William H. Taft. Both men offered Hooker the position of White House press secretary, although he declined these offers. He would later decline several offers from Woodrow Wilson as well, including the position of assistant secretary of the treasury and assistant secretary of the navy.
Shortly after his 1910 marriage to Winifred E. Newberry, Hooker became the literary editor of the Republican, and they moved into this house a few years later. In 1915 he became the the newspaper's editor after the death of his uncle, Samuel Bowles, and he held the position until 1922, when he resigned because of poor health. However, he remained affiliated with the Republican, serving as president of the Republican Publishing Company and in 1924 he published a book that chronicled the newspaper's first hundred years.
Richard and Winifred had four children: Richard, Sarah, Mary, and Arthur. The family lived here in this house until around 1930, when they moved to Longmeadow, and they subsequently rented this house to Mabel Moore, a widow who lived here with her daughter Louise and Louise's two young children. They were living here when the first photo was taken in the late 1930s, and at the time Mabel was paying $100 in rent while also employing three live-in servants: a butler, maid, and nurse.
Mabel later purchased the house from Richard Hooker in 1945, and she lived here until her death in 1961, at the age of 86. Since then, the exterior of the house has seen few changes. There is hardly any trace of its original 1870 design, but it retains its post-1913 appearance, and it stands as one of many well-preserved historic homes in the area. Along with these other homes, it is now part of the city's Ridgewood Local Historic District.