The house at 75 Mulberry Street in Springfield, around 1938-1939. Image courtesy of the Springfield Preservation Trust.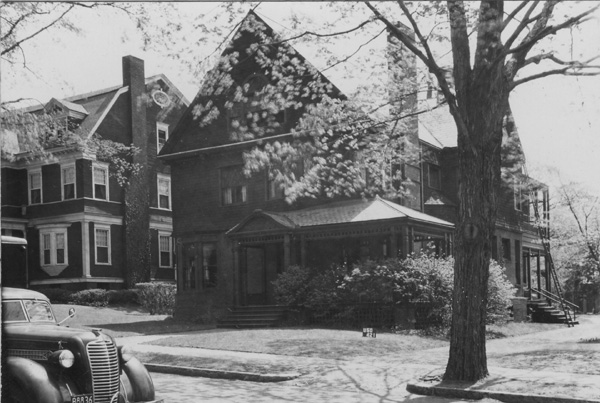 The house in 2017: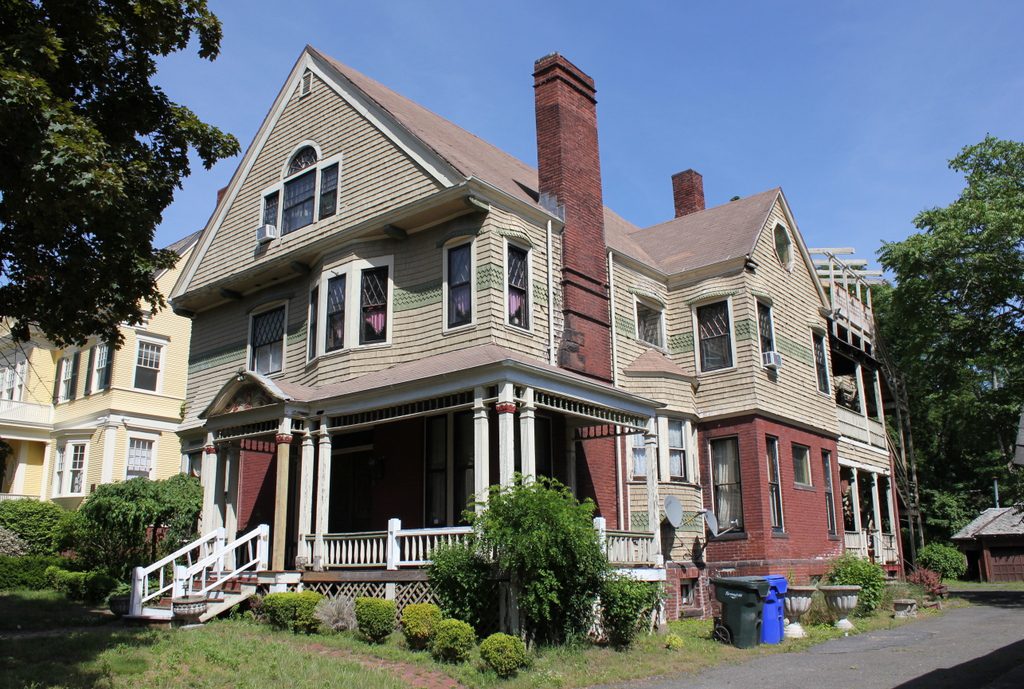 This house was built in 1889 for Edmond H. Smith, a tobacco dealer with the firm of Hinsdale Smith & Company. His father, Hinsdale, had entered the tobacco business as a young man in 1840, and Edmond subsequently joined the firm as a partner, along with his cousin, Enos Smith. He and Enos took over control of the company after Hinsdale's death in 1893, and by the early 20th century it was a major producer of tobacco, with locally-grown tobacco from its farms in Feeding Hills in addition to imports from Sumatra and Havana.
Edmond married his first wife, Annie Parker, in 1882, and about seven years later they moved into this newly-completed house on Mulberry Street. By this point they had four young sons, who were all born within a four-year span from 1884 to 1888: Bradford, Theodore, James, and Rodney. They would have a fifth son, Edmond, who was born in 1896, but Annie died during the birth and young Edmond only lived for a few months. Two years later, Edmond remarried to Cora W. Atkinson, and they had one child, Julia, who was born in 1902.
By the 1910 census, Edmond and Cora were living here with the five children, plus Edmond's elderly mother-in-law from his first marriage, Sophia Parker. Edmond's four sons were in their 20s at this point, and the two younger boys were students at Colgate University. Bradford, the oldest, had graduated from Colgate in 1908, and Theodore from Dartmouth in 1910. All four sons had moved out of the house by the next census in 1920, with James serving as a first lieutenant in the U.S. Army Quartermaster Corps during World War I.
Edmond died in 1932, and the house sat vacant for several years. However, by the time the first photo was taken in the late 1930s it had been converted into a rooming house. The 1940 census shows that the house was owned by Eva B. Chevalier, a 48-year-old widow who lived here and rented rooms to seven women, whose ages ranged from 19 to 63. Aside from the oldest, who was presumably retired, they all had working-class jobs. Some of the job descriptions were fairly straightforward, such as a hairdresser and a telephone operator, but others were a little more enigmatic, such as "child nourishment" for "school lunch project," "cutter" for "canning project," and "presentation leader" for "first aid arts and crafts."
The house continued to be used as a rooming house throughout the 20th century, but both it and the surrounding neighborhood steadily declined. By the 1990s the house was in serious disrepair, but it was purchased in 2001 and restored to its original appearance, around the same time as the restoration of the long-vacant house next door to the left. Today, both houses stand as good examples of late 19th century residential architecture in Springfield, and they are part of the city's Ridgewood Local Historic District.