Looking north on Thames Street, from the corner of Cotton Court in Newport, around 1908. Image courtesy of the Providence Public Library.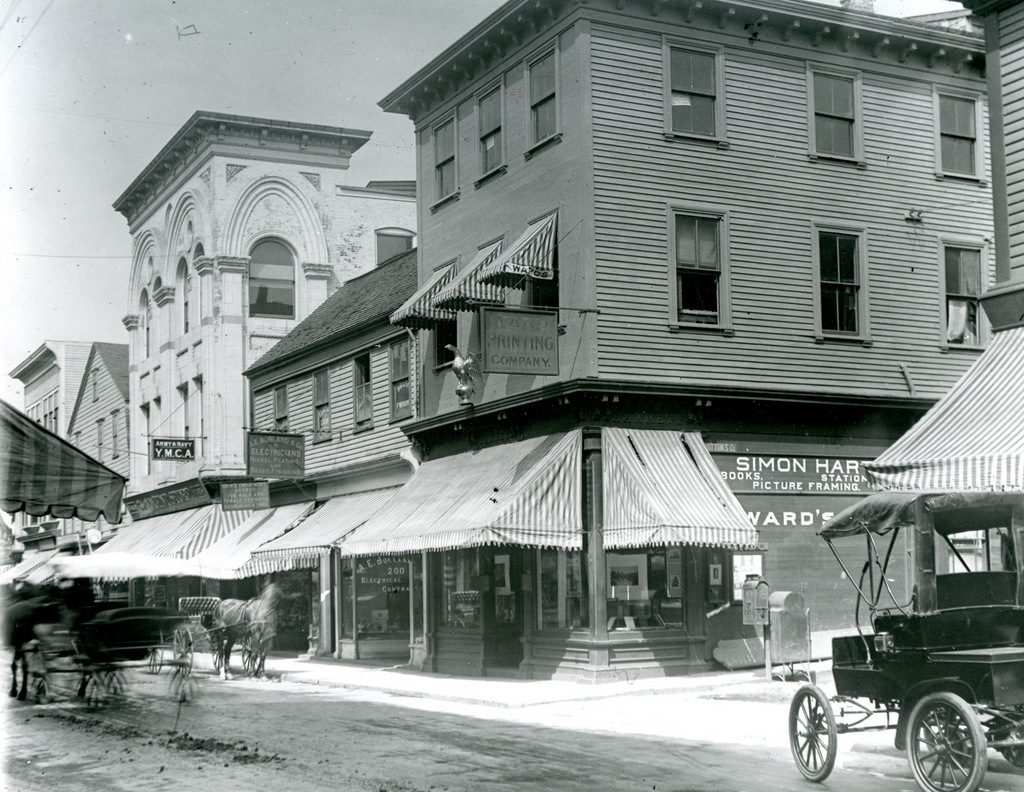 The scene in 2017: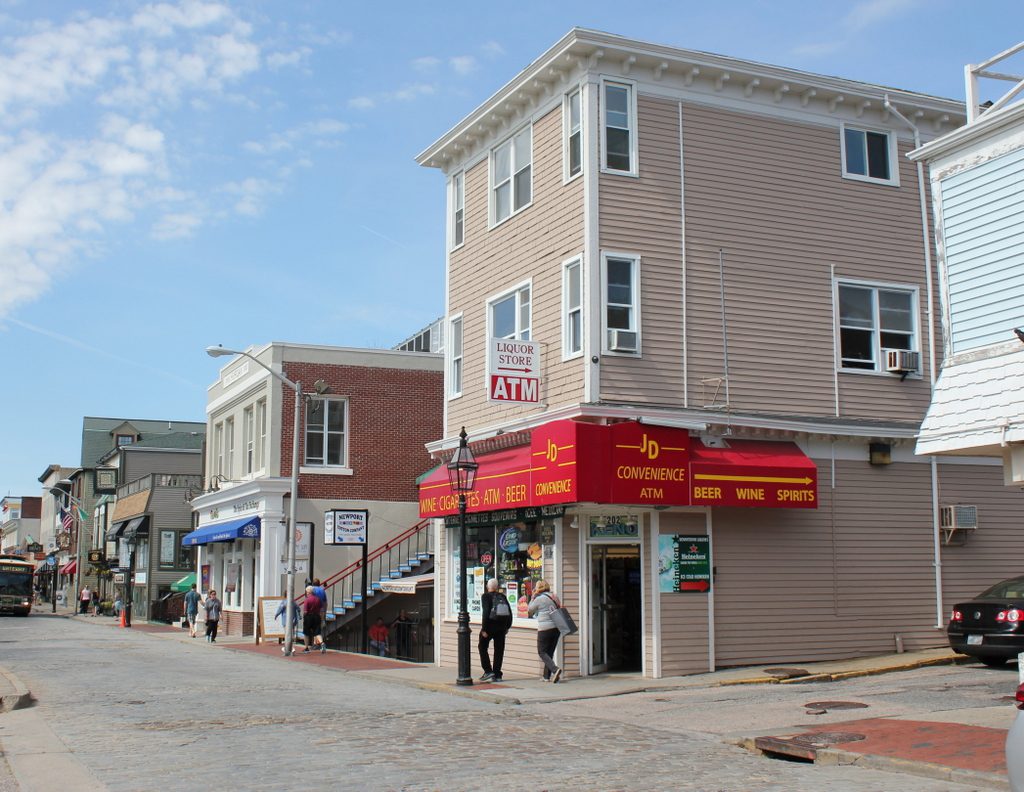 At the turn of the 20th century, Newport's Thames Street featured an eclectic mix of low-rise commercial buildings that were built throughout the 19th century in a variety of architectural styles. Of the three buildings in the foreground of the first photo, the oldest was probably the one in the middle, which likely dated back to the early 19th century and may have originally been a single-family home. By the time the first photo was taken, the ground floor housed A.E. Burland & Co. electricians, along with an employment agency for male and female servants. Just to the right of it, at the corner of Cotton Court, was the Hammett Building, a three-story Italianate building that was built around 1850. In the first photo, it housed Simon Hart's book, stationery, and picture framing shop, with Ward Printing Company on the second floor.
The third building prominent building in this scene, on the left side of the photo, was much newer than the other two. Known as the Horgan Building, it was built in 1896 with an ornate Classical Revival design that contrasted with the more modest wood-frame buildings around it. When the first photo was taken, the ground floor housed the McMullin-Holmes 5 and 10 cent store, while the two upper floors were the Army and Navy YMCA, which served the military personnel stationed at the nearby naval base here in Newport. The YMCA had moved into this building in 1903, but would subsequently move into a much larger building at Washington Square, which was completed in 1911.
In more than a century since the first photo was taken, Thames Street has seen some dramatic changes, particularly on the west side, but the east side has retained some of its 19th century buildings, as seen here. The older building in the center is long gone, and the lot is now occupied by a modern commercial building that is set back from the street. The Horgan Building on the left is still standing, although it has undergone significant alterations, most notably the removal of the top floor. Only the Hammett Building on the right side still bears a close resemblance to its appearance in the first photo, although it has also been remodeled over the years, including a new storefront and a completely different window arrangement.