The house at 111 Springfield Street in Chicopee, around 1892. Image from Picturesque Hampden (1892).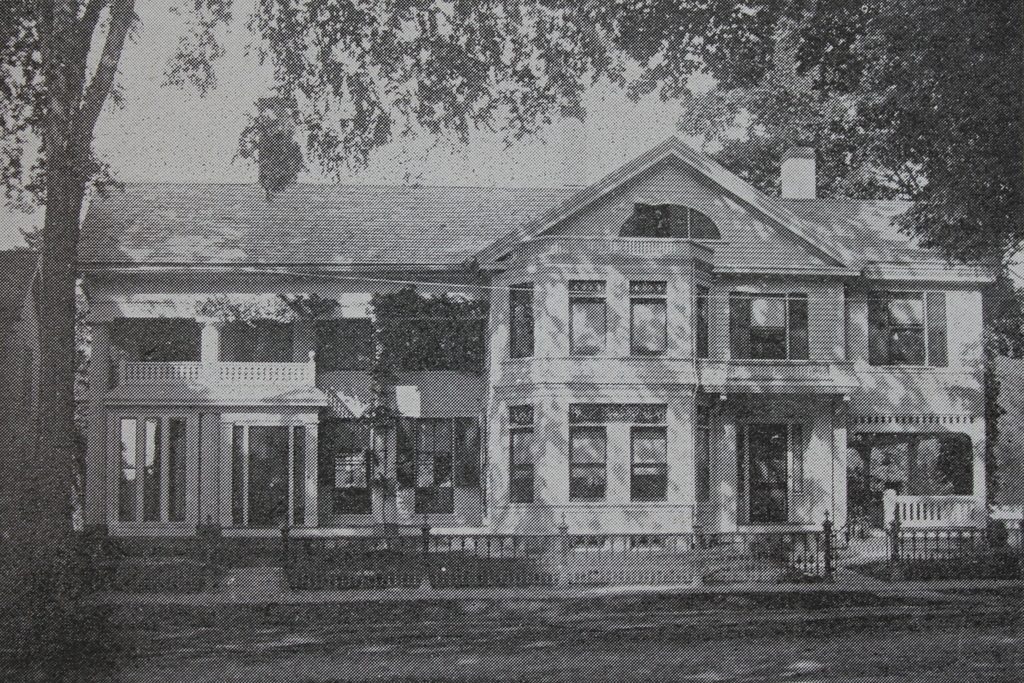 The house in 2017: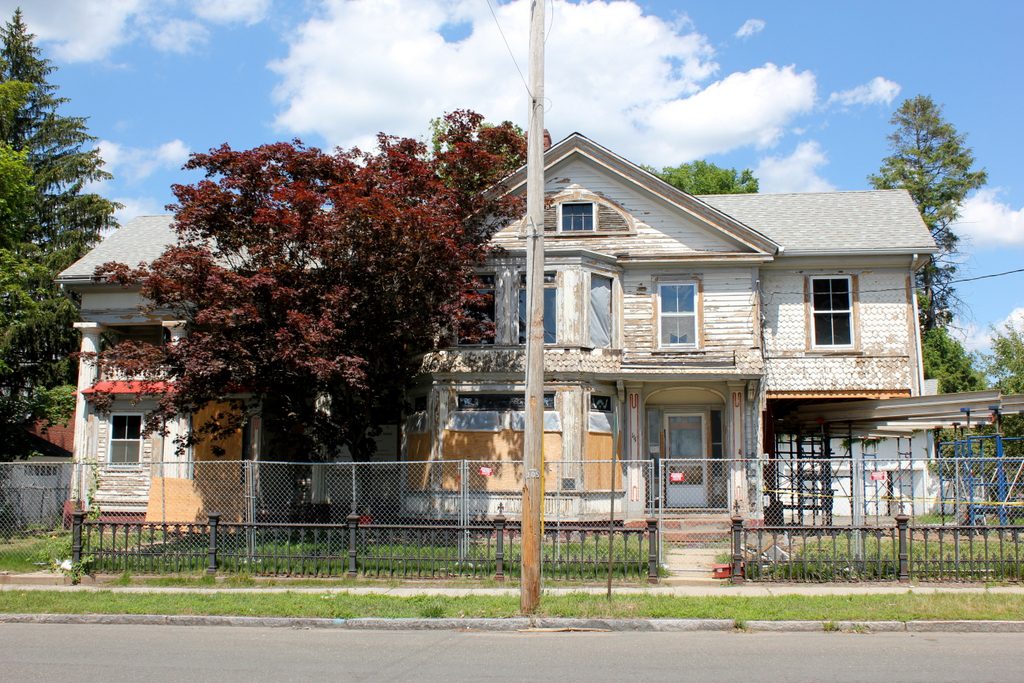 This house was built around the early 1830s, and appears to have originally been owned by Rodolphus Kinsley, a locksmith who held several patents for door locks and latches. At the time, the house was significantly smaller, with relatively plain Greek Revival-style architecture, and likely would have only consisted of the central portion of the house. In 1834, the house was temporarily used as the first home of the Third Congregational Church, which later built its own church building just down the street from here, and by the mid-1850s maps show that the house was owned by a S.F. Williams.
The most prominent owner of this house was George M. Stearns, a lawyer and politician who was living here by the 1870 census, along with his wife Emily and their two young daughters, Mary and Emily. Born in 1831 in Stoughton but raised in rural Rowe, Massachusetts, Stearns came to Chicopee as a 17-year-old in 1848 and studied law under John Wells, a lawyer who later became a judge on the state Supreme Court. Stearns was subsequently admitted to the bar in 1852, and became Wells's law partner for several years.
Aside from his law practice, Stearns also held several political offices, including serving a term in the state House of Representatives in 1859 and in the state Senate in 1871. In 1872 he was appointed as District Attorney for the Western District of Massachusetts, and in 1886 Grover Cleveland appointed him as U.S. Attorney for the District of Massachusetts. He was also involved in the Democratic Party, and served as a delegate to both state and national party conventions.
George and Emily Stearns ultimately outlived both of their daughters, and they were still living here when the first photo was taken in the early 1890s. By this point the house had been significantly altered from its 1830s appearance, including wings on both the left and right side, and the original part of the house was modified with a two-story bay window to the left of the front door. These changes helped to give the house more of an ornate Queen Anne-style appearance, although it still retained some of its original Greek Revival features.
George Stearns died in 1894, several months after he and Emily moved to Brookline, Massachusetts, and this house went on to have a number of different residents over the following years. By the 1900 census it was the home of Alexander Acheson Montgomery-Moore, an Irish immigrant who was the proprietor of the Kendall House hotel in the center of Chicopee. He lived here with his wife Lillian and their infant son Cecil, along with Lillian's mother Nancy. The family did not live here in this house for long, and by 1909 they were living in Bermuda. Young Cecil would go on to have a distinguished career in the Royal Air Force. He served as a fighter pilot during World War I, earning the Distinguished Flying Cross in the process, and during World War II he was a major, in command of both the Bermuda Volunteer Engineers and the Bermuda Flying School.
In the meantime, by the 1910 census this house was being rented by George S. Ball, who worked as a machinist for Spalding. He and his wife Ina were both in their early 50s at the time, and they lived here with their three children, who were all in their 20s. The oldest, Laura, worked as a trimmer for the Ames Sword Company, William was a shipping clerk for the Stevens-Duryea car manufacturing company, and the youngest, Susie, was a stenographer.
By the 1920 census, the house had become a boarding house, owned by French-Canadian immigrant Elzear X. LaBelle. He and his wife Josephine lived here with their children Leo, Eva, and Edward, and the census shows 11 boarders living here with them. The boarders were all men, mostly in their early 20s, and included two immigrants from Ireland and three from Greece. Most were employed in area factories, including five who worked in a rubber shop and two who worked as die makers in a forge shop, but there were also two firemen, a barber, and a pool room clerk.
The LaBelles were still here in 1930, this time with seven boarders, six of whom were men. They were a wide range of ages, from 27 to 71,  and all were either single or widowed. All but two were immigrants, including one from Scotland, one from Northern Ireland, one from Quebec, and two from Greece, and their jobs included working for a sporting goods company, an electric light company, a rubber factory, a shoe shine parlor, and a restaurant.
The building remained a boarding house for many years, but the exterior has not significantly changed during this time, and it is now a contributing property in the Springfield Street Historic District on the National Register of Historic Places. The house was undergoing a significant renovation when the first photo was taken and, when complete, the interior will include 16 units for low-income housing.