The Smith Charities Building on Main Street in Northampton, around 1894. Image from Northampton: The Meadow City (1894).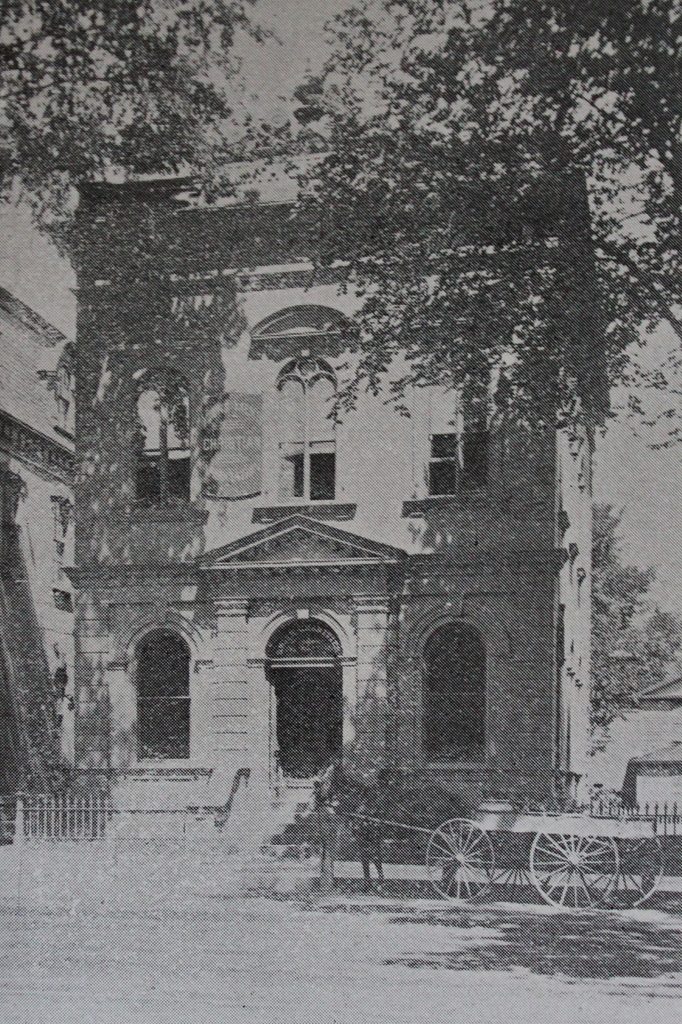 The building in 2018: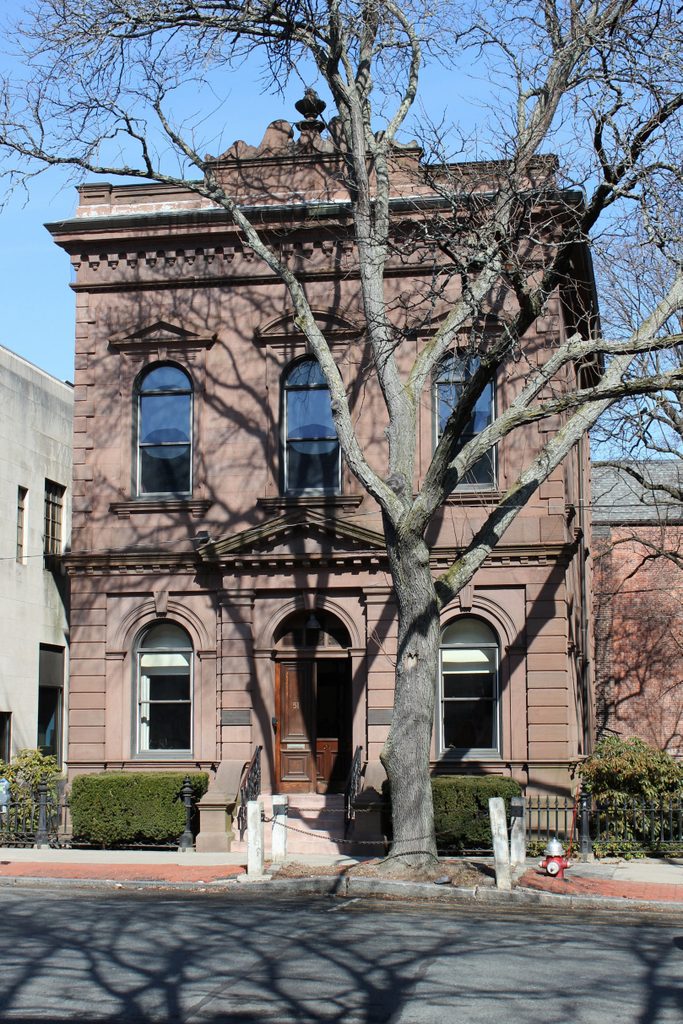 Smith Charities is perhaps one of the most unusual charitable organizations in the country, and its origins date back to the death of its benefactor, Oliver Smith, in 1845. Born in nearby Hatfield in 1766, Smith was a farmer who came from modest means, but over time he became one of the wealthiest men in the region. A sort of Scrooge-like figure, Oliver Smith was a lifelong bachelor who had a reputation of being a miser. He made a fortune by investing in land in Ohio, and maintained his wealth through frugal living, rarely spending money on himself or others. He did make several charitable contributions during his lifetime, but his most significant bequest came after his death, when he left his $370,000 estate to establish Smith Charities.
Under Oliver Smith's will, his estate was to be administered by three trustees, who would be chosen by elected representatives from eight towns in Hampshire and Franklin Counties: Amherst, Deerfield, Greenfield, Hadley, Hatfield, Northampton, Whately, and Williamsburg. The will also specified how the money was to be used. Part of it was to be used to help the poor and needy of these eight towns, including paying for apprenticeships, providing marriage portions for young women, and supporting widows. Another portion of his estate was to be set aside to accumulate interest for 60 years and, upon maturity in 1905, was to be used to establish an agricultural school in Northampton. This school, now the Smith Vocational and Agricultural High School, is still in existence, and still bears his name today.
Despite the public-mindedness of his bequests, his will did not meet with universal approval. The Springfield Republican questioned, "How much wiser and better could he have disposed of is money in his life time, for the benefit of others, and at the same time added to his own happiness," while the Hampshire Gazette gave an even more pointed rebuke, arguing that someone cannot be truly benevolent if he waits until after his death to give away money. Others, reflecting the conservative New England work ethic inherited from their Puritan ancestors, were skeptical of such a charitable organization, fearing that it would encourage laziness among the poor.
Smith's will was even less popular with his relatives, who, being thus disinherited, contested the will, claiming that one of the three required witnesses was not of sound mind. The resulting legal battle became a public spectacle, with each side retaining the services of high-profile attorneys. Former Massachusetts Senator Rufus Choate represented Smith's relatives, while his successor in the Senate, Daniel Webster, represented the will's executors, and the two argued the case in the old Hampshire County Courthouse at the corner of Main and King Streets. Webster ultimately prevailed, the will was upheld as valid, and Smith Charities was subsequently established.
In 1865, the organization built this two-story building on Main Street as its headquarters. It was designed by prolific Northampton architect William F. Pratt, and features an elaborate Italianate-style brownstone exterior. The second-story windows have since been replaced, but otherwise the building's appearance has not changed much, and it still houses Smith Charities, which continues to provide support for people in the eight towns that Smith listed in his will.
Despite criticism from many of his contemporaries, Smith proved far-sighted in his plans, and the charity has given out millions of dollars since his death, far more than his initial bequest. His name lives on in both Smith Charities and Smith Vocational and Agricultural High School, but not, as one may have assumed, in Smith College. The college is instead named for his niece, Sophia Smith,   who was the daughter of his brother Austin. Sophia had inherited a fortune from her father after his death in 1861, and she, perhaps following her uncle's example, willed the money for charitable purposes, stipulating that it be used to establish a college for women.