Looking up Main Street from Pleasant Street in Northampton, toward the old church and courthouse in 1864. Photo from Reminiscences of Old Northampton (1902).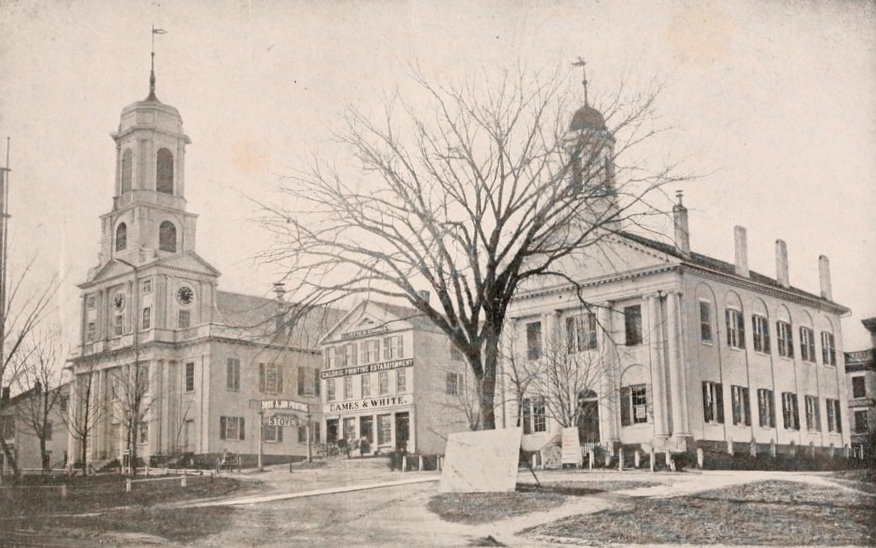 The location in 2018: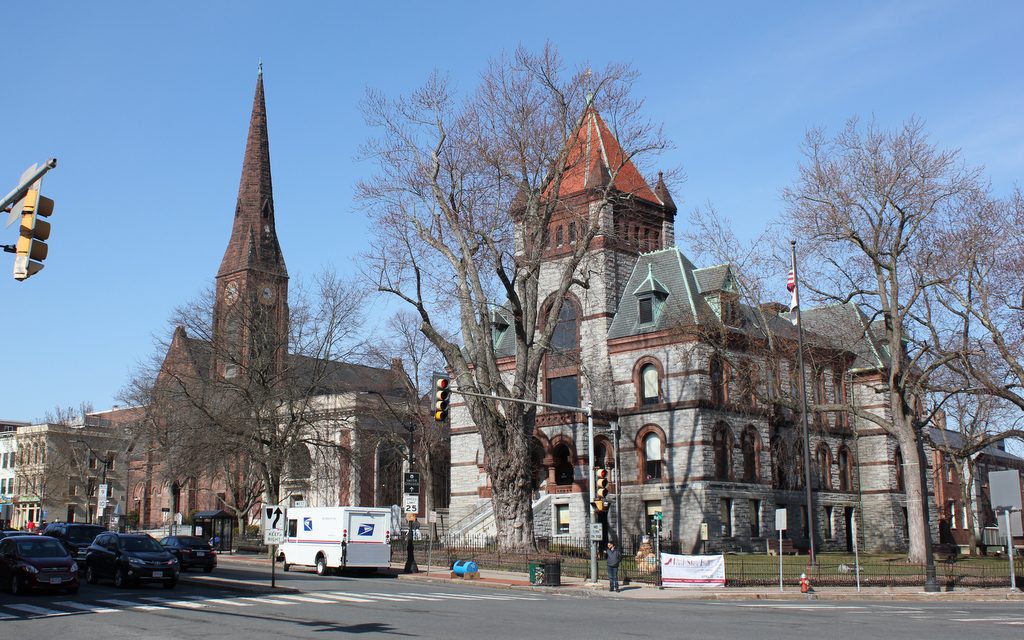 The 1864 photo is one of the oldest existing photographs of downtown Northampton, and none of the buildings from that scene survive today, 151 years later.  To the left in the 1864 photo is the old church, which was built in 1812.  It was Northampton's fourth meeting house, and it replaced the 1737 building that had been built during the pastorate of Jonathan Edwards.  It was from here that the influential pastor and theologian helped to spark the Great Awakening revival that spread across the American colonies and in Europe, but by the turn of the century the town was in need of a new building.  The 1812 church was designed by Northampton architect Isaac Damon, who just a few years later would design Old First Church in Springfield, 15 miles to the south.  However, while Old First Church survives to this day, the Northampton church seen in the 1864 photo burned in 1876, and was replaced two years later by the current brownstone church.
On the far right of the 1864 photo is the old Hampshire County Courthouse.  I don't know when it was built, but it is virtually identical to the 1821 Hampden County Courthouse, seen on the far left of the 1882 photo in this post.  Because of its similar appearance, the Hampshire County Courthouse was probably built around the same time, shortly after some major changes to the county's borders.  Originally, Hampshire County included all of Western Massachusetts, but it was steadily broken up into multiple counties, beginning in 1761 when Berkshire County was established to the west.  Then in 1811, Franklin County was created in the northern part of the Connecticut River Valley with Greenfield as the county seat, and a year later Hampden County split off to the south, with Springfield as the county seat.  I don't know what happened to the old courthouse seen here, but it was gone by 1886, when the present-day Hampshire County Courthouse opened on roughly the same spot at the corner of Main and King Streets.
In between the two prominent buildings in the 1864 scene is a relatively small commercial block, the Whitney Building.  The photograph was actually commissioned by George D. Eames, the owner of the building, and was probably intended to advertise the building's prominent location in town.  Part of the building housed the offices of the Hampshire Gazette, and the newspaper was published in the basement.  This is evidently the reason for the large sign on the building that reads "Caloric Printing Establishment."  The Whitney Building was demolished in 1876, and a bank building was put in its place.  Today, the 1916 Northampton Institute for Savings building occupies the site where the Whitney Building once stood.