Looking north on Beech Street from the corner of Cabot Street in Holyoke, around 1892. Image from Picturesque Hampden (1892).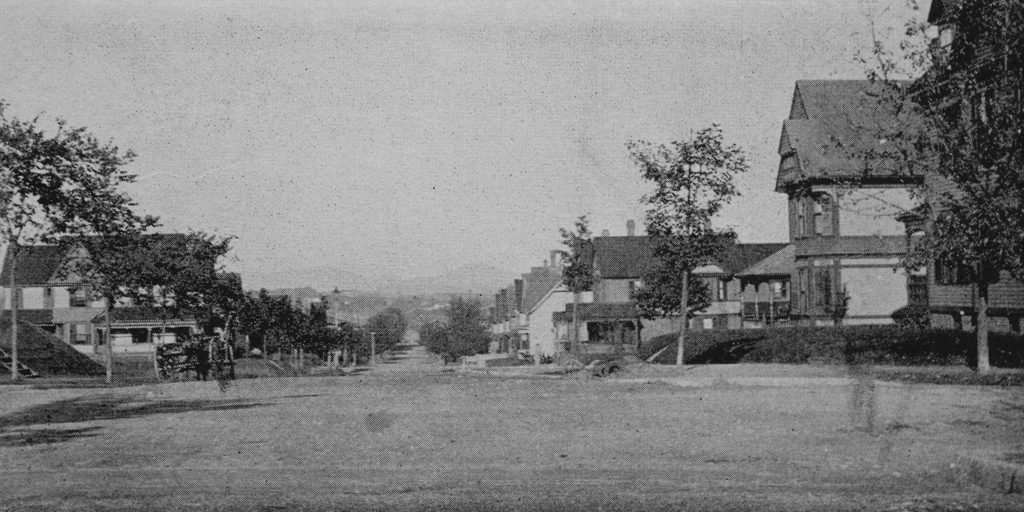 The scene in 2017: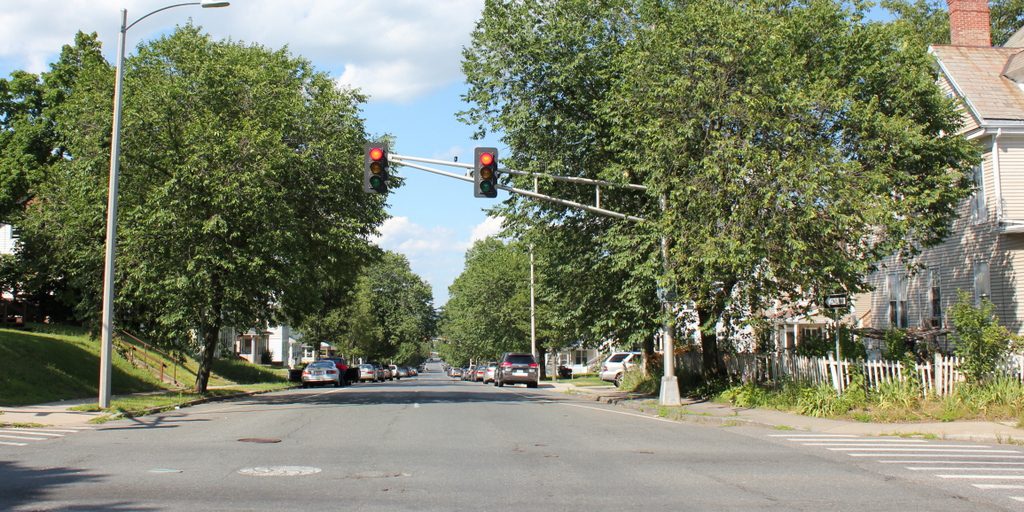 Holyoke is one of the few New England cities to have a regular street grid, which was a result of its planned development in the mid-19th century. The downtown area consists of rectangular blocks, with some streets running roughly north to south, parallel to the canals along the Connecticut River, and perpendicular streets running east to west, up and down the hills to the west of the river. West of High Street, the north-south streets are all named for trees (Maple, Elm, Walnut, etc.), while the east-west streets alternate between those named for Massachusetts counties (Franklin, Hampshire, Essex, etc.) and those named for early Holyoke industrialists (Jackson, Sargeant, Cabot, etc.).
By the late 19th century, houses in Holyoke were, in general, more desirable the further up the hill that they were located. Beech Street, which is seen here around 1892, is six blocks to the west of High Street, and at the time it largely consisted of upper middle class, single-family homes. At the time, the neighborhood had not yet been fully developed. Most of the houses were new, having been built around the 1880s, and there were still vacant lots on this block, including some in the foreground on the left side.
The 1900 census gives some insight into the people who lived here on this section of Beech Street. On the far right, at the corner of Cabot Street, was the home of Lewis E. Bellows, the treasurer and manager of the Barlow Manufacturing Company, which produced store and window display fixtures. Just beyond his house, at 232 Beech, was the home of William Mauer, a German immigrant who worked as secretary and manager of Germania Mills, which produced woolen and worsted textiles. Further down the street, at 226 Beech, was the home of William Judd, who worked as a traveling salesman for a paper mill.
In the years after the first photo was taken, the vacant lots on either side of the street were developed, and new houses were built around the early 20th century. Since then, there have not been any significant changes, and most of these turn-of-the-century homes are still standing, although many have been altered with enclosed porches, artificial siding, and other changes. Only one house – the one on the right at 232 Beech – appears to have been demolished, but it has since been replaced by a modern house on the same site.