Looking north on High Street from the corner of Hampden Street in Holyoke, around 1892. Image from Picturesque Hampden (1892).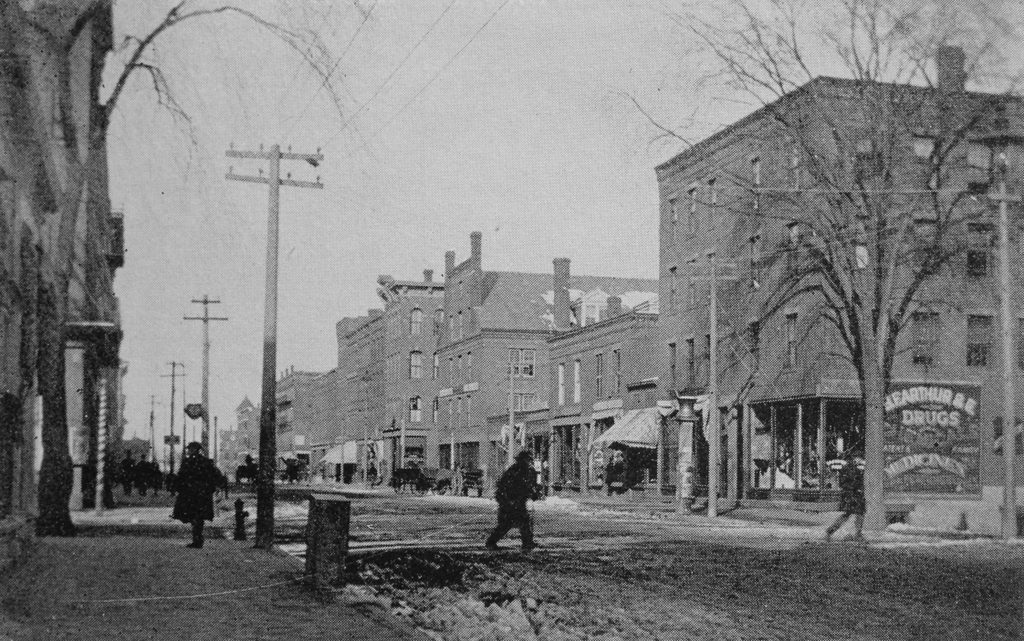 The scene in 2017: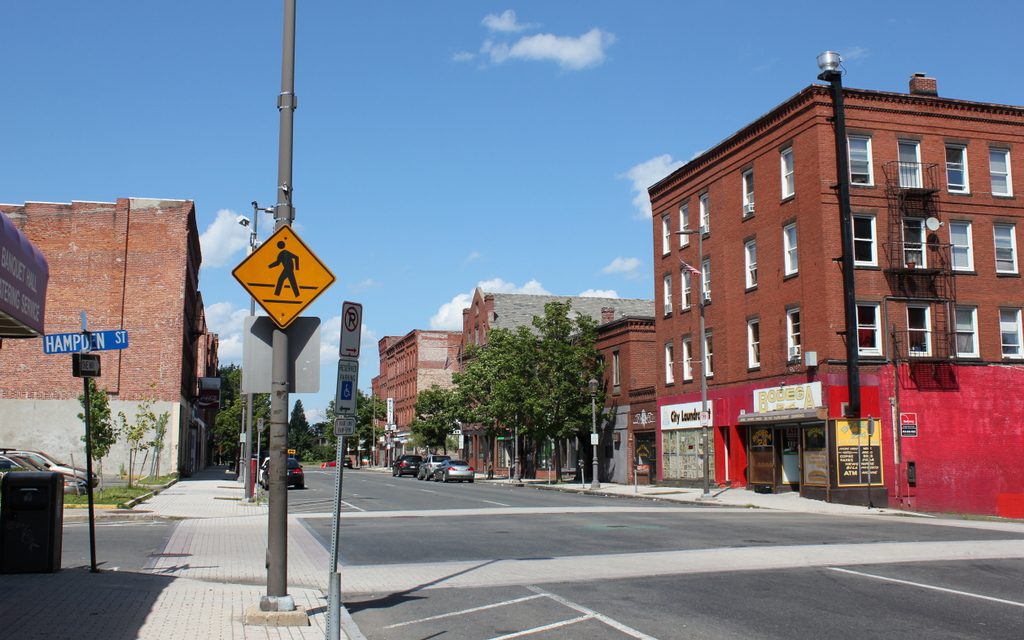 Holyoke was developed into a major industrial center starting in the mid-19th century, and a number of factories were built along the city's network of canals. Around the same time, two commercial districts were developed to serve the needs of the rapidly-growing population, with one along Main Street at Depot Square and the other one here, a few blocks up the hill on High Street. The commercial blocks here on this section of High Street were primarily built between the 1850s and 1870s, and nearly all are brick, typically with four stories. In the 125 years since the first photo was taken, this street scene has remained remarkably well-preserved, with few significant changes since the first photo was taken.
The most visible building in this scene is the W. L. Martin Block, which was built around 1860 at the corner of High and Hampden Streets. Its design is typical of the earlier commercial buildings in Holyoke, with a relatively plain exterior that contrasts with the more ornate styles of later decades. Just beyond it is the two-story Fuller's Block, which was built in 1857 by John Fuller, a developer whose property included this building as well as the rest of the lots between here and Oliver Street. Around 1870 he built the one-story buildings near the center of the first photo; these are still standing, although hidden from view by trees in the 2017 photo. Fuller also built the large, gable-roofed building at the corner of Oliver Street. It was completed no later than 1863, and probably as early as the 1850s, making it among the oldest surviving commercial buildings in downtown Holyoke.
Today, nearly all of the buildings in the foreground of this scene are still standing. Everything beyond Lyman Street, which is barely visible two blocks in the distance, was demolished in the 1970s as part of an urban renewal project, but south of Lyman Street very little has changed. The only noticeable loss on the right side of the street in this section is the Hutchins House, which is visible in the distance just to the left of the center of the first photo. Demolished sometime in the late 20th century, this building has not been replaced, and there is now a small parking lot on the site. Otherwise, the rest of the buildings are still standing, and these blocks of High Street are now part of the North High Street Historic District, which was added to the National Register of Historic Places in 1986.