Looking north on Maple Street from the corner of Essex Street in Holyoke, around 1892. Image from Picturesque Hampden (1892).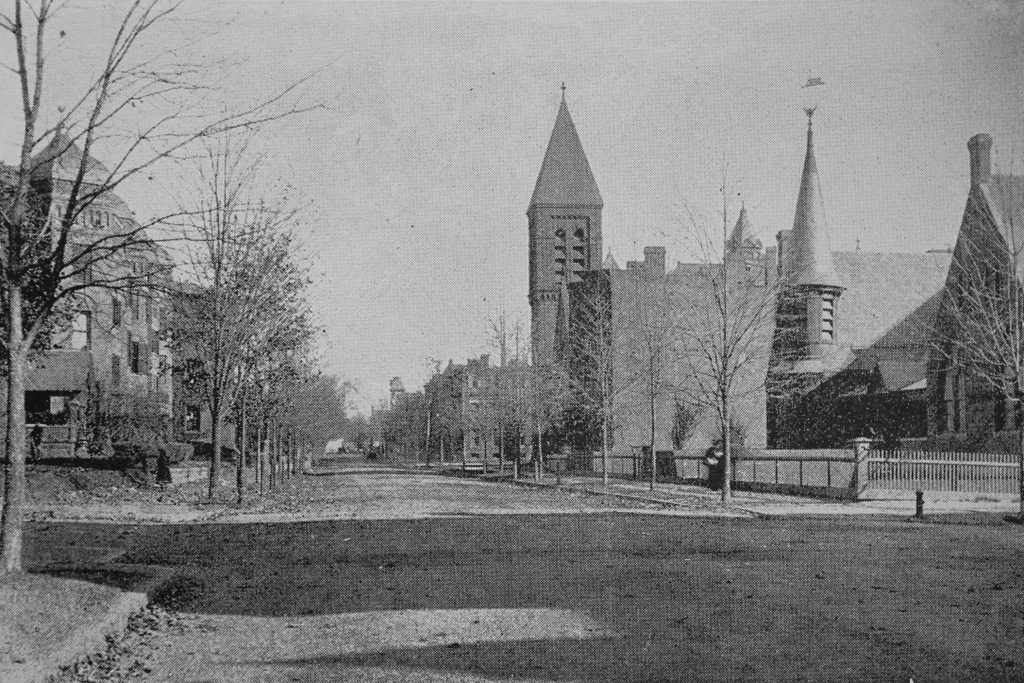 The scene in 2017:
Maple Street runs parallel to High Street, which is located a block to the east. While High Street was developed as a major commercial center, Maple Street was primarily residential in the late 19th century. The first photo shows several homes on the left side, a group of brick rowhouses in the distance on the right, plus two churches closer to the foreground on the right side. Most of these buildings were fairly new when the first photo was taken, and probably none of them had been built before the 1870s. Perhaps the oldest building is the Unitarian Church on the far right, which was built in 1876, although it was significantly expanded in 1889. Further in the distance, near the center of the photo, is the Second Congregational Church, which was built in 1885 after the congregation moved out of its old building at the corner of High and Dwight Streets.
Today, the Second Congregational Church, now the United Congregational Church of Holyoke, is the only noticeable building still standing from the first photo, although most of it had to be rebuilt after a fire in 1919. All of the other 19th century buildings are gone, and today this block includes the 1930 Elks building on the left, the 1936 War Memorial beyond it, and the 1931 New England Telegraph and Telephone Company building on the right, which stands on the site of the Unitarian Church. Further in the distance is a group of early 20th century apartment buildings, and in between is a single 19th century rowhouse, which is barely visible to the left of the church tower. Built around 1880, it is the sole survivor of the long block of rowhouses that can be seen in the first photo, and it is now surrounded on both sides by parking lots.