The Skinner Gymnasium, on the former Northfield campus of the Northfield Mount Hermon School, around 1900-1906. Image courtesy of the Library of Congress, Detroit Publishing Company Collection.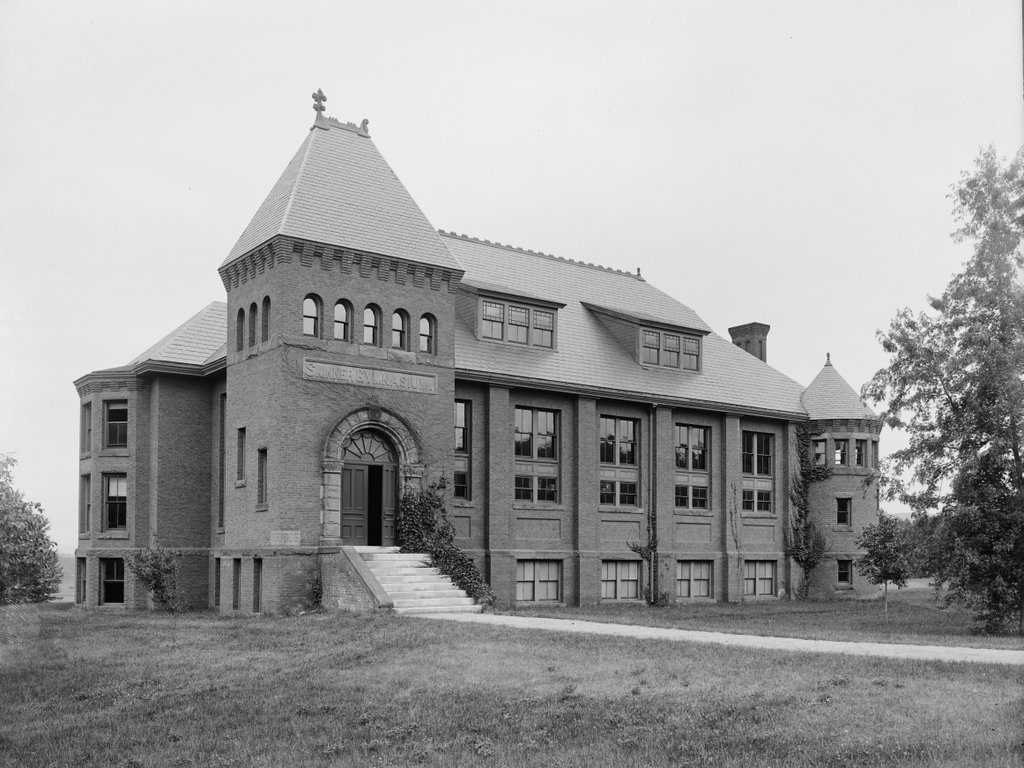 The building in 2017: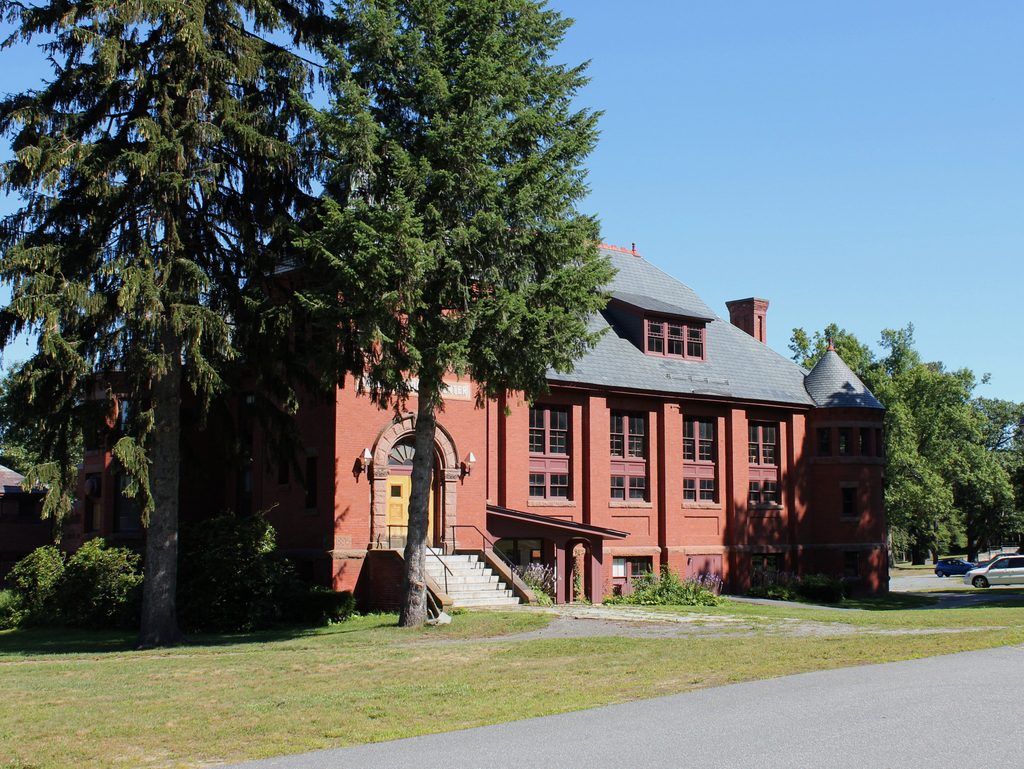 The present-day Northfield Mount Hermon School dates back to 1879, when it was established as the Northfield Seminary for Young Ladies. Its founder was the noted evangelist Dwight Lyman Moody, who opened the school near his birthplace in the northern part of Northfield, just a little south of the New Hampshire border. Two years later, Moody established the Mount Hermon School for Boys on a separate campus in nearby Gill, Massachusetts, and the two schools would remain separate institutions for nearly a century.
By the early 1890s, the Northfield school was in need of a gymnasium, in order to promote health and physical fitness among the girls. The result was this building, which was completed in 1895 and named the Skinner Gymnasium in honor of its benefactor, Holyoke textile manufacturer William Skinner. The building had a variety of amenities, including a bowling alley, a swimming tank, and the gymnasium itself, which included an elevated running track. At the time, basketball was just beginning to gain popularity after having been invented a few years earlier, and by the turn of the century the girls were playing here in the gym on intramural teams.
The first photo was taken within about a decade of the building's completion, and shows its Queen Anne-style architecture, which was common for public and institutional buildings of the era. It also shows some elements of the popular Romanesque Revival style, including the asymmetrical design, the rounded arch over the door, and the use of towers and turrets. However, over time the building would be expanded and altered with several 20th century additions, although this portion was not significantly changed. The first of these additions came in 1930, when a pool was added to the rear of the building. Then, after the completion of a new gymnasium in 1971, this building was converted into a student center, and in 1987 a large library wing was added to the left side, just out of view in the 2017 scene.
The Northfield School formally merged with Mount Hermon in 1972, but continued to use both campuses for many years. This building was used as the student center and, after 1987, the library for the Northfield campus up until 2005, when the school consolidated its operations at the Mount Hermon campus. The Northfield property was subsequently sold to Hobby Lobby, which, in turn, donated it to the National Christian Foundation. Then, in 2017, it was given to Thomas Aquinas College, a Catholic college that is based in California. The school is currently in the process of converting the property into a branch campus, and hopes to open by the fall of 2019.