The Sacred Heart Church (right) and rectory (left), seen from Maple Street in Holyoke, around 1891. Image from Holyoke Illustrated (1891).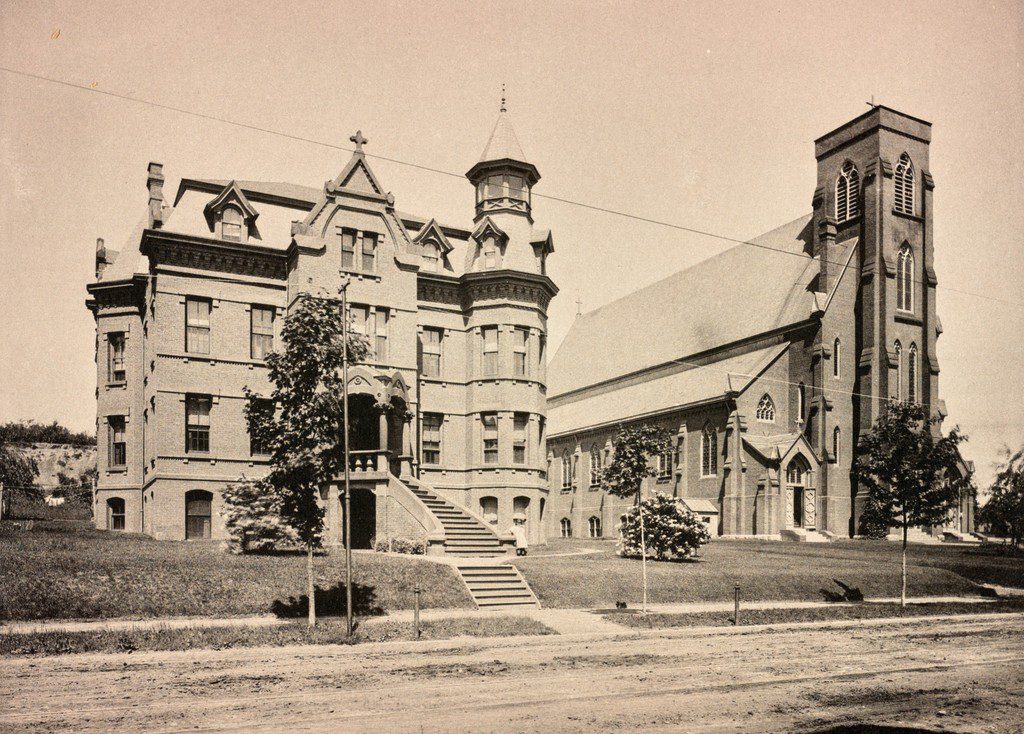 The scene in 2017: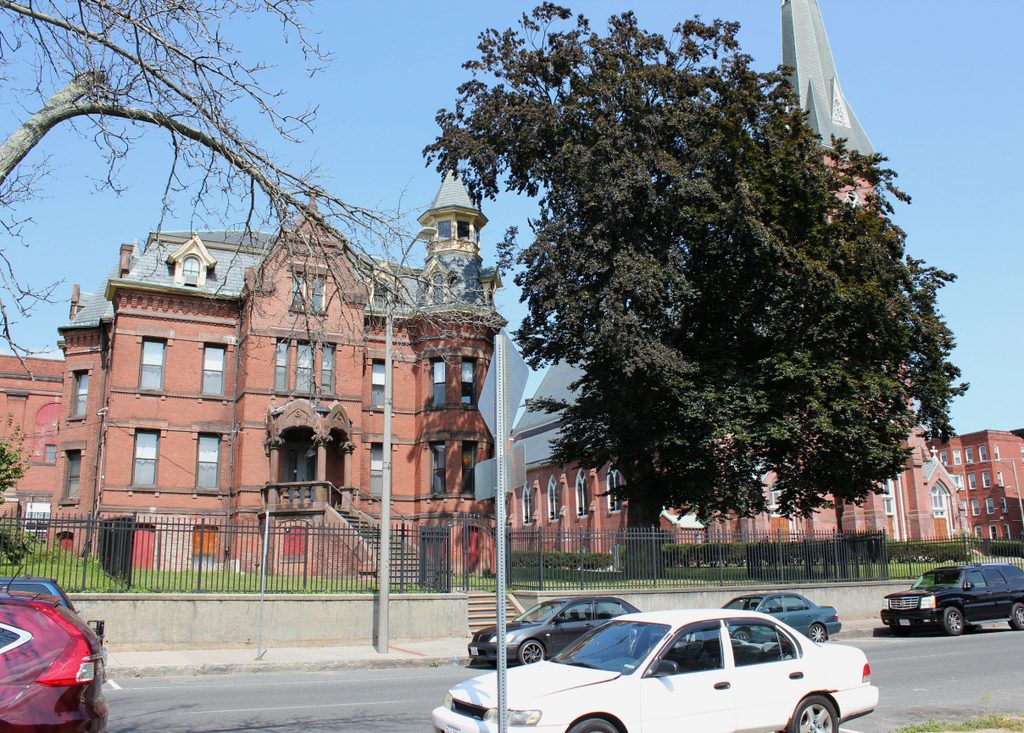 As mentioned in the previous post, the Sacred Heart Parish was established in 1878 as an offshoot of St. Jerome's Parish, which had been the first Catholic church in Holyoke. Sacred Heart served the Catholics in the southern section of downtown Holyoke, and in 1876 construction began on the church building here at the corner of Maple and Sargeant Streets. The Second Empire-style rectory, on the left side of the scene, was built around the same time, but the church would not be completed until 1883.
The first pastor of the church was Father James T. Sheehan, although he died of tuberculosis two years later in 1880, at the age of 32. He was succeeded by Father P. B. Phelan, a Newfoundland native who had previously served as pastor of the church in West Springfield. Upon his arrival here in Holyoke, Phelan inherited the incomplete church building, along with a sizable debt of $40,000. However, he oversaw the completion of the church, paid off the debt, and went on to serve the parish for the next 39 years, until his death in 1919.
The church was built at a cost of $90,000 (almost $2.5 million today), and featured ornate Gothic-style architecture on both the exterior and interior. By the time the first photo was taken around 1891, the church and rectory had also been joined by a school and a convent, both of which stood just out of view on the left side of the scene. Together, these four buildings occupied an entire city block, surrounded by Maple, Sargeant, Chestnut, and Franklin Streets.
The spire was not added to the church until 1897, but otherwise this scene has not seen many changes since the first photo was taken. It is hard to tell because of the tree in front of it, but the exterior of the church has remained well-preserved, and it is still in use as an active parish. To the left, the rectory is also still standing, and still has its Victorian-era details, such as the corner tower, the ornate front entryway, and the curved front steps. However, both the 19th century school and the convent are gone, and the southern half of this lot is now vacant except for a parking lot.