The Sacred Heart Convent (left) and School (right), seen from Maple Street near the corner of Franklin Street in Holyoke, around 1892. Image from Picturesque Hampden (1892).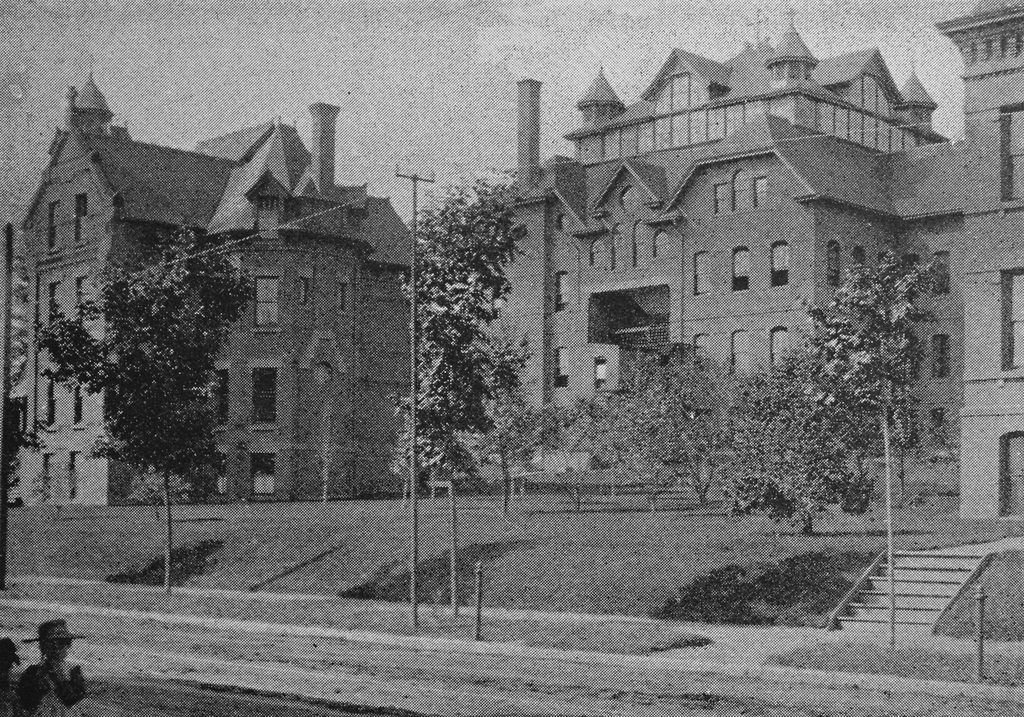 The scene in 2017: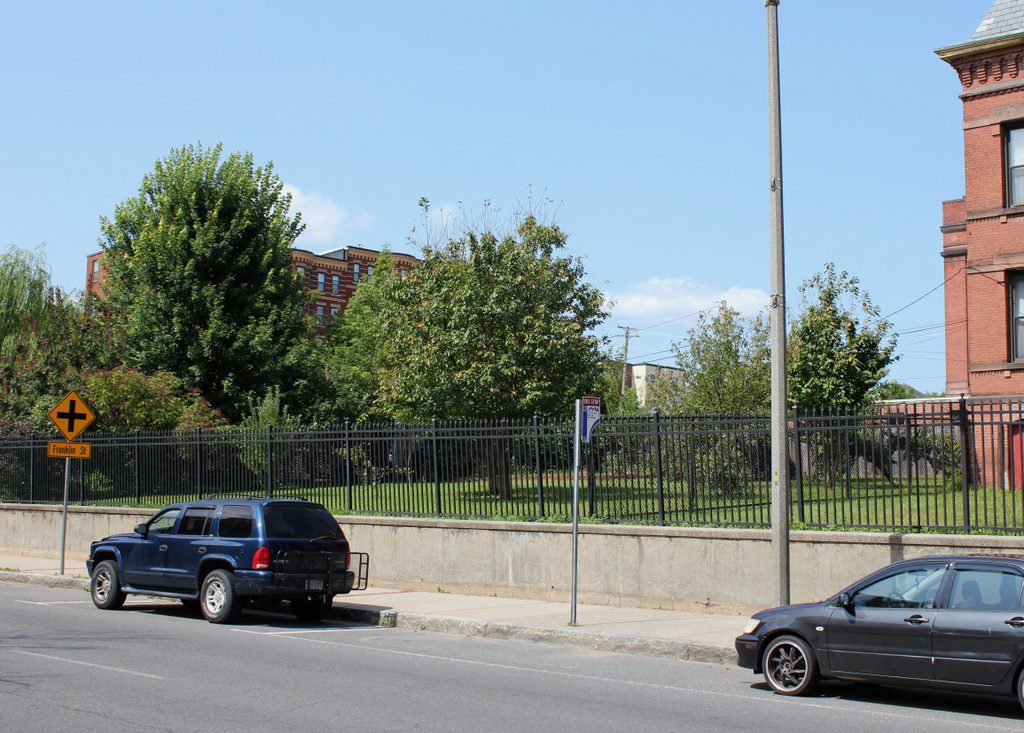 Holyoke's first Catholic church was St. Jerome's, which was established in 1856 and was located at the corner of Hampden and Chestnut Streets. This was followed in 1869 by the Parish of the Precious Blood, which served French-Canadian immigrants in the Flats of Holyoke. However, as the city's population continued to grow, particularly as Irish immigrants moved to the city for manufacturing jobs, there was an increased need for another Catholic parish. So, in 1878 the Sacred Heart Parish was established as an offshoot of St. Jerome's, encompassing the southern part of downtown Holyoke.
The church owned an entire city block here, bounded by Maple, Franklin, Chestnut, and Sargeant Streets, and over the next few years this site was developed with the construction of several different buildings. The first was the rectory, which was built around 1876 and is partially visible on the extreme right side of both photos. That same year, construction began on the church itself. It was located to the right of the rectory, on the northern end of the lot along Sargeant Street, although it would not be completed until 1883. The school was completed in 1890, at the corner of Franklin and Chestnut Streets, and is seen on the right side of the first photo. Around the same time, the convent was completed on the left side of the photo, at the corner of Maple and Franklin Streets.
By 1895, only a few years after the first photo was taken, the school had about 500 students who were taught by 12 nuns. The building was described in an 1895 edition of the Sacred Heart Review, which paid particular attention to the assembly hall in the school:
The school hall, seating nine hundred people, has a splendid stage, fine scenery, and opera chairs, and is most peculiarly though ingeniously constructed, the ceiling being finished in wood, which, with the many windows, the acoustically-arranged studding, and the crossing, so to speak, of two gable roofs, makes the hall a marvel of convenience to sight and hearing. The schoolrooms are very generously lighted, and are furnished with wood ceilings.
Today, Sacred Heart is still an active parish, and both the church and the rectory are still standing. However, aside from the small section of the rectory that is visible on the right side, there is nothing remaining in this scene from the first photo. The school and convent are long gone, and the site is now empty except for a small parking lot. Further in the distance, the block on the other side of Franklin Street had been undeveloped when the first photo was taken, but it now includes an ornate five-story brick apartment building, which is partially visible beyond the trees in the 2017 view.