Holyoke High School, seen from the corner of Hampshire and Pine Streets in Holyoke, around 1910-1915. Image from Illustrated & Descriptive Holyoke Massachusetts.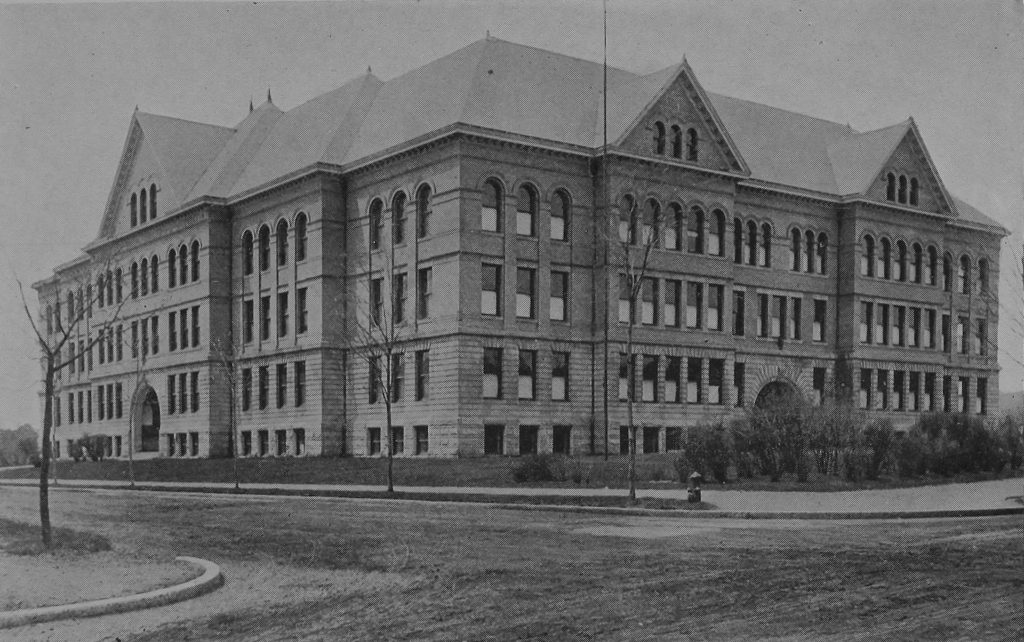 The scene in 2017: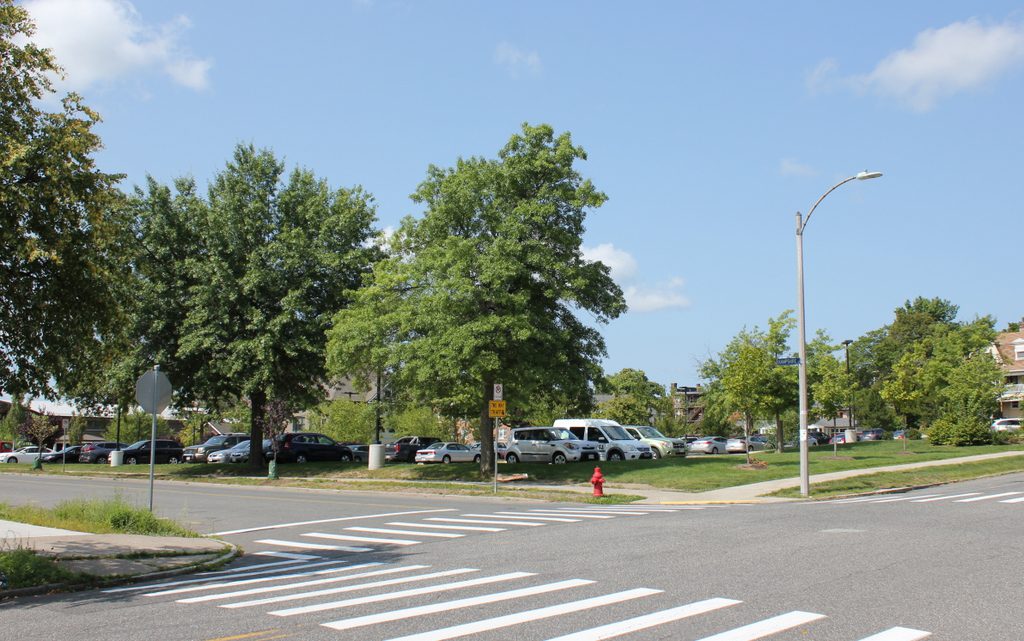 Holyoke High School was established in 1852, and occupied several different buildings before moving into its first purpose-built high school building a decade later. It was located on Elm Street, between Dwight and Suffolk Streets, and it was used as the high school until 1898. However, the city's population had seen considerable growth during that time, from around 5,000 in 1860 to over 45,000 by the turn of the century, and there was a need for a much larger school building.
As a result, the new high school was completed in 1898, on the outskirts of downtown Holyoke. It was designed by architect George P. B. Alderman, and featured a Classical Revival design with a stone exterior on the first floor and yellow brick on the upper floors. The school grounds occupied an entire city block, surrounded by Pine, Hampshire, Beech, and Sargeant Streets, and the first photo shows the view facing the eastern corner of the building, as seen from the corner of Pine and Hampshire Streets.
This building was used as Holyoke High School until 1964, when the current high school opened a few blocks away on Beech Street. The old school was then renovated and reopened as the home of Holyoke Community College. The college, which had been founded in 1946, had over 1,500 students by the 1967-1968 school year, but its time in this building proved short-lived. On January 4, 1968, a fire started in the attic and quickly spread throughout the building. Around 500 people were inside at the time, but all managed to escape safely. However, the fire burned for hours, completely gutting the building and leaving only the partially-collapsed stone and brick exterior walls.
Following the fire, Holyoke Community College had a somewhat nomadic existence until 1974, when it moved into its present-day campus off of Homestead Avenue, on the western side of the city. Today, the only visible remnant from the first photo is, ironically, the fire hydrant in the foreground at the corner. Although it is not the same hydrant in both photos, it is located on the same spot, and serves as a way to orient the first photo. The former site of the school is still owned by the city, though, and it is now occupied by the Holyoke Senior Center, which is visible in the distance on the left side of the photo.