The house at 175 Spring Street, just south of Mill Street in Newport, around 1932. Image courtesy of the Providence Public Library.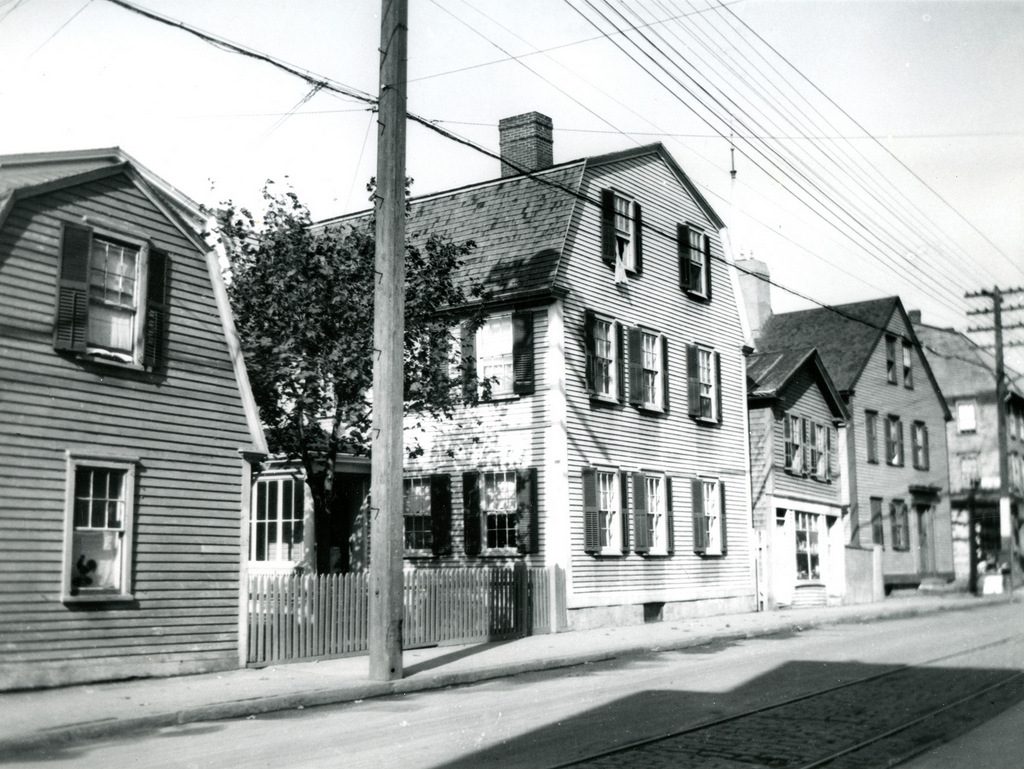 The scene in 2017: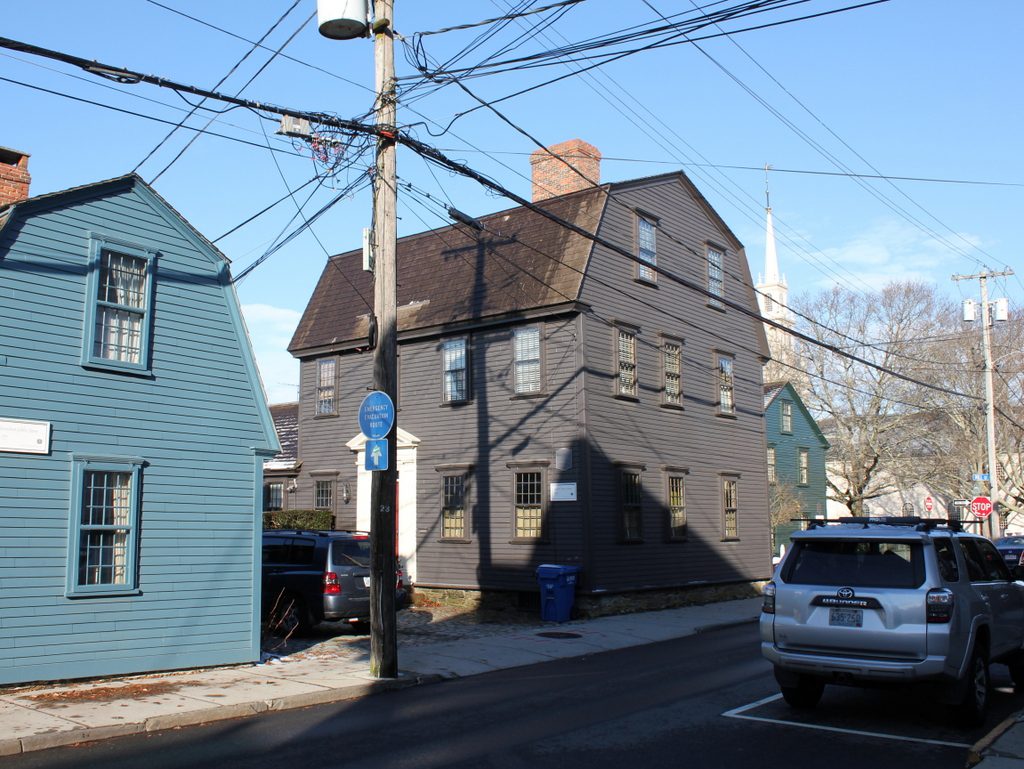 The first photo shows a group of buildings on the west side of Spring Street, just south of the corner of Mill Street. Of these, the oldest might be the Jonathan Gibbs House, which was built around 1771 and still stands on the left side of the scene. However, its much larger neighbor in the center of the photo was probably built around the same time, and was definitely here by 1777, when it was owned by the merchant Samuel Bours. Its architecture is similar to many other colonial-era homes in Newport, with Georgian-style details and a gambrel roof, although it had a rather unusual main entrance, which was located on the side of the house instead of facing the street.
By the early 19th century, the house was owned by Samuel's son, John Bours. This period coincided with the economic decline of Newport, though, and in subsequent years this former merchant's house became the home of working class residents. The 1880 census shows two families living here, with carpenter George A. Brown living in one unit with his wife Mary and their son Orin, and florist Carl H. Jurgens living in the other unit with his wife Louise and three children.
The Brown family continued to live here in the house for many years, and the 1910 census shows George, Mary, and Orin all still living here. Orin was 39 years old and working as a mailman by this point, and he lived here with his wife Nellie and their four young children. The first photo was taken a little over 20 years later, in 1932. Nellie had died a year before, but Orin was still living here, and he also rented part of the house to Norwegian-born fisherman Henry Monsen and his wife Josephine.
Orin Brown subsequently remarried to his second wife, Fannie, and he lived here in this house until his death in 1953, at the age of 83. Then, in 1969, the house was purchased by the Newport Restoration Foundation, which also acquired the neighboring Jonathan Gibbs House in the same year. Also in 1969, the organization purchased the c.1811 Alexander Jack, Jr. House, which had previously stood on Levin Street. The house was moved to the corner of Spring and Mill Streets, adjacent to the Bours House, and is visible on the right side of the 2017 photo. All three of these houses were restored in the early 1970s, and they are now part of the Newport Historic District, which is a National Historic Landmark district.