The northwest corner of Spring and Mill Streets in Newport, around 1928. Image courtesy of the Providence Public Library.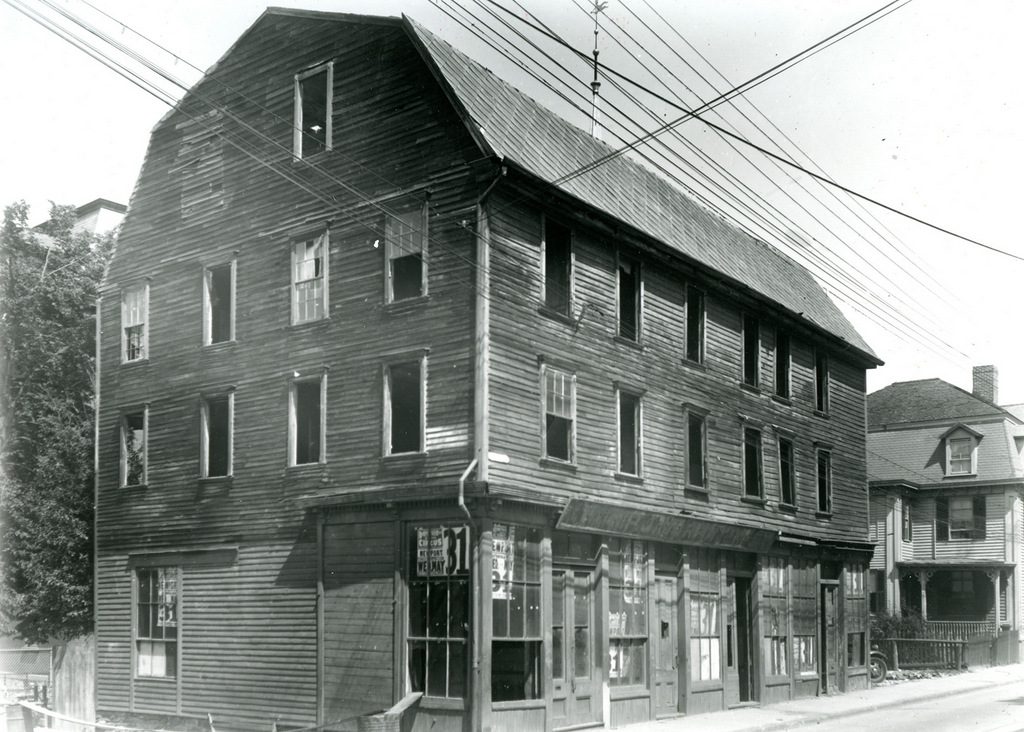 The scene in 2017: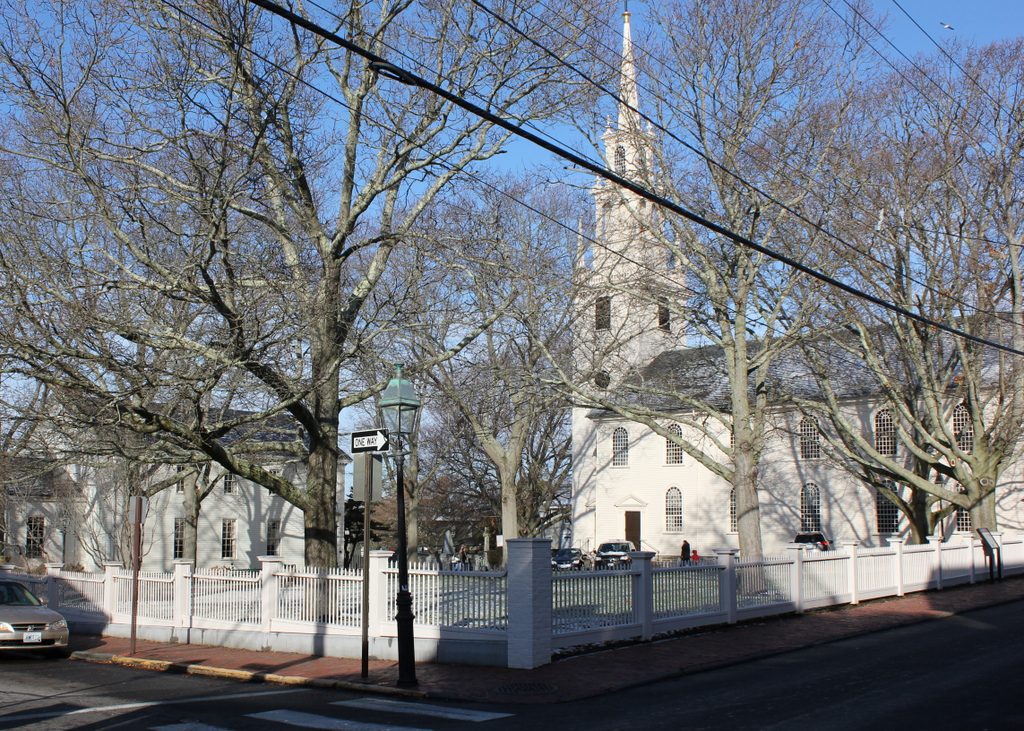 The first photo shows an evidently abandoned building that once stood at the corner of Mill and Spring Streets in Newport. It was probably built at some point in the second half of the 18th century, as it shares many common architectural features of this period, most notably the gambrel roof. Many surviving Newport buildings have a similar style, including the somewhat smaller White Horse Tavern building, which was originally constructed in the 17th century but was expanded to its present-day appearance a century later.
The 1777 map of Newport shows a building standing here at the corner, although it is unclear whether it was this particular building or an earlier one. Either way, the building was here by the 19th century, and the 1876 city atlas shows that the property belonged to Theodore R. Helme. His occupation was variously listed as a mason, carpenter, auctioneer, and grocer, and he also owned the commercial block that still stands on the opposite side of the street, at 148-160 Spring Street. He died around the turn of the 20th century, but the 1907 city atlas shows that his widow Ruby still owned this property, along with the one across the street.
The first photo shows that the building had several storefronts on the ground floor, and the upper floors were presumably divided into apartments. However, by the time the photo was taken in 1928, the building had fallen into serious disrepair. The upper floors were clearly empty, with hardly any surviving windows, and the storefronts also appear to have been vacant. The sign above the stores is completely illegible, and the only things visible in the windows are posters advertising for a circus on Wednesday, May 31. If the 1928 date of the photo is accurate, these posters must have been there for a long time, because the last time May 31 had fallen on a Wednesday was in 1922, and it would not do so again until 1933.
Based on its condition in the first photo, this building likely did not survive beyond the 1930s at the latest. The neighboring building on the far right side has also since been demolished, and today the area is a park adjacent to Trinity Church. Only the top of the church spire is visible in the first photo, but the entire building can now be seen from this angle. It was completed in 1726 and it features a design that is very similar to that of Old North Church in Boston, which was built only a few years earlier. Although the other buildings from the photo are gone, the nearly 300-year-old church is still standing, and in 1968 it was designated as a National Historic Landmark because of its architectural and historical significance.