Trinity Church on the Green (left) and Center Church (right), seen from across the New Haven Green, around 1900-1912. Image courtesy of the Library of Congress, Detroit Publishing Company Collection.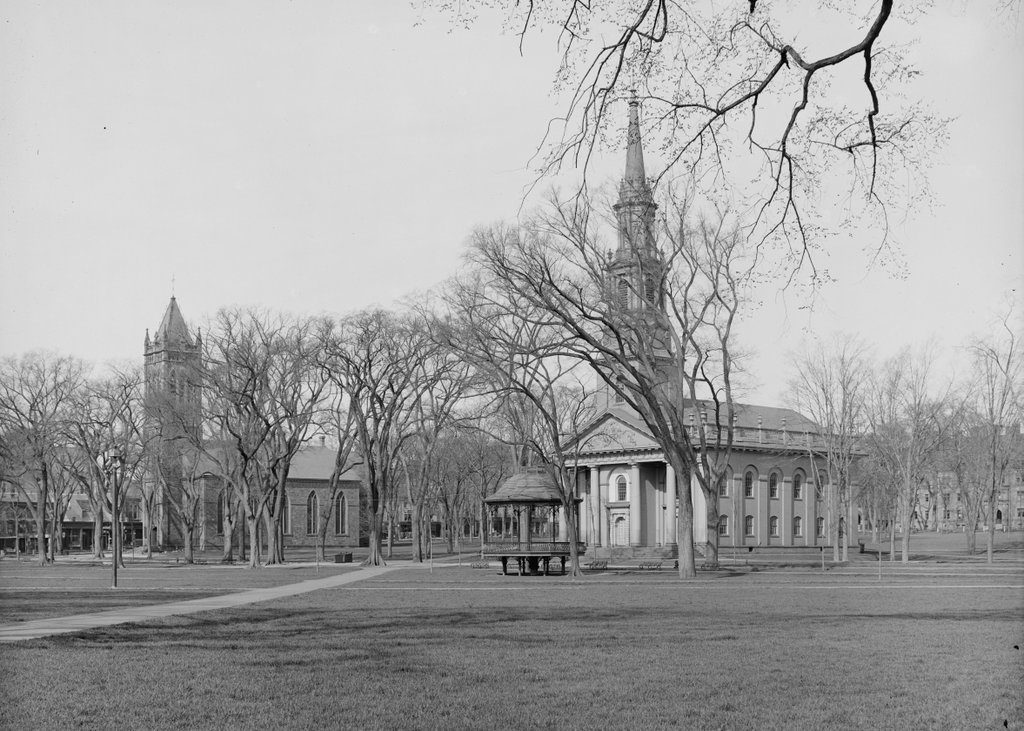 The scene in 2018: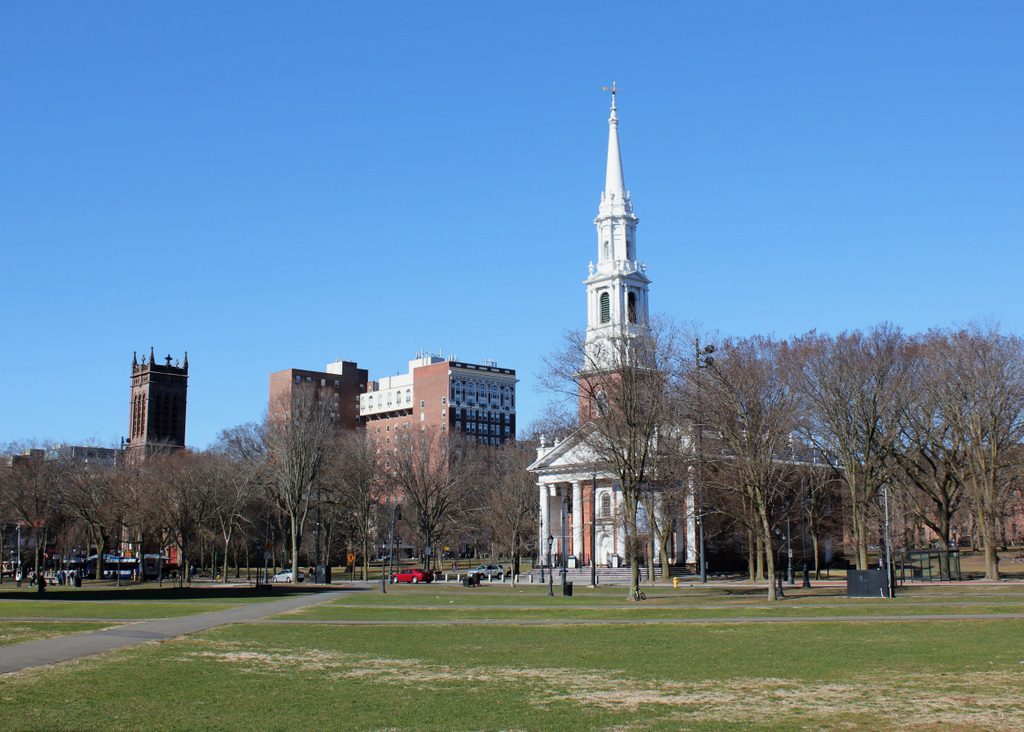 These two churches were completed only two years apart, and were designed – at least in part – by the same architect, yet they represent two very different architectural styles. On the right is the Federal-style Center Church, which was completed in 1814. It was the work of notes architects Asher Benjamin and Ithiel Town, and it reflects the typical appearance of New England churches during this period. Common features include a columned portico with a triangular pediment above it, a tall, multi-stage steeple, and an exterior of red brick. The United Church, located just out of view to the right, was completed a year later, and in many ways its design was a close imitation of Center Church.
A third church, Trinity Church, was also built on the New Haven Green around the same time. It was completed in 1816, and can be seen in the distance on the left side of the scene. However, while the two earlier churches were Congregationalist, Trinity was an Episcopalian parish, and its members were interested in a design that would set it apart from the new neighboring churches. As discussed in more detail in an earlier post, the result was a stone, Gothic Revival church, perhaps the first church of this style to be built in the United States. Like the neighboring Center Church, it was designed by Ithiel Town, and his work predated the widespread popularity of Gothic Revival architecture by several decades.
The first photo was taken nearly a century later, and shows the view of the Green with both churches still standing. Aside from a partially-reconstructed steeple on Trinity Church, neither building had seen many exterior changes by this point. Today, the churches are more than twice as old as they were when the first photo was taken, yet they have still remained well-preserved. The only noticeable difference is the removal of the pyramidal spire atop Trinity Church, which was not original anyway. The Green itself has also remained largely unchanged, aside from the loss of the elm trees that once gave New Haven its nickname of Elm City. The only other major change to this scene since the early 20th century has been the construction of the Hotel Taft, which was completed in 1912 and can be seen in the distance between the two churches.