The Old Campus at Yale University, as seen looking north from the southeast corner of the quadrangle, around 1918. Image from A Modern History of New Haven and Eastern New Haven County (1918).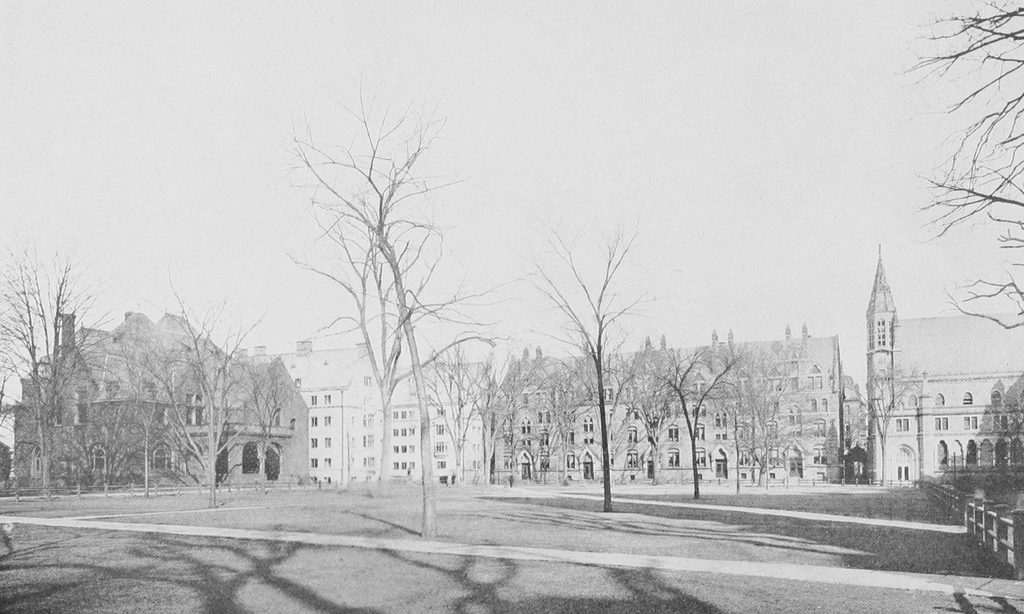 The scene in 2018: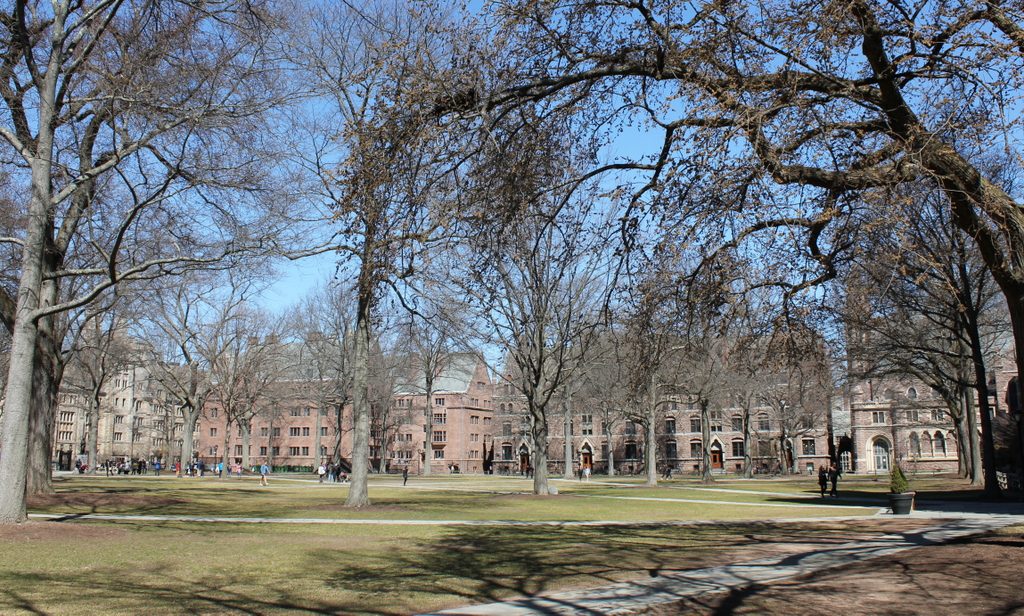 This view shows the north side of the Old Campus at Yale, taken from from near Connecticut Hall at the southeast corner of the quadrangle. The scene in the foreground was originally the site of the Old Brick Row, a row of seven late 18th and early 19th century buildings that ran perpendicular to the buildings in the distance. However, by the late 19th century, Yale began converting this block, bounded by College, Chapel, Elm, and High Streets, into a quadrangle, with Gothic-style buildings along the perimeter of the block. As a result, the Old Brick Row was eventually surrounded by new construction, and all of the old buildings were demolished by the turn of the 20th century except for Connecticut Hall, which still stands.
Two of the first buildings that were completed under this new plan were Durfee Hall, located in the right center of the photo, and the Battell Chapel, located on the far right. These were completed in 1871 and 1876, respectively, and both were designed by Russell Sturgis, a noted architect whose other works included the nearby Farnam and Lawrance Halls. By the time the first photo was taken around 1918, this scene also included Dwight Hall (1886) on the far left, and Wright Hall (1912) in the left center, which had replaced the earlier Alumni Hall on that site.
Although the Old Campus underwent dramatic changes in the 50 years before the first photo was taken, very little has changed in the century since then. The Battell Chapel is still standing, as are Durfee and Wright (now Lanman-Wright) Halls. Both of these – along with the other dormitories on the Old Campus – are now used to house freshman, who live here until moving into one of the school's residential colleges at the start of their sophomore year. The only significant difference between these two photos is the loss of Dwight Hall, which was demolished in 1926 in order to provide greater visibility of the Harkness Tower from the Old Campus. However, the name lives on with the old library building, which was subsequently renamed Dwight Hall, and it is both the home and namesake of Dwight Hall at Yale, an organization that comprises a number of service-based groups on campus.