The house at the corner of Kemble Street and Walker Street in Lenox, around 1890. Image courtesy of the Lenox Library Association.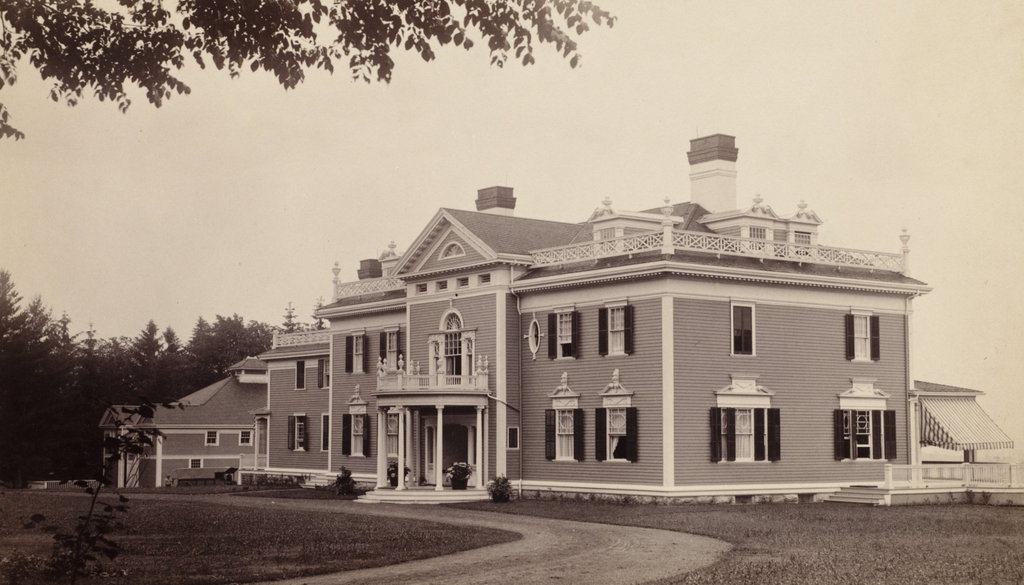 The scene in 2018: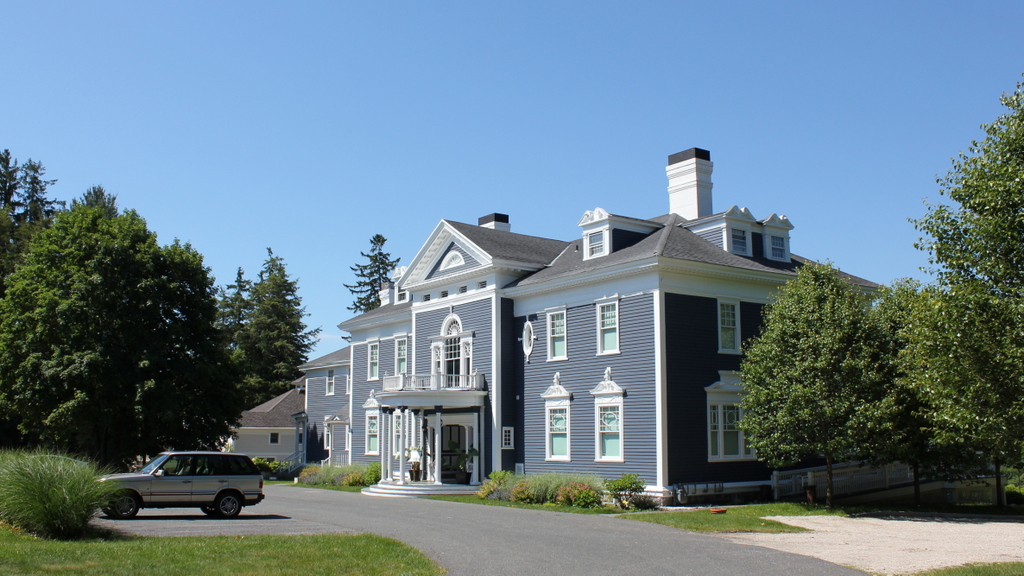 This house is often identified as having been the summer home of Frederick T. Frelinghuysen, a former U. S. Senator from New Jersey and the Secretary of State under President Chester A. Arthur. However, it appears that the house was actually built in 1888 – three years after Frelinghuysen's death – by his widow and three of their adult children. Either way, though, the house is a very early example of Colonial Revival architecture, and it was the work of the Boston architectural firm of Rotch & Tilden, which designed several other grand summer homes here in Lenox.
The three Frelinghuysen children who owned this house were Frederick, Jr., Lucy, and Matilda. They lived here at various times, but they also rented it to other families in the late 19th and early 20th centuries. These included George and Sarah Morgan, the brother-in-law and sister of financier J. P. Morgan, who lived here in the early 1890s while their own house, Ventfort Hall, was being constructed nearby. About a decade later, the Alexandre family similarly lived here while awaiting the completion of Spring Lawn, which is located immediately to the south of here.
By about 1909, the Frelinghuysen house had been named Sundrum, and it was occupied by Thatcher M. Adams, a New York City attorney who served as president of the New York Institution for the Instruction of the Deaf and Dumb. Sources provide conflicting information about whether he owned it, or simply rented it from the Frelinghuysen family, but either way Sundrum was his summer home until his death in 1919.
Subsequent owners of this house included the Bassett family, who were here for many years during the mid-20th century. However, they would be the last private residents of the house, as by this point the era of grand Berkshire summer homes had passed. Like a number of the other estates in the area, it was converted into institutional use, becoming a dormitory for the Lenox School for Boys. This school closed in 1971, but the former Frelinghuysen house was subsequently acquired by the Bible Speaks College, used the property from 1976 until 1987.
In the early 1990s, the house was converted into a hotel, which opened in 1995 as the Kemble Inn. Although millionaires no longer built massive summer estates here in the Berkshires, the region remains a popular destination for tourists, with a number of hotels and resorts, particularly here in the Lenox area. The Kemble Inn is still in business nearly 25 years after it opened here in the former mansion, and the exterior of the house remains well preserved, with few noticeable differences between these two photos except for the missing balustrades on the roof.