The United Church, at the southwest corner of Elm and Temple Streets, as seen from the New Haven Green around 1900-1912. Image courtesy of the Library of Congress, Detroit Publishing Company Collection.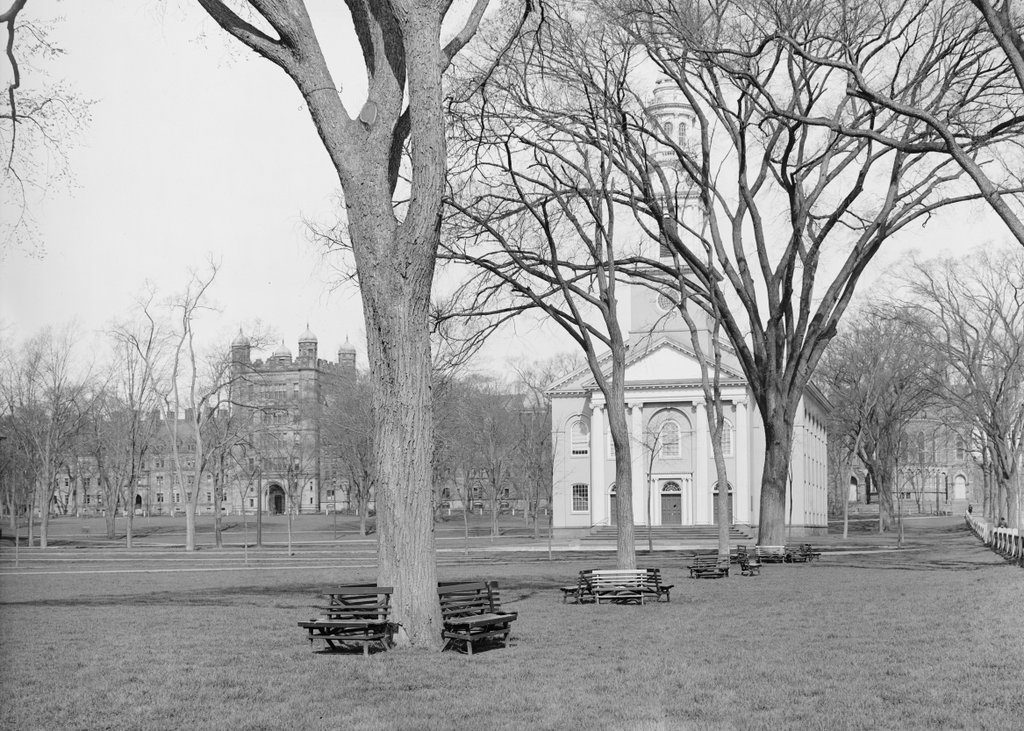 The scene in 2018: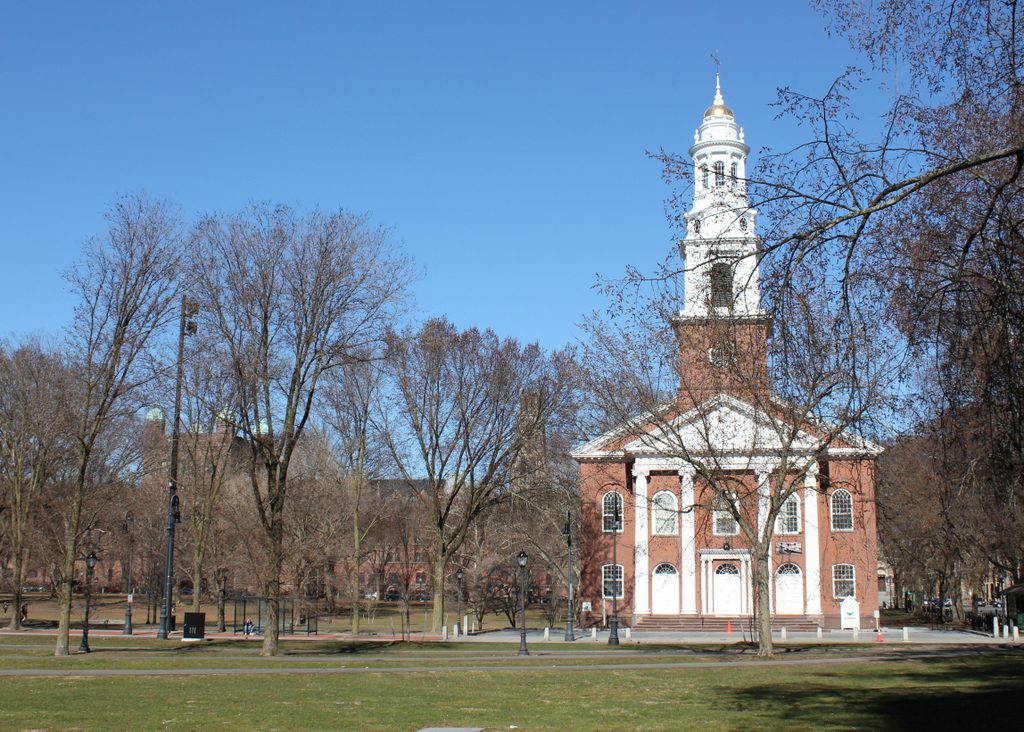 New Haven's United Church, also know historically as North Church, has occupied this building on the Green since its completion in 1815. It was one of three church buildings to be built here during the mid-1810s, and it features a Federal-style design that was typical for churches of this period. The architect of United Church is somewhat unclear, but sources generally credit Ebenezer Johnson, Jr. with designing the building, and noted architect David Hoadley with overseeing the actual construction work. Either way, the design was likely influenced by the adjacent Center Church, which was completed a year earlier. Both churches have a brick exterior, a multi-stage steeple, and a pediment above the main entrance, although the United Church lacks a columned portico, and its steeple has a rounded top instead of a pointed spire.
The United Church was built a block east of the Old Campus of Yale University, which is visible in the distance on the left. The campus was developed in the 18th century, but most of these early buildings were demolished in the late 19th and early 20th centuries in order to construct the modern-day Gothic college buildings. The majority of this work was completed by the time the first photo was taken, and the most visible of these new buildings was Phelps Hall, with its distinctive tower that rises above Welch Hall to the left of it and Lawrance Hall to the right. Lawrance Hall is the oldest of the three, having been built in 1886, while Welch and Phelps were built in 1891 and 1896, respectively.
Today, more than a century after the first photo was taken, very little has changed in this scene. The elm trees on the Green are long gone, with most having presumably succumbed to Dutch Elm Disease in the mid-20th century, but otherwise the Green continues to function as a public park at the heart of New Haven. The United Church is still an active congregation, and its historic 1815 building has remained well-preserved, with no noticeable exterior changes from this angle. Along with the other two early 19th century churches on the Green, it is now part of the New Haven Green Historic District, which was designated as a National Historic Landmark in 1970. Further in the distance, this view of the Old Campus has also remained largely unchanged since the first photo was taken, and these buildings are used as freshman dormitories and as offices for several academic departments.