The house at the corner of Forest Street and Farmington Avenue in Hartford, around 1905. Image courtesy of the Library of Congress, Detroit Publishing Company Collection.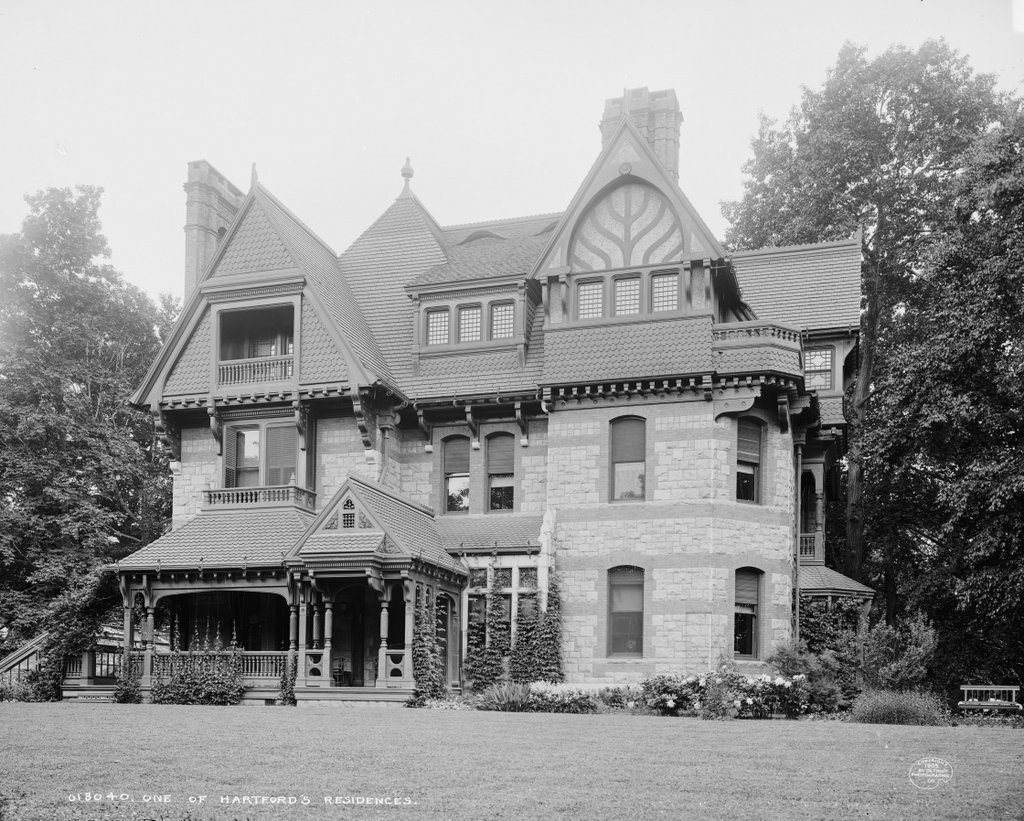 The house in 2020: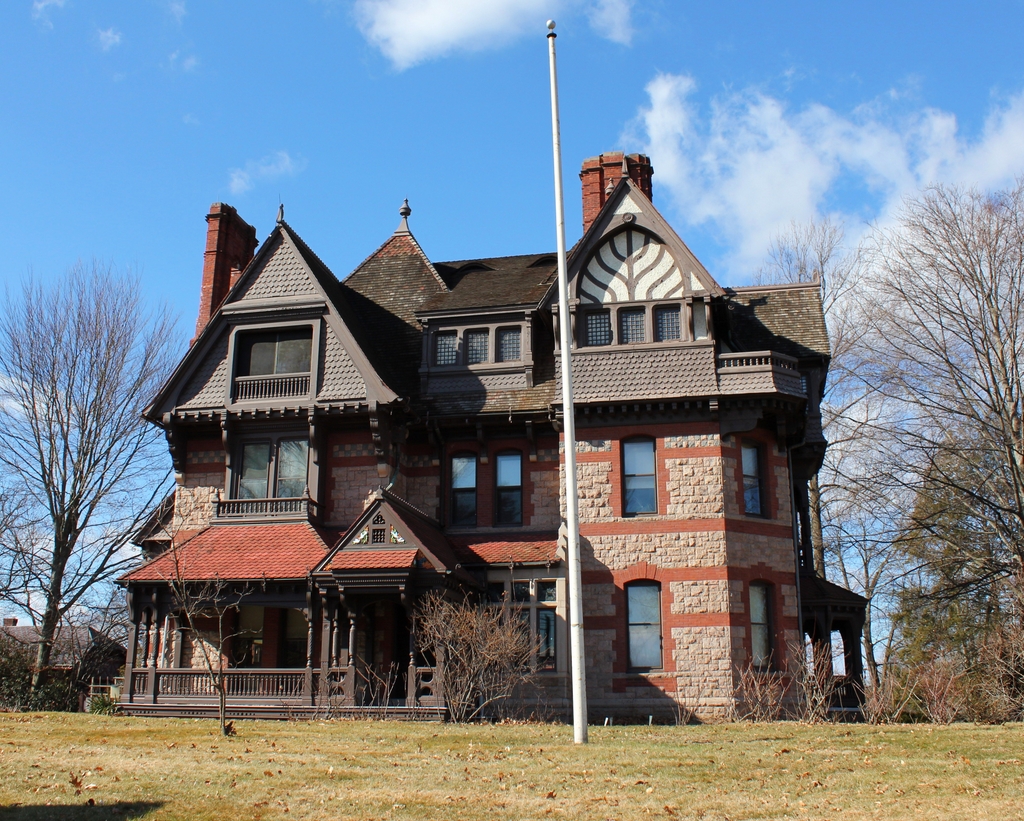 This house was built in 1884, and was designed by noted New York architect Francis H. Kimball. It features a variety of exterior colors and building materials, as was typical for Queen Ann-style homes of this period, including light-colored limestone and contrasting brownstone trim. Other common Queen Anne elements include an asymmetrical facade, along with a complex roof that is filled with an eclectic mix of gables and dormers. This style was particularly common in the United States during the 1880s and 1890s, with this house dating to the early part of that period.
The original owner of this house was Franklin Chamberlin, a lawyer who had once owned much of the land here at the corner of Forest Street and Farmington Avenue. In 1871, he had constructed a house just to the left of here, at 73 Forest Street, and in 1873 he sold it to Harriet Beecher Stowe. A year later, he sold another part of his land to Mark Twain, who constructed a house of his own on the property. However, Chamberlain retained the corner lot for himself, and subsequently built this house, which was flanked on either side by two of the country's most celebrated authors.
Chamberlin died in 1896, but his widow Mary lived here in this house until her death in 1907. The next owner of the house was Willie Olcott Burr, the editor of the Hartford Times. His father, Alfred Edmund Burr, had been the editor of the newspaper for 60 years, and Willie began working for him as a teenager in 1861. The newspaper prospered under both father and son, and by the early 20th century it had the largest circulation of any paper in the state. Willie Burr moved into this house sometime in the early 1910s, and the 1920 census shows him living here with his wife Angie and two servants. He died only a year later, although Angie would continue to live here throughout the 1920s and 1930s.
In 1940, the house was purchased by Katharine Seymour Day, who was the grandniece of Harriet Beecher Stowe. She had previously purchased her great aunt's former home next door, and in the late 1920s she led the effort to save the Mark Twain House, which was being threatened with demolition at the time. Her 1940 acquisition of this house helped to further preserve the neighborhood, and the house is still standing today, with few noticeable differences between the two photos. Along with the neighboring Stowe House, it is now part of the Harriet Beecher Stowe Center, and it serves as offices and as a research library for the organization.