The statue of Governor William A. Buckingham in the west atrium of the Connecticut State Capitol in Hartford, around 1891. Image from Hartford Illustrated (1891).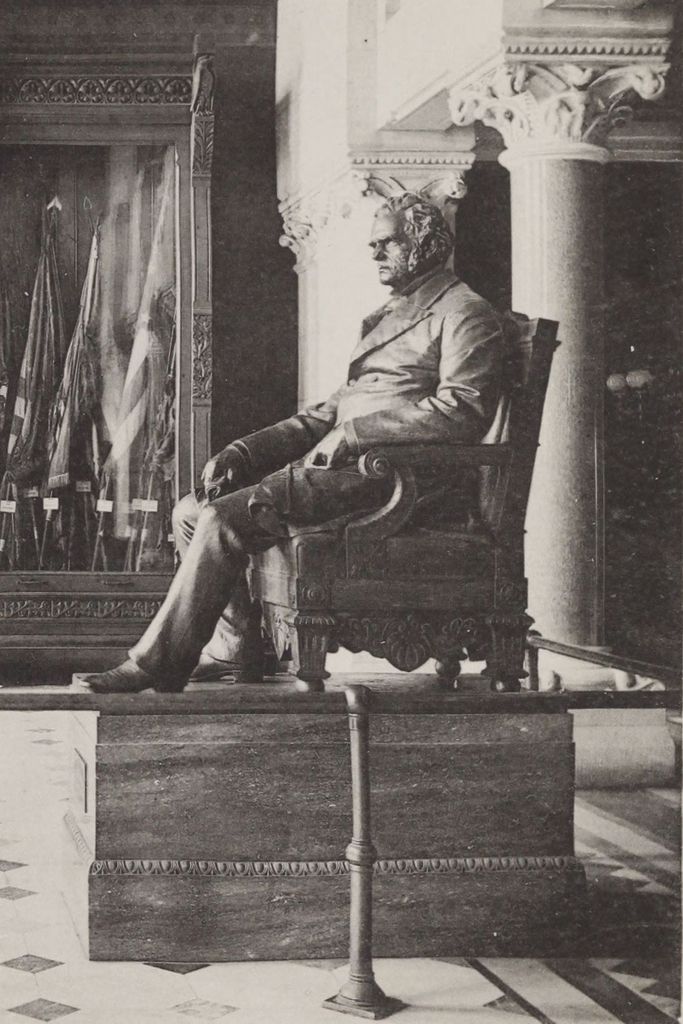 The scene in 2019: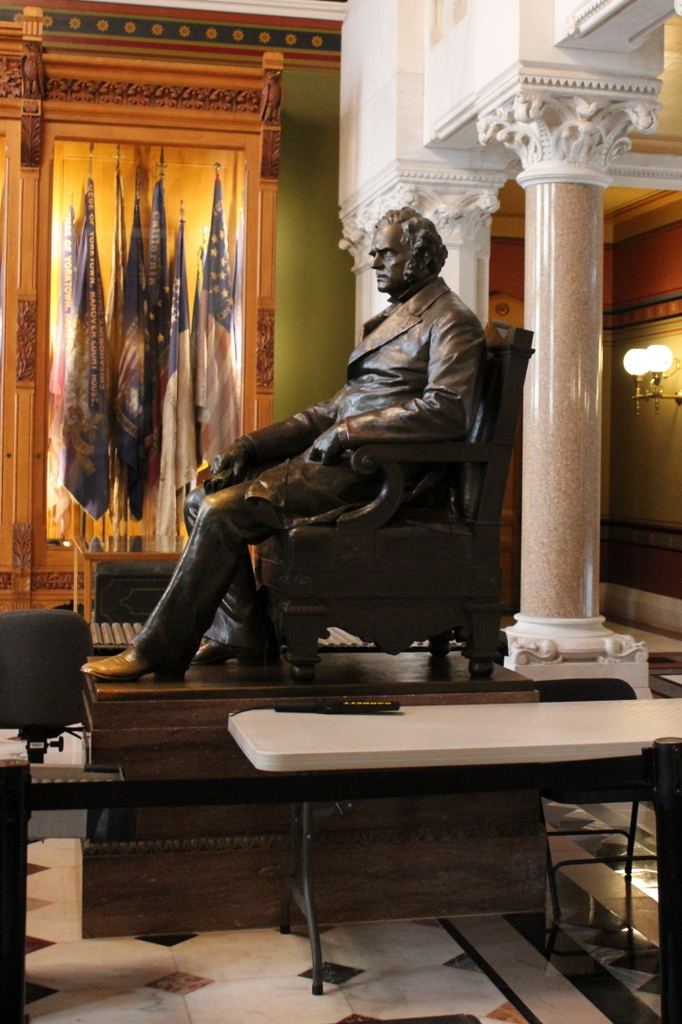 William A. Buckingham served as governor of Connecticut from 1858 to 1866, including for the entire duration of the Civil War. During that time, he was instrumental in recruiting soldiers for the state regiments, in addition to raising money to equip them. In several instances, he even took out personal loans in order to ensure that Connecticut soldiers were paid in a timely manner. Because of his actions, he earned the respect of the state's veterans, and he was subsequently elected to the U.S. Senate, where he served from 1869 until his death in 1875.
The current Connecticut State Capitol was completed in 1878, and the west atrium was designated as the Hall of Flags, to display the battle flags of the state's various Civil War regiments. These flags were placed here on September 17, 1879—the anniversary of the Battle of Antietam—with a celebration that included a parade of more than ten thousand veterans. Then, five years later, the state installed this statue of Governor Buckingham, which was designed by Olin L. Warner, a prominent sculptor from Suffield, Connecticut. It was unveiled here on June 18, 1884 with similar fanfare, including a large parade of veterans and speeches by state dignitaries.
The first photo was taken around 1891, and very little has changed since then. The atrium is a little more crowded now, because of added security at the entrance, but the statue of Governor Buckingham is still here, as are most of the regimental flags. The capitol building was extensively restored during the 1980s, and during this time many of the flags were also restored. After being on display for well over a century, most were badly deteriorated, with some even falling off of their poles. Of the 110 flags, 73 were restored in the 1980s. Funding has been a challenge since then, but more flags have continued to be conserved over the years, and have been put back on display here in the Hall of Flags.