The dome of the United States Capitol, seen from the southwest side of the building, around 1902. Image courtesy of the Library of Congress, Detroit Publishing Company Collection.
The scene in 2018: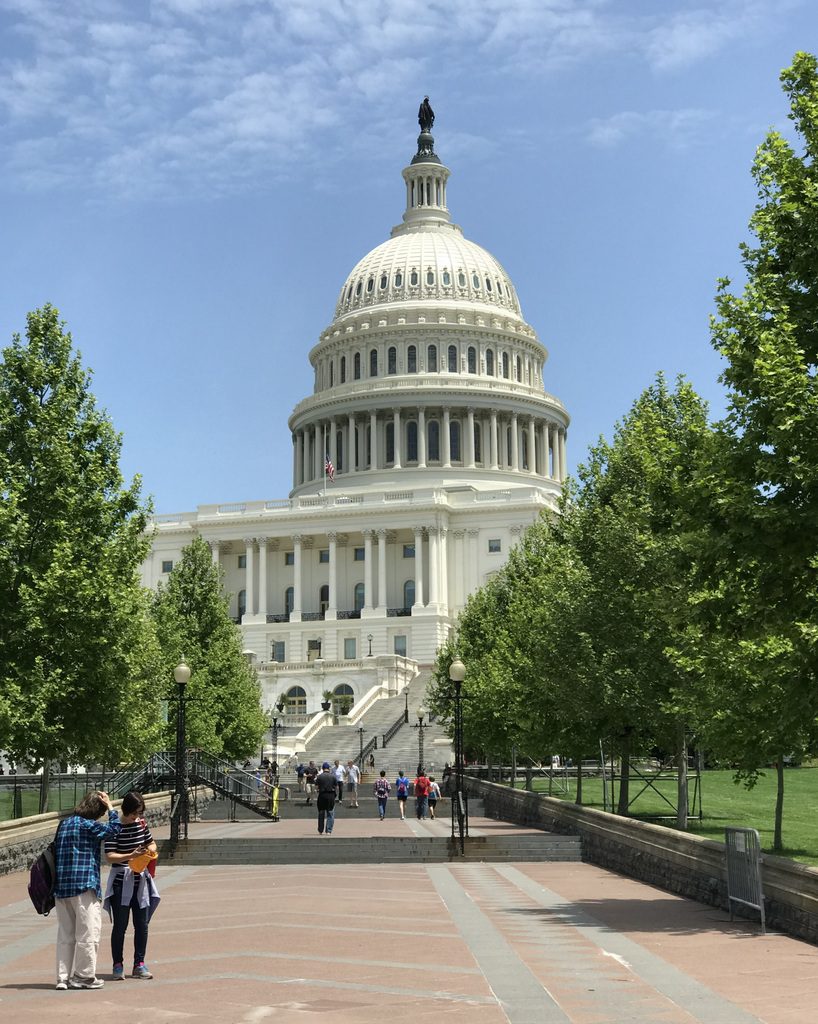 The history of the United States Capitol dates back to 1793, when George Washington laid the cornerstone of the building. It was first used by Congress in 1800, when the south wing was completed, and the north wing followed in 1807. However, the Capitol was burned by British forces during the invasion of Washington in 1814, and it would not ultimately be completed until 1826. At the time, though, the building looked very different from its current appearance. As shown in this earlier post, it consisted of only rotunda, topped by a low dome, and a small wing on either side of it.
It was not until the 1850s that the Capitol began to take on its current exterior appearance. As the nation grew, so did the size of Congress, and this required the construction of new legislative chambers here in the Capitol. This led to new, larger wings next to the old chambers, along with a larger dome to better suit the scale of the expanded building. The new House and Senate chambers were completed in 1857 and 1859, respectively, but the dome would take longer. As discussed in another previous post, it was still very much unfinished at the outbreak of the Civil War, but it was ultimately completed in 1866.
This dome would become the most distinctive part of the Capitol, serving as a symbol for both Congress and the federal government as a whole. Unlike the rest of the building, the dome is made of cast iron, and at 288 feet it is the tallest cast iron dome in the world. It was the work of architect Thomas U. Walter, who based his design on notable European domes, such as those of the Pantheon and St. Paul's Cathedral. At the top of the dome is the Statue of Freedom, a 19.5-foot, 15,000-pound bronze statue that was designed by sculptor Thomas Crawford and installed in 1863.
By the time the first photo was taken at the turn of the 20th century, the Capitol had largely assumed its modern-day appearance. Aside from a late 1950s expansion of the east front, on the opposite side of the building, nearly all of the work done to the building since then has involved conservation and restoration. Today, more than 115 years after the first photo was taken, this particular scene has remained virtually unchanged. However, perhaps the only difference is the level of security at the Capitol. The first photo shows a group of five people descending the steps, but today these steps are closed, and the only public access to the Capitol is through the Capitol Visitor Center, located on the opposite side of the building.