The apartment building at 83-89 Walnut Street in Springfield, around 1938-1939. Image courtesy of the Springfield Preservation Trust.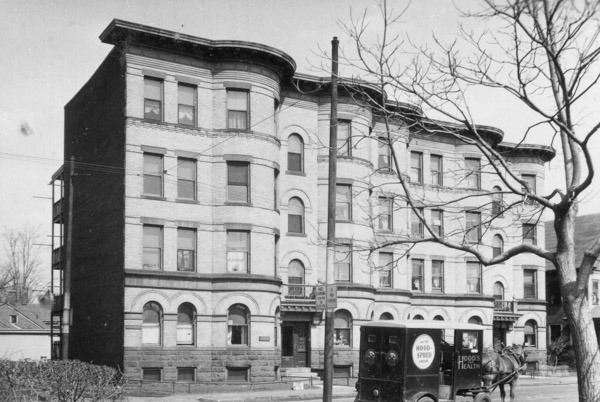 The scene in 2019: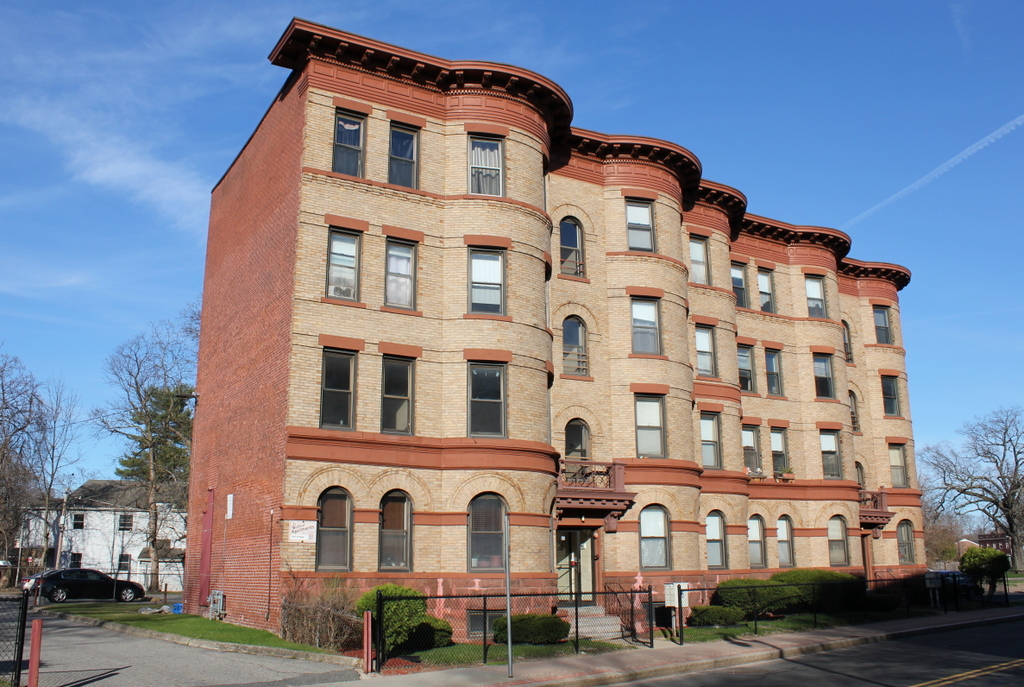 This apartment building was constructed in 1906 on the east side of Walnut Street, about halfway between the corners of Union and Oak Streets. Its design was typical for Springfield apartment blocks of the period, with four stories and a Classical Revival exterior that featured elements such as an ornate cornice, along with bows that projected from the building's facade.
According to current city records, the building has 16 units, and this was likely the case throughout its history, with census records showing anywhere from 9 to 16 families living here during the first half of the 20th century. The 1910 census, for example, lists 13 different families. Some of these families had roomers living with them in their units, and there were a total of 42 residents here at the time. A few were employed at the nearby Springfield Armory, but most worked for private companies or individuals. These included several clerks and traveling salesmen, a physician, a dressmaker, a silk winder, a manicurist, a chauffeur, a real estate broker, and a locomotive inspector. However, the youngest employed resident here was nine-year-old Chester H. Scott, who worked as a newsboy in the days before child labor laws.
By the time the first photo was taken in the late 1930s, the building was evidently filled to capacity, with the 1940 census showing 16 families and a total of 56 residents. Most paid between $30 and $40 per month in rent (about $550 to $750 today), and as was the case 30 years earlier, many took in roomers, presumably to help offset the cost of the rent. Despite the significant increase in the number of residents from 1910, though, there were actually fewer people here who were employed, with only 24 having an occupation listed on the census.
Most of those in the 1940 census who did work earned between $1,000 and $1,500 per year (about $18,500 to $27,700 today), and the highest-paid residents were railroad conductor William R. Braney and factory foreman Joseph Webber, who each earned $2,000. Other workers here included several machinists, a bartender, a truck driver, a radio repairman, a laundress, and a bookkeeper. Only two residents worked at the Armory, although this would likely have changed within a few years, as the Armory dramatically increased its workforce in order to meet wartime demand during World War II.
Today, around 80 years after the first photo was taken, remarkably little has changed in this scene. The house on the far right side is gone, and there are no longer any horse-drawn wagons parked here on the street, but the building looks essentially the same, and it survives as a well-preserved example of an early 20th century apartment block.