Half of a panorama view of Huntington Avenue Grounds in Boston, in 1903.  The other half can be found here. Image courtesy of the Library of Congress.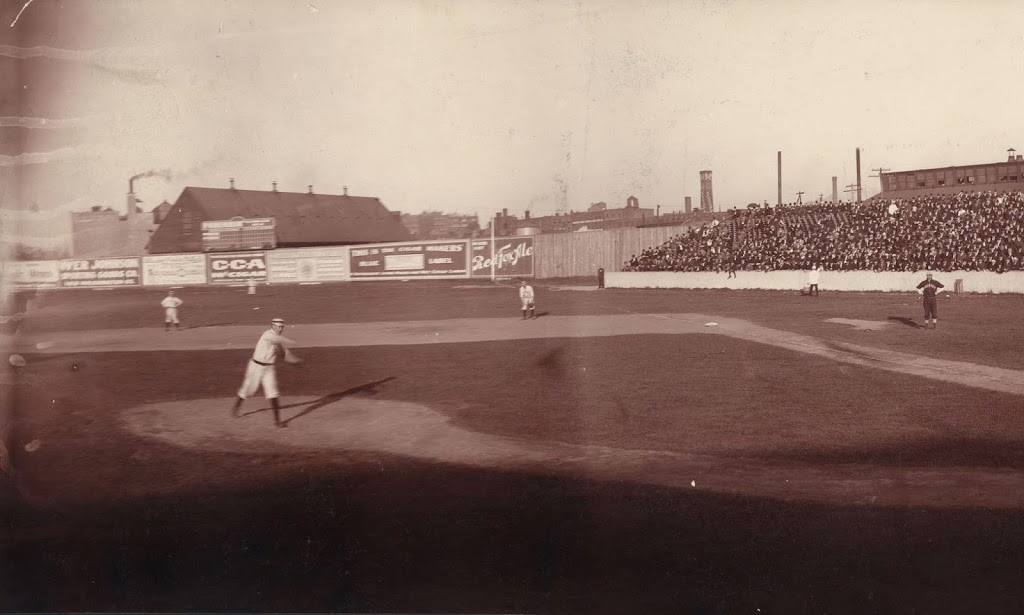 The scene in 2014: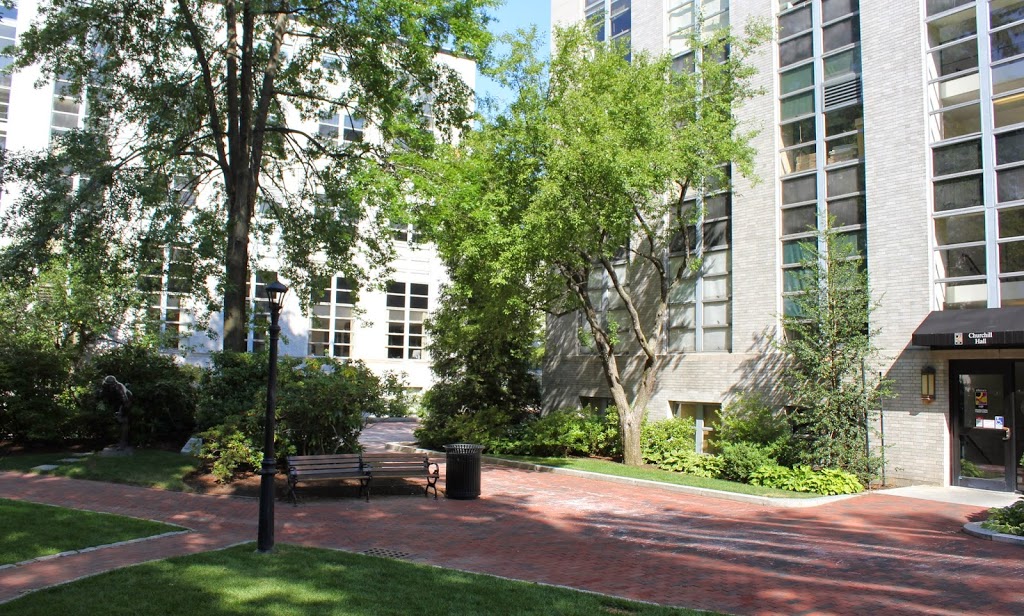 A lot has changed at the site of the original home of the Boston Red Sox. It seems as though they have played at Fenway Park for forever, and for good reason – they just finished their 102nd season there.  However, before Fenway Park, before Babe Ruth, and even before the name Red Sox, there was Huntington Avenue Grounds.  The first photo was taken on September 22, 1903, and is one half of a panoramic photo (see this post for the other half) that was taken by the studios of Elmer E. Chickering, a Boston photography company.  See the "then" photo in this post for a very similar scene showing pitching legend Cy Young.
Thanks to the efforts of the writer of the Baseball Researcher blog, we are able to identify not only the day that the photograph was taken, but also the players who appear in it.  Boston's pitcher is Tom Hughes, an average pitcher who was in the midst of what would be a career year for him, with a 20-7 record.  The first baseman is Candy LaChance, with second baseman Hobe Ferris visible to the left, and right fielder Buck Freeman can be seen in the distance.  Freeman would go on to lead the American League in home runs, with 13, and Ferris came in third, with nine.
Boston would end up losing this particular game, 7-0, but it probably didn't phase the team too much – they were up 14.5 games with eight left to play, so they had already clinched the American League pennant and were just over a week away from hosting the Pittsburgh Pirates here in Boston for the first World Series, which Boston would go on to win five games to three.
Today, the site is part of the Northeastern University campus, but all is not forgotten; there is a statue of Cy Young on the left-hand side of the photo in the distance, in front of the bushes.  It was largely thanks to Young's pitching that the Red Sox won the 1903 World Series, and the statue made in his honor is placed approximately where the pitcher's mound once was.  There is also a home plate marker, 60 feet away from the statue, around where this photo was taken.  However, this was not the actual location of home plate – the real location was about 90 degrees to the right, under what is now a campus building.
See the Library of Congress site for the complete panorama.