The fountain at the corner of Main and Fountain Streets in Monson, probably around 1900-1920. Image courtesy of the Monson Free Library.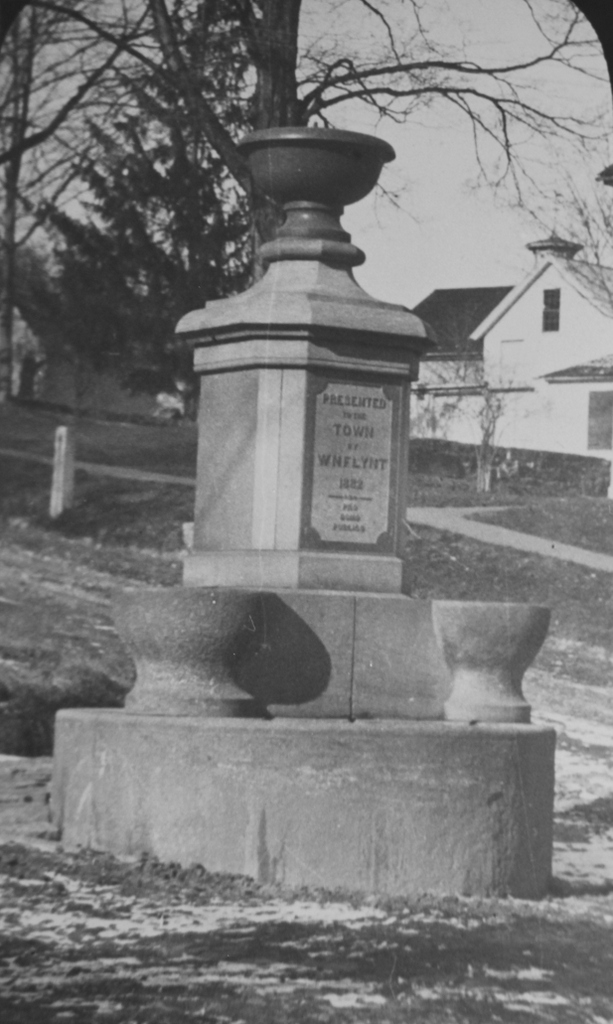 The fountain in 2015:

As mentioned in previous posts, the town of Monson became a significant industrial center in the 1800s. Most of this involved manufacturing textile products or straw hats, but the Flynt family built a prosperous business out of quarrying granite.  The company was started around 1825 by Rufus Flynt, and after his death in 1836, his son William took over the company at the age of 18.  Incidentally, the Flynts also had a connection to another prominent family in town.  William's middle name was Norcross, which was his mother Sarah's maiden name.  She was the daughter of William Norcross and the sister of Joel Norcross, whose house on Main Street is still standing today.  Joel was the grandfather of Emily Dickinson, which means William was her second cousin, once removed.
William N. Flynt remained in control of the company for the next 39 years, during which time it became one of the area's leading producers of granite.  Monson buildings such as the Memorial Town Hall, St. Patrick's Church, the Universalist Church, and the library were built of Flynt granite, as was the Hampden County Courthouse in Springfield along with many other public buildings in the northeast.
Shortly after his retirement, Flynt donated this fountain to the town.  It is located directly across the street from his company store, and it reads "Presented to the town by W.N. Flynt. 1882. Pro bono publico."  The Latin phrase translates as "for the public good," and in its early years this fountain served the public good as a watering trough for horses.  Given the marked decline in horse traffic on the streets of Monson, though, it has since been used as a decorative planter.