The Joel Norcross House on Main Street in Monson, probably around 1900-1920. Image courtesy of the Monson Free Library.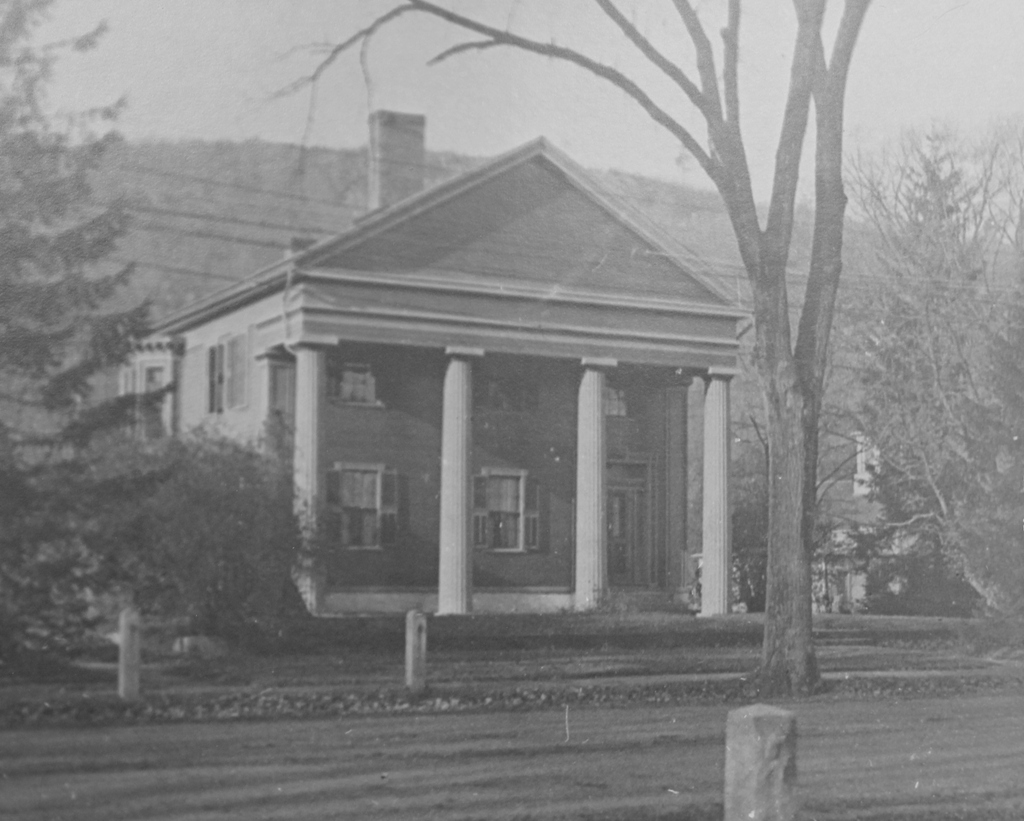 The building in 2015: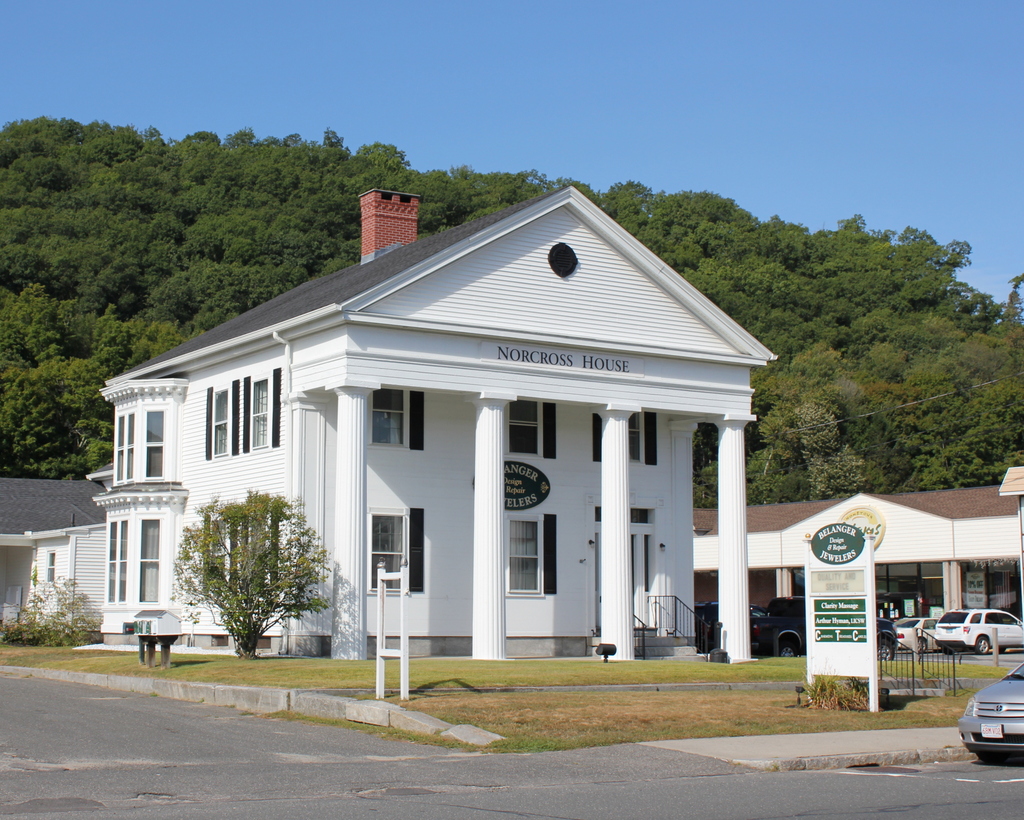 This house was built in the early 1830s, and aside from its architectural significance as an excellent example of Greek Revival style, it is also notable as the home of Joel Norcross, the maternal grandfather of poet Emily Dickinson.  The Norcross family was prominent in Monson's early history; Joel's father William built a large home and tavern on nearby Cushman Street in the late 18th century, and Joel himself became a successful farmer and merchant.  He married Betsey Fay in 1798, and the couple had nine children, including Emily Norcross, the mother of Emily Dickinson.
Betsey died in 1829, and at some point after that (one source says 1830, another says 1835) Joel had this house built.  He remarried in 1831 to Sarah Vaill, just a few weeks after Emily Dickinson's birth.  Sarah became a grandmother figure to Emily, who undoubtedly visited them in this house during her childhood.  Joel died in 1846 and Sarah in 1854, and the house went to Joel's son Alfred.  After Alfred's death in 1888, his son Arthur D. Norcross inherited it.  Arthur attended Monson Academy, and in 1871 he was one of the 27 students in the first graduating class at the Massachusetts Agricultural College, which would later become UMass Amherst.  Like the three generations before him, he was a prominent Monson citizen, and he served on the water commission, the school committee, the board of selectmen, and a number of other town offices.  He also represented the town in the state House of Representatives from 1904 to 1906, and the state Senate in 1908 and 1909.
Arthur's son, Arthur, Jr., was born in Monson 1895, probably in this house, but he spent most of his life in New York City, where he founded the Norcross Greeting Card Company in the 1920s.  He did, however, continue to play a role in the town, and in 1939 he established the Norcross Wildlife Sanctuary in Monson and the neighboring town of Wales.  When he died in 1969, he left much of his estate to the Norcross Wildlife Foundation for the continued operation of the sanctuary, which now consists of around 8,000 acres in Monson and Wales.
The old Norcross house, meanwhile, is still standing on Main Street, and it is one of the few surviving examples of a columned Greek Revival home in Monson.  A similar neighbor, which was probably built around the same time, was the Solomon F. Cushman, Jr. House, located just to the right of here.  It was demolished sometime in the mid 20th century, and it is now a shopping plaza.  As seen in the second photo, the Norcross House now has a jewelry store (on a personal note, I bought my wife's engagement ring here), along with several other commercial tenants.  Thankfully, its exterior has been well-preserved, and despite the change in use, it still looks the same as it did during Emily Dickinson's visits over 160 years ago.