Looking north on Main Street from near State Street in Monson, around 1890-1910. Image courtesy of the Monson Free Library.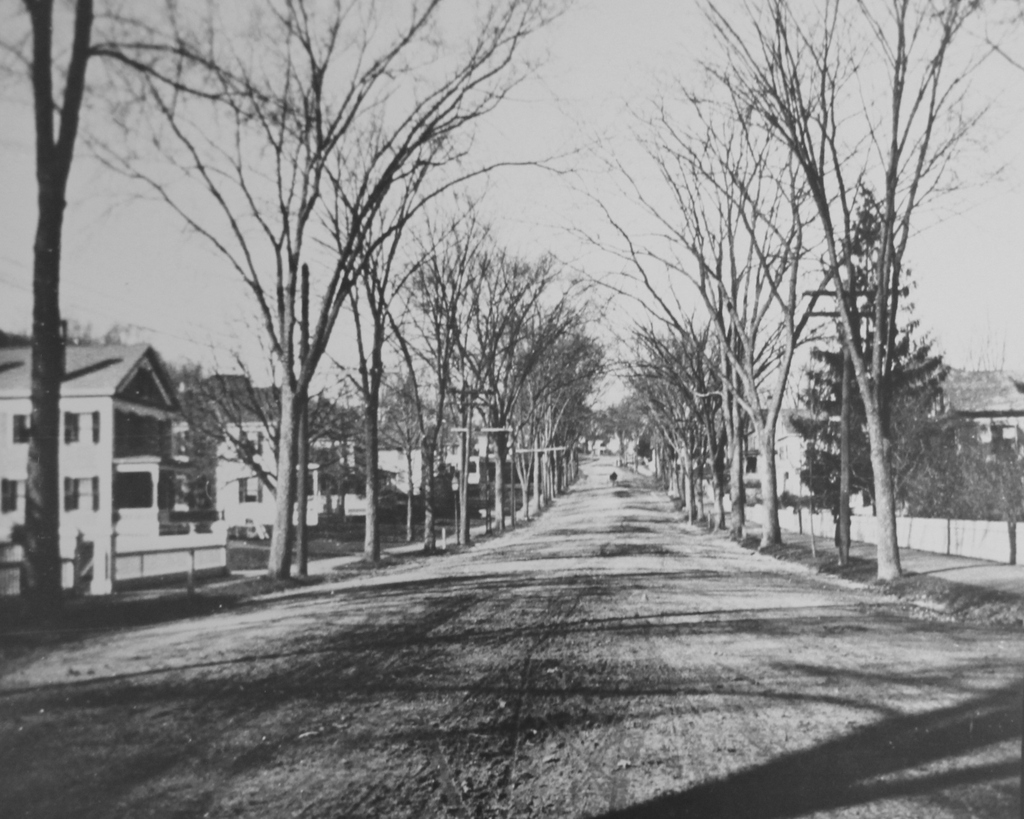 Main Street in 2015: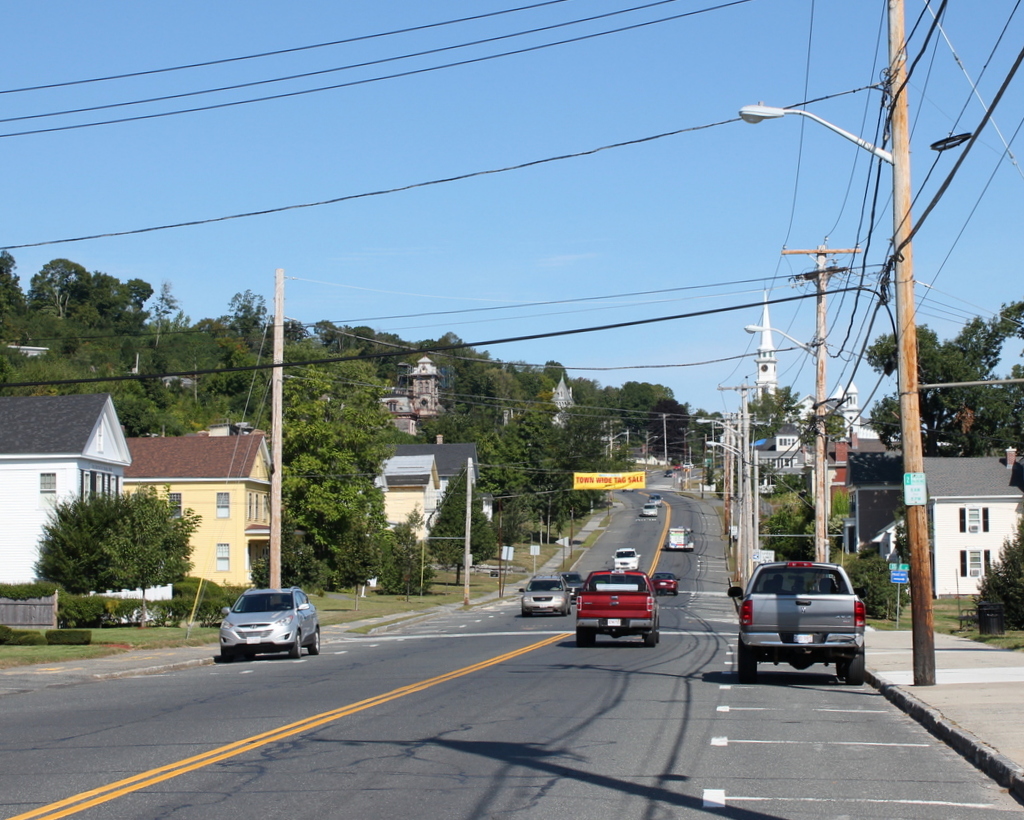 This section of Main Street was once known as "Millionaires' Mile," and it featured a number of elegant 19th century homes that were owned by prominent factory owners and other businessmen in Monson.  In previous posts I highlighted two neighboring homes that belonged to the Norcross family and Cushman family, and this photo was taken just north of them, in front of Cushman Hall.
Many of the homes from the first photo are still standing today, despite over a century of change and a devastating tornado that passed directly through this scene in 2011.  The trees hide some of the houses in the first photo, but nearly all of them from the foreground to the crest of the hill are nearly identical Greek Revival homes that date back to around the 1840s.  This style was particularly popular in industrialized New England cities like Hartford, New Haven, and New Bedford, but it can also be seen here in Monson, where similar industrial growth was occurring on a smaller scale.
The two houses on the far left, which are painted white and yellow in the 2015 photo, are essentially identical, and they were both built in 1842.  The one on the left was the home of Rufus and Sarah Fay, and the yellow one to the right was the home of Charles and Mary Ann Merrick.  Aside from being family, though, the two men were also business partners; they owned a straw hat factory across the street, where the Monson Town Offices are today.  Together they, and later their children, ran Merrick & Fay for over 50 years, and the company was a major employer in the town.  Their sons sold the company in 1891, and the factory burned down in 1912, but their twin houses are still standing on Main Street.
Other wealthy 19th century residents of this section of Main Street included Edward Cushman, who lived in the house on the far right.  He left it to the town in his will, and today it is the Monson Senior Center.  Further up the hill, the Victorian mansion just to the left of center was the home of Cyrus W. Holmes, a factory owner who lived in the Victorian mansion seen on the hill just to the left of center.
In more than 100 years since the first photo was taken, Main Street has seen many changes.  A trolley line was added and later removed, the road was paved, automobiles replaced both the horse-drawn carriages and the trolleys, and the 1938 hurricane destroyed most of the elms that once lined both sides of the street.   The street is no longer filled with millionaire businessmen either, but their former homes help contribute to the character of downtown Monson and serve as a reminder of the town's industrial history.