The home of Solomon F. Cushman, Jr., on Main Street in Monson, probably around 1900-1920. Image courtesy of the Monson Free Library.
The site of the house in 2015: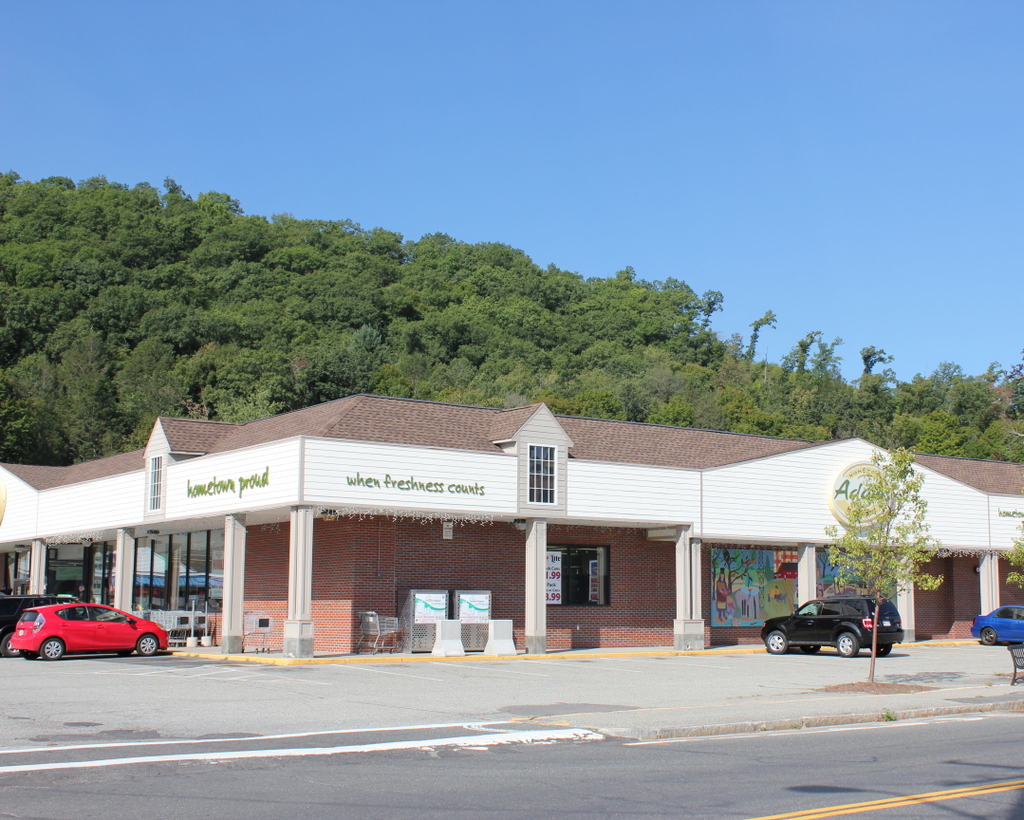 This Greek Revival style house was once the home of Solomon Cushman, Jr., the son of one of Monson's prominent industrial leaders of the 19th century. His father, Solomon Cushman, Sr., was born in 1826 in Monson, Maine, a small town in central Maine.  After working in farms and lumberyards near his hometown, he became a store clerk, and later moved to Palmer, and then to Monson, Massachusetts, where he became a bookkeeper for the Monson Woolen Manufacturing Company, a textile company with a factory on present-day Cushman Street.
Cushman eventually became the owner of the company, and renamed it S. F. Cushman & Sons in 1877.  The Cushmans grew the company, purchasing a branch factory in 1883 at the corner of Maple and Elm Streets, and rebuilding the main factory on Cushman Street after a fire in 1886.  Solomon, Jr. was born in 1861, and he graduated from Monson Academy in 1880 and from MIT in 1882.  He also attended the Lowell School of Design, and later returned to Monson, where he was put in charge of the branch mill.  When the elder Cushman died in 1900, his five sons took over the company, but they soon began selling it.  The branch mill was sold in 1901, and the main factory operated under the Cushman name until 1912, when it was sold to a hat company.  The building has since been abandoned for many years, but it is still standing on Cushman Street over 125 years after the Cushmans opened it.
The house in the first photo was purchased by Solomon, Jr. sometime between about 1884 and 1894, but the house was much older than that.  Architecturally, it is very similar to the nearby Joel Norcross House, which was built in 1830 and is still standing today.  This house was probably built around the same time, and according to the 1857 county atlas, it was owned by Horatio Lyon, one of the owners of the Monson Woolen Manufacturing Company who first employed Cushman, Sr.  It was later the home of yet another factory owner, Cyrus W. Holmes, who lived here until his much more elegant Holmbrook mansion was completed just up the hill from here around 1870.
Several of the Cushman brothers lived nearby, including the oldest sibling, Edward, whose house on Main Street is now the Monson Senior Center.  I don't know how long Solomon, Jr. lived here in this house, but he died in 1932 at the age of 70, and the house was subsequently demolished in 1957.  Today, the former Cushman property is a shopping plaza with the Adams supermarket, a Rite Aid drugstore, and several smaller businesses.