Looking south on North Street in Pittsfield from the corner of Depot Street, around 1908-1915. Image courtesy of the Library of Congress, Detroit Publishing Company Collection.
The scene in 2016: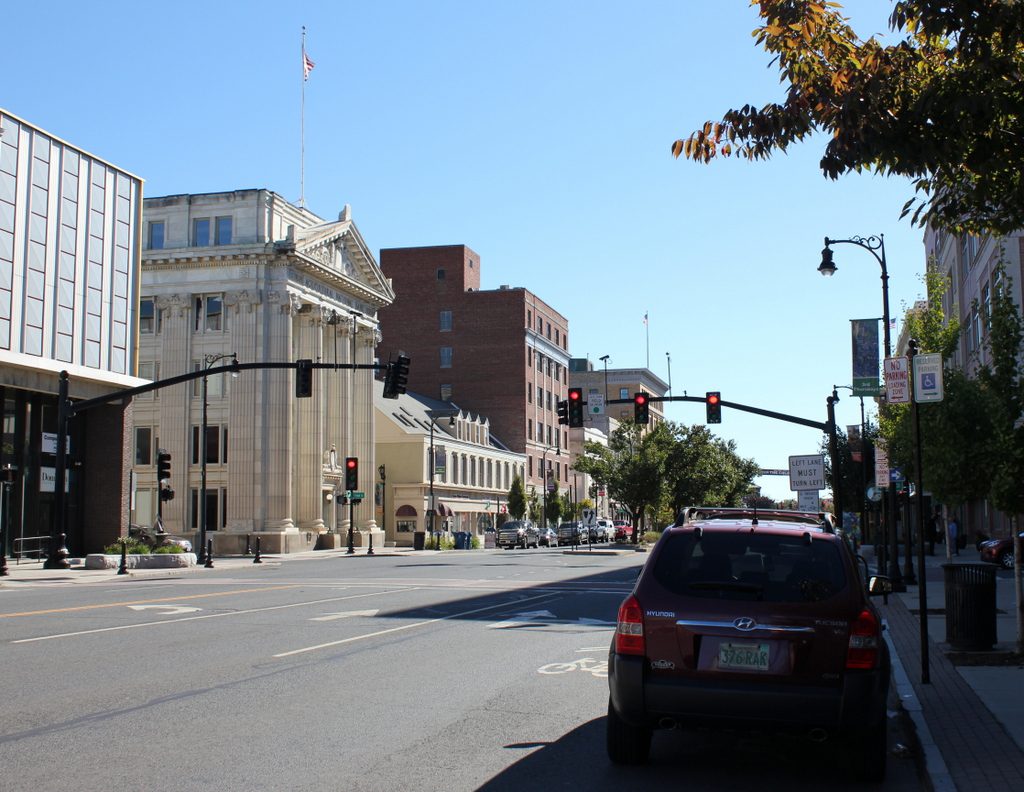 This view shows the same section of North Street as this earlier post, just seen from the opposite direction. As with the other view, many of the buildings from the first photo were replaced in the early decades of the 20th century. The most prominent of these lost buildings is the old First Baptist Church, seen a couple blocks away in the center of the photo. It was built in 1850 and stood here until the 1920s, when the congregation moved to their current church building a few blocks away on South Street. The old church was replaced with the Onota Building, a commercial block that was completed in 1928 and is still standing.
Of the buildings that survive from the first photo, the most prominent is the First Agricultural National Bank, the columned building on the left side. This bank had been established in Pittsfield in 1818, and in 1908 they moved into this imposing five-story marble building, which has remained unchanged on the exterior except for a late 1920s addition in the back. On the other side of the street is the Central Block, located on the far right side of the photo. It was built in 1881, and is still standing, although hard to see from this angle. Much further in the distance, at Park Square, are two other surviving 19th century buildings: the Berkshire County Savings Bank building on the left, and the Berkshire Life Insurance Company building on the right.