The house at 5 Madison Avenue in Springfield, around 1938-1939. Image courtesy of the Springfield Preservation Trust.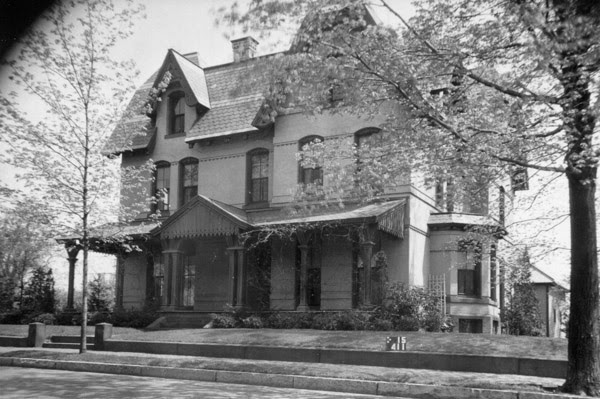 The house in 2016: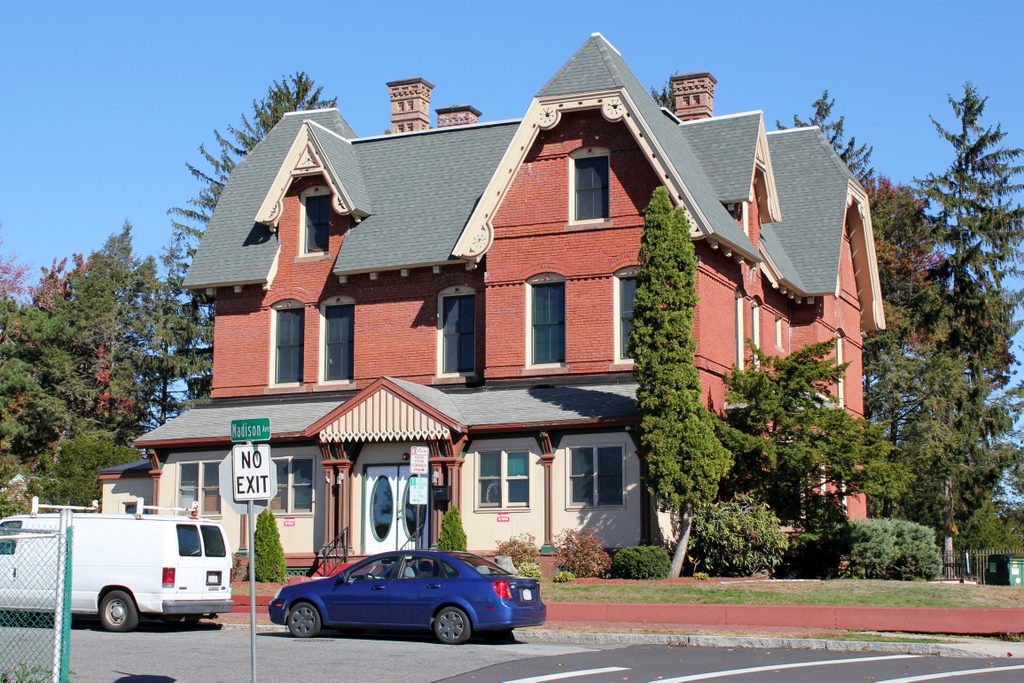 In the late 1800s, the Maple Street area of Springfield became the home to some of the city's wealthiest residents, and some of the finest homes. Here at the corner of Central Street and Madison Avenue, lumber dealer Rufus Chase built this large brick house. It was designed by Perkins and Gardner, the same local architectural firm that also designed many of the houses on Mattoon Street, and it was completed in 1872.
Chase did not live here long, though, and by 1880 it was owned by John C. Alden, who was listed in the census as a "manufacturer of woolen goods." He was 34 at the time, and lived here with his wife Henrietta and an Irish servant, Helen Lynch.
John Alden died in 1900, but this house had already changed hands before then, and by the 1900 census it was owned by John S. Sanderson, who lived here with his daughter Carrie, her husband William O. Day, and their 18 year old daughter, Hazel. Day was a longtime employee of Morgan Envelope Company. In 1871, after his sophomore year in high school, he left school to work for the company, and two years later they achieved prominence as the first company to manufacture postcards. He eventually became a director of the company, and after it was absorbed by the United States Envelope Company in 1901, he became that company's treasurer.
In 1910 the Days were still living here, although John Sanderson had died in 1903. Their daughter Hazel also lived here, along with her husband, George W. Pike, a stock broker. Like many other upper middle class families, they also employed a live-in servant, Rose Waramac, a 22 year old biracial woman from Virginia. Carrie Day died in 1918, and by 1920 William was remarried and living in a different house at 54 Ridgewood Place. Hazel and George remained here at this house, though, along with their eight year old daughter Hazel and a different servant, Mary O'Connell, a 32 year old Irish immigrant.
George Pike died in 1932 while still living at this house, and William O. Day died in 1939. By the time the first photograph was taken, George's widow Hazel was still living here, and the only other resident in this massive house was Augusta Larson, a Swedish maid. The census records are unavailable after 1940, so it is unclear how long Hazel lived here, but she died in 1952. She and her husband are buried in Springfield Cemetery, which is located directly behind the house where she spent most of her life.
Now nearly 150 years old, this historic house has seen few significant changes to the exterior, aside from the enclosed front porch. No longer a single family home, it has been used for many years as the Marathon House, a group home for treating drug and alcohol addition, and is currently operated by Phoenix House.