The house at 216 Central Street in Springfield, at the corner of Madison Avenue, around 1938-1939. Image courtesy of the Springfield Preservation Trust.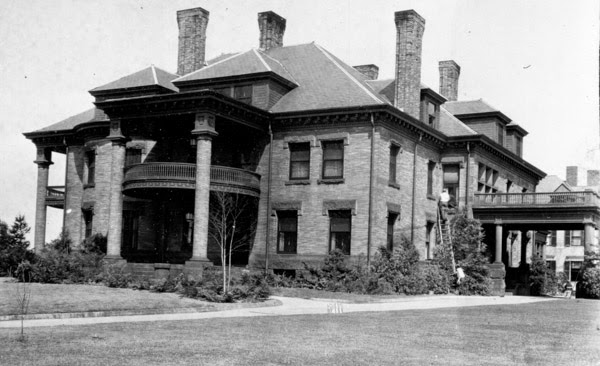 The house in 2017: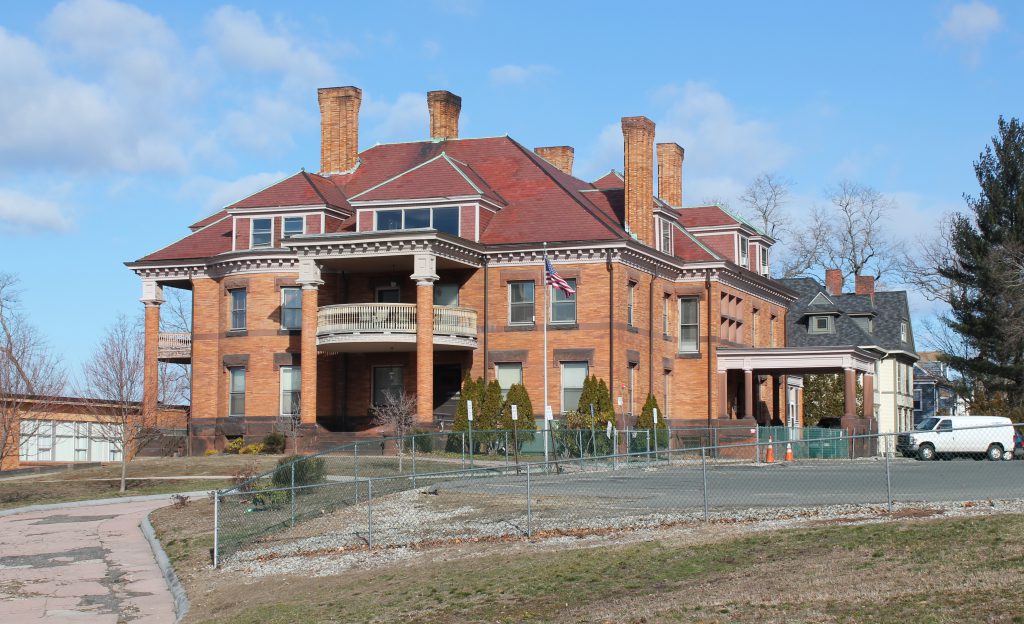 This site near the top of the hill on Central Street had been the home of merchant Henry Sterns since 1827. Around 1870, his house was moved to the back of the lot, where it still stands on Madison Avenue, and several decades later Charles L. Goodhue purchased the property. A contractor who specialized in building municipal water systems, he had done work across the country, including here in Springfield. He built the city's reservoir in Ludlow, and also served as the chairman of the Water Commission for many years.
Completed in 1894, this house had few rivals among the Gilded Age mansions in Springfield, and remains one of the largest private residences ever built in the city. Goodhue lived here with his wife Harriet and their daughter Grace, and during this time he expanded his business activities. Along with building water works, he also served as president of the Chicopee National Bank, and as the president of the Knox Automobile Company, an early Springfield-based car manufacturer.
Harriet Goodhue died in 1903, and Charles in 1912. After his death, Grace inherited the property and rented out the house. By the 1920 census, she was renting it to Arthur T. Murray. Just 29 at the time, he was the president of the American Bosch Magneto Corporation, and had previously been the president of the Bethlehem Motor Corporation. He lived here with his wife Anna, their daughter Ruth, and five servants, which included a butler, maid, chambermaid, cook, and a governess for young Ruth.
By the time the first photo was taken, the house was owned Roger L. Putnam, who served three terms as Springfield's mayor, from 1937 to 1943. His political career subsequently included serving in the Truman administration as the director of the Economic Stabilization Administration from 1951 to 1952. In the 1940 census, soon after the first photo was taken, he and his wife Caroline were living here with their six children, along with a lodger and three servants. They remained here until 1956, when he sold the massive home to the Ursuline Order.
The house became Ursuline Academy, and was expanded to include a classroom wing on the west side of the building, which is partially visible on the far left of the photo. It has since changed hands several times, becoming Springfield Christian School in 1980 before being sold to the Holyoke-Chicopee-Springfield Head Start in 1997. The building is still in use by Head Start, and retains much of its historic appearance. Despite the changes in use, it survives as one of the city's finest 19th century mansions, and it is part of the Ames/Crescent Hill District on the National Register of Historic Places.