The house at 238-240 Union Street in Springfield, around 1938-1939. Image courtesy of the Springfield Preservation Trust.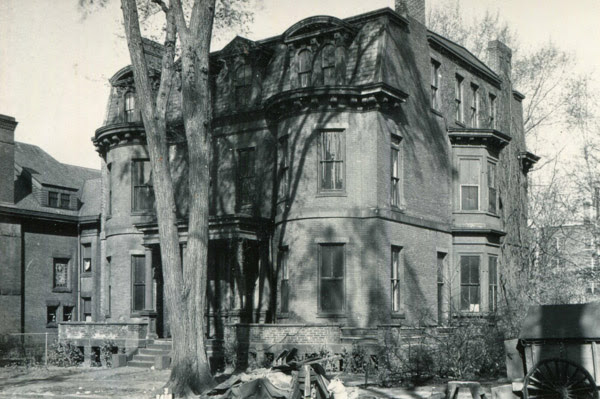 The building in 2017:
This building is one of several Second Empire-style duplexes on this section of Union Street, including the similar-looking one directly across the street at 247-249 Union. It was built in 1869, and was owned by Colonel James M. Thompson, a prominent city resident who lived in a nearby mansion a little further up Union Street. Originally, the building had a third unit, which was located on the left side, but this was demolished around the 1930s.
After Colonel Thompson's death in 1884, his family continued to own this building into the early 20th century. Census records from both 1900 and 1910 show that the units on the left were boarding houses, with tenants that included a bookkeeper, bank clerk, and a clergyman. The unit on the right, though, was rented to a single family, with real estate agent William Dewey living here from at least 1900 to 1910, along with his wife Ella and their three children, Alonzo, Eudocia, and Dorothy.
In subsequent censuses, the building continued to be used as a boarding house for several more decades. The third unit, number 236, was removed sometime before the first photo was taken, and the interior of the building is now divided into six different units. However, very little has changed with the building's exterior in the past 80 years, and it stands as a good example of the type of elegant townhouses that were built during the city's post-Civil War housing boom.