The house at 69 Bowdoin Street in Springfield, around 1938-1939. Image courtesy of the Springfield Preservation Trust.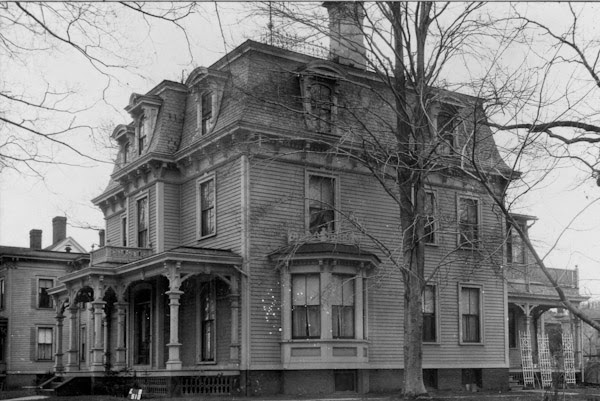 The scene in 2017: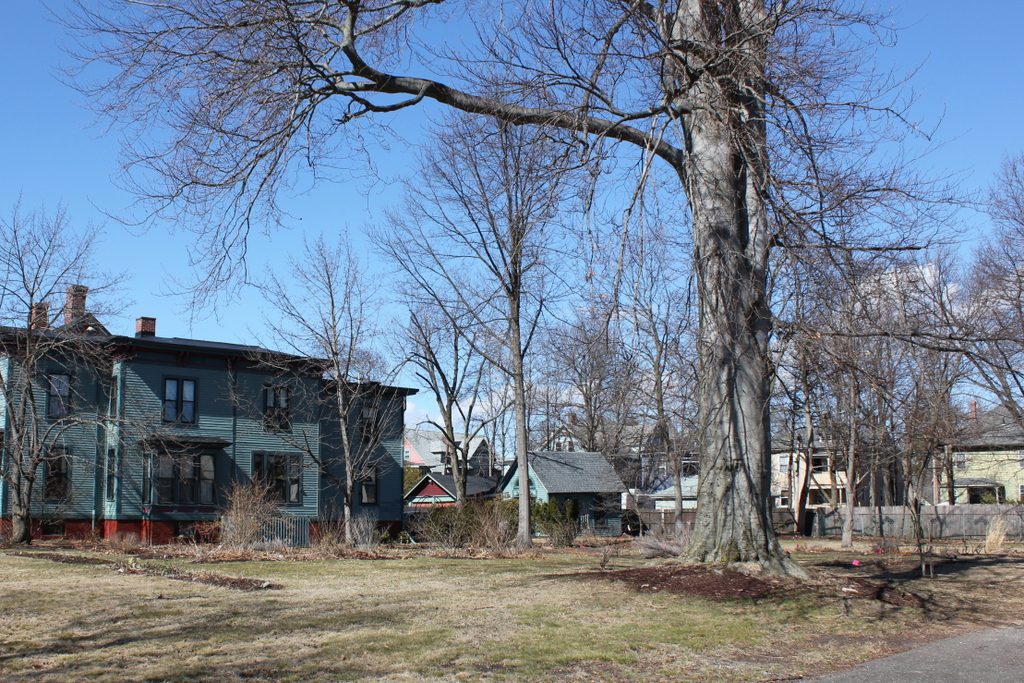 As mentioned in the previous post, Nelson and Samuel Newell were brothers who owned the Newell Brothers' Manufacturing Company. Originally located in Longmeadow, they later moved their factory to a site along the Connecticut River at the end of Howard Street in Springfield. Around 1873, they built matching houses here on adjoining lots on Bowdoin Street, and Samuel lived in this house until his death in 1878 at the age of 56. He and his wife Augusta had five daughters, three of whom were still living here with their mother in the 1880 census.
Augusta Newell would remain in this house for many years, usually living with a variety of family members. By 1900 her daughter Caroline was divorced and was living here with her mother along with two of her own children. A decade later, the house had become more crowded. Caroline was still living here with Augusta, along with her daughter Edith, sisters Mary and Alice, Alice's husband William, and a servant.
After Augusta's death in 1915, the house was sold to Robert Ingersoll, whose father James lived in the neighboring house to the left. Robert's wife Florence was the daughter of Milton Bradley, the founder of the toy company that bears his name. Robert himself was a part of his father-in-law's company, holding positions such as secretary, vice president, assistant general manager, and assistant treasurer of Milton Bradley. They were still living here by 1930, and that year's census listed the house as being worth $25,000. This was a considerable amount of money during the Great Depression, equivalent to over $350,000 in 2017.
Like so many other large houses in the McKnight neighborhood, though, the Great Depression saw its transition from a mansion to a group home. It was used as a nursing home for many years, apparently as early as 1940, when the census listed eight lodgers here, all but one of whom were over the age of 65. Over time, the building became a boarding house, and was eventually abandoned. It sat vacant for many years before being heavily damaged by a fire in 2010 and subsequently demolished. The carriage house, which is not visible from this angle, still stands on the property, and the large tree is recognizable in both photos, but otherwise the lot remains vacant.