The house at 57 Bowdoin Street in Springfield, around 1938-1939. Image courtesy of the Springfield Preservation Trust.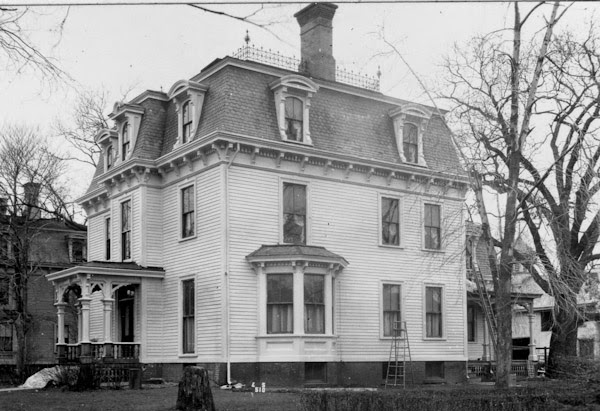 The scene in 2017: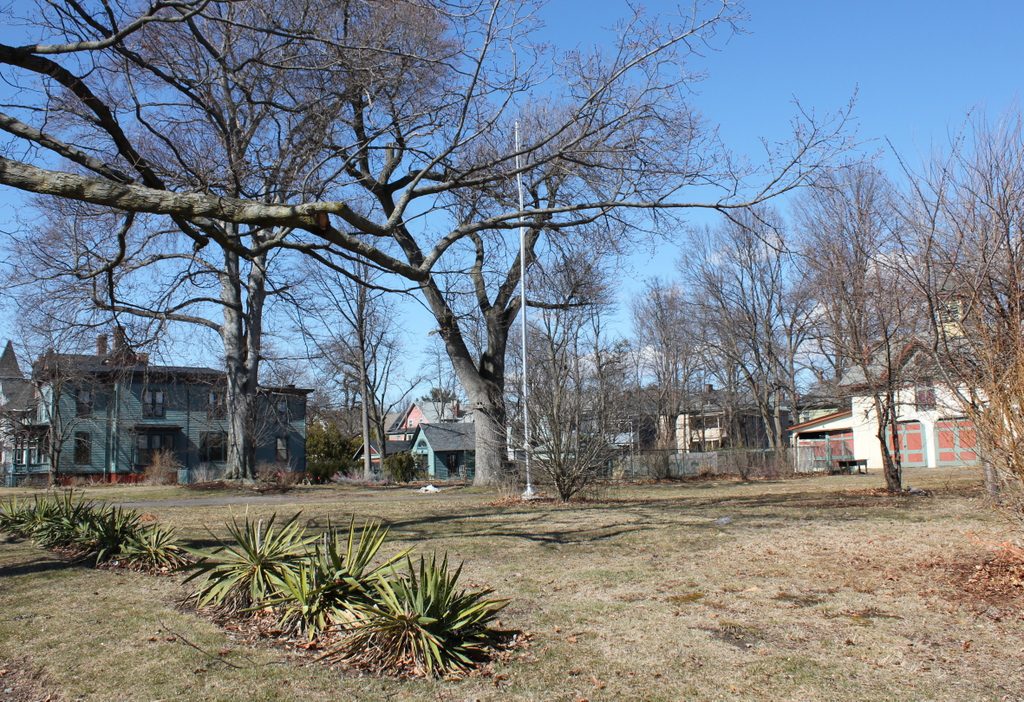 Nelson C. Newell was a button manufacturer who entered the business in 1849 with his father-in-law Diamond Chandler, who had a factory in Longmeadow, Massachusetts. Soon after, his older brother Samuel joined the firm, and the two took over the company upon Chandler's retirement in 1855. By the 1860s, they had moved their factory to Springfield, and were operating as the Newell Brothers' Manufacturing Company. They made buttons from a variety of materials, including cloth, rubber, and vegetable ivory. Nelson served as president and oversaw production, while Samuel was the treasurer and worked primarily with the company's finances.
Around 1873, the brothers moved into matching, newly-built Second Empire-style homes in adjoining lots here on Bowdoin Street. Samuel's house at 69 Bowdoin Street is partially visible to the left in the first photo, and the two houses shared a driveway as well as a carriage house, which straddled the property line on the far right of both photos. Samuel died only a few years later, but Nelson would go on to live here for many years. He was a widower when he moved in, having lost his first wife Mary to typhoid fever in 1856 and his second wife, also named Mary, in 1871. In 1880, though, he married his third wife, Helen Grant.
Nelson and Helen remained at this house for the rest of their lives. At the time of their marriage, they lived here with two of Nelson's adult sons from his first marriage, Howard and Charles. A third son, William, moved into a nearby house at 103 Bowdoin Street by the early 1880s. By 1900, Nelson and Helen were living here alone except for two servants. Although he was 14 years older than her, Nelson ended up outliving Helen, although only by a few months; she died in May 1915, and he died he following November at the age of 91.
By the 1920 census, William Newell had sold his home and was living here along with his wife Martha and two children, plus a boarder. A decade later, it was being rented by a middle-aged couple for $100 per month. By 1940, only a year or two after the first photo was taken, it was a lodging house, and the census indicates 13 such residents, predominantly young men in their late teens and early 20s. Many other large homes in the neighborhood had been put to similar use around this time, but for this house the decline continued even further in the following decades.
In the late 1960s, this former mansion of a Gilded Age industrialist became a halfway house for juvenile offenders, and was known as the Dexter House. It sustained considerable damage during this time, including a fire, and was subsequently abandoned. It finally collapsed in 1988, and the lot remains vacant ever since. The matching house at 69 Bowdoin Street is also gone, after having been destroyed in a fire in 2010. Today, the only remnant of these two houses is the carriage house, which in partially visible on the far right of the second photo, still straddling the property line nearly 150 years after the Newell brothers moved here.