The house at 1120 Worthington Street, at the corner of Ingersoll Grove in Springfield, around 1938-1939. Image courtesy of the Springfield Preservation Trust.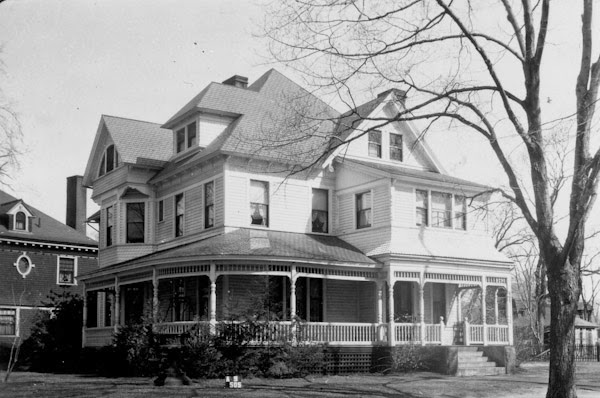 The house in 2017: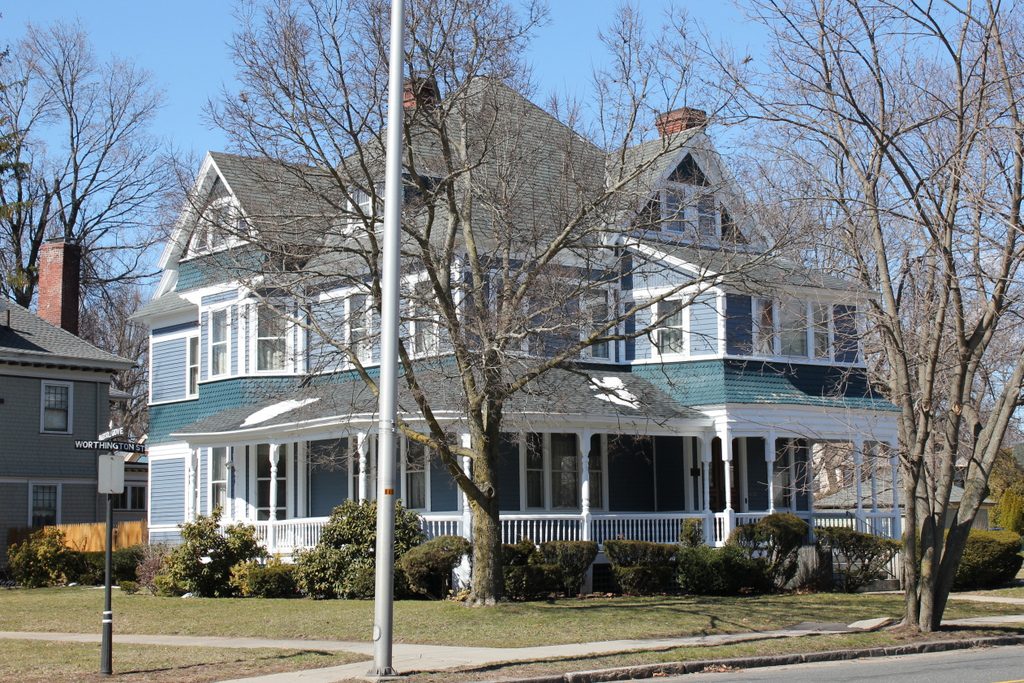 When the McKnight neighborhood was developed in the late 19th century, it attracted a wide variety of prosperous Springfield residents. Among them was George Nye, a wholesale meat dealer whose house was built in 1888 at the northeast corner of Worthington Street and Ingersoll Grove. Some 40 years earlier, when this area was very sparsely settled, Major Edward Ingersoll had an estate here on the north side of Worthington Street. His house was located around this spot, and he owned a large amount of land behind it, which became known as Ingersoll's Grove. This land was subdivided and developed in the 1880s, and the street Ingersoll Grove was opened through the property.
Major Ingersoll's old house was demolished as part of the development, and George Nye's house was built in its place, with a Queen Anne-style design that reflected the architectural tastes of the era. George and his wife Martha had previously lived on Florence Street in the city's Six Corners neighborhood, so the move brought them a new, larger, more stylish home, as well as a far more desirable location. They lived here for many years, and after George died in 1907, Martha remained here for another 15 years, when she sold it in 1922, two years before her death.
The house was purchased by attorney David B. Hoar, who married his wife Marion several years later. The couple raised their seven children here, and like the Nyes they lived here for decades. They were living here when the first photo was taken in the late 1930s, and they remained here even as the neighborhood entered a decline in the mid-20th century. Unlike many of the other large houses in the area, it was never converted into a boarding house, nursing home, group home, or similar use. David and Marion Hoar finally sold the house in 1968, but it remained a single-family home, and eight years later it became part of the McKnight District on the National Register of Historic Places. Today, it is well-preserved, and like many other historic homes in the neighborhood it is nearly indistinguishable from its appearance in the first photo.