The house at 15 Commonwealth Avenue in Boston, sometime in the 1870s. Image courtesy of the Boston Public Library.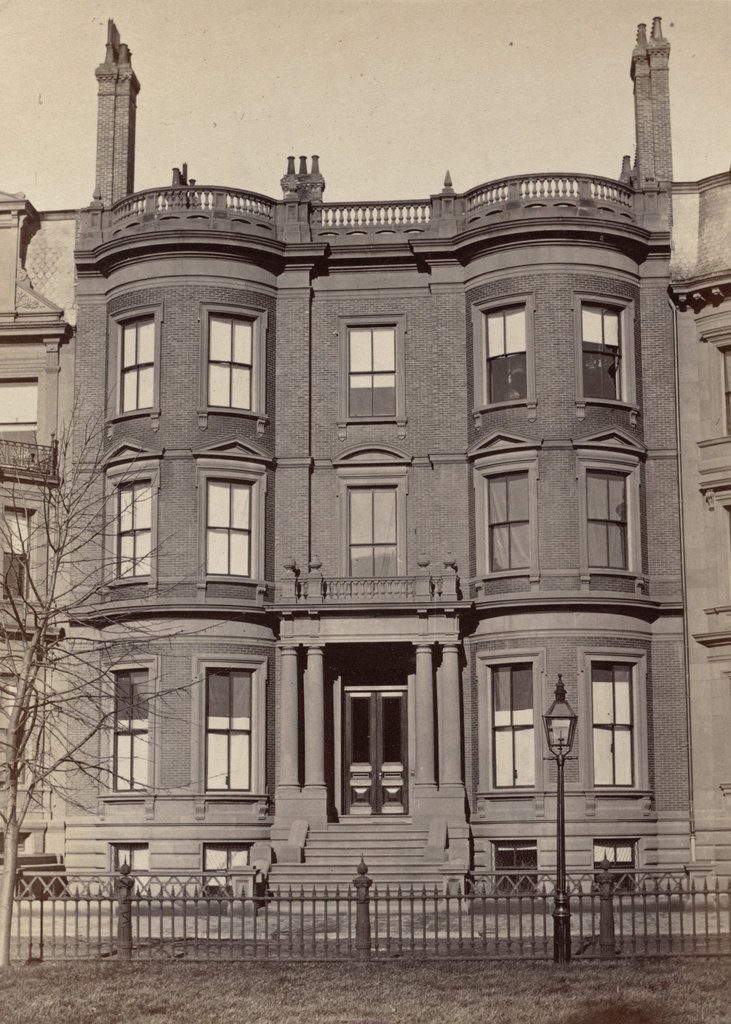 The house in 2017: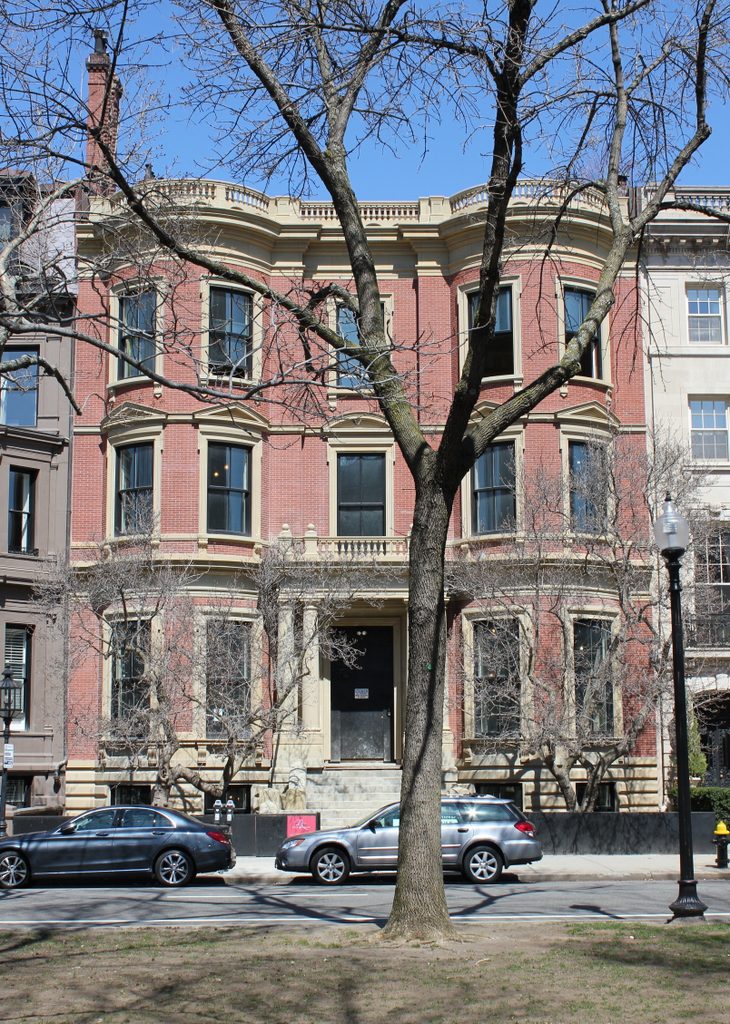 This elegant house, completed in 1866, was part of the initial development of the Back Bay, and it also sits on an unusually wide lot, compared to most of its neighbors. Because of this wider lot, the architectural firm of Snell and Gregerson had much greater latitude in designing it, and they created a front facade that was completely symmetrical, with bow-front windows on either side of the front entrance, extending up all three floors. In this sense it is also different from the other homes, most of which were too narrow to allow for a symmetrical design, and it also had a different architectural style, contrasting with the brownstone, mansard-roofed Second Empire homes nearby.
The house was originally owned by William Dudley Pickman, a Salem native whose father, Dudley Leavitt Pickman, had been a partner in Silsbee & Pickman, one of that city's leading merchants of the early 19th century. William took over his father's interest in the company after his death in 1846, but in 1865 he moved to Boston, which had rapidly eclipsed Salem in importance as a commercial port by this point. He and his business partners owned a number of ships, and were primarily involved in trade with Calcutta and other ports in India. Both he and his wife Caroline were living here when the first photo was taken, and they remained here for the rest of their lives, until his death in 1890 and hers in 1898.
After Caroline's death, the house was purchased by Oliver Ames, a member of the extremely wealthy Ames family. His great-grandfather, also named Oliver, had founded a shovel business in Easton, Massachusetts in the early 19th century. This became a particularly lucrative business in the middle of the century, when widespread railroad construction and the California Gold Rush both caused demand for shovels to skyrocket. Oliver's grandfather, who was named Oliver Jr., inherited the shovel business, and also became the president of the Union Pacific Railroad during the construction of the Transcontinental Railroad, and his son Frederick, Oliver's father, also became a railroad tycoon, serving as vice president of the Old Colony Railroad and a director of the Union Pacific. Frederick also built the Ames Building, Boston's first skyscraper, and upon his death in 1893 some newspapers considered him to have been the wealthiest man in the state.
Oliver probably used much of his inherited wealth to buy this house for himself and his wife Elsie a few years after his father's death. Not content to leave the house as it was, he hired the prominent architectural firm of Shepley, Rutan and Coolidge to remodel the house, including adding a fourth story for servants' quarters. This was, of course, not the Ames's only residence, as they also had a mansion in his hometown of North Easton and another one on the seashore in Beverly. Like his father, Oliver was involved in a variety of businesses, including serving as treasurer of the family's shovel company. In addition, he was a director for a wide range of corporations, including General Electric, Western Union, and the Union Pacific Railroad.
Oliver Ames died in 1929, and this house was sold after Elsie's death in 1945. Their other two homes in North Easton and Beverly were demolished soon after, but their Commonwealth Avenue residence was sold and converted into a school, the Boston Business Institute. It was subsequently owned by the Boston Psychoanalytic Society, and it was most recently sold in 2012 for $12.5 million. This was the most expensive home sold in Massachusetts that year, and the 15,000-square-foot building has been converted back into a single-family home. These renovations included removing the top floor that Ames had added, and restoring the balustrade on the roof. As a result, today the home hardly looks any different from its appearance nearly 150 years ago when the first photo was taken.
For more historical information on this house, see this page on the Back Bay Houses website.