The house at 17 Washington Road in Springfield, around 1938-1939. Image courtesy of the Springfield Preservation Trust.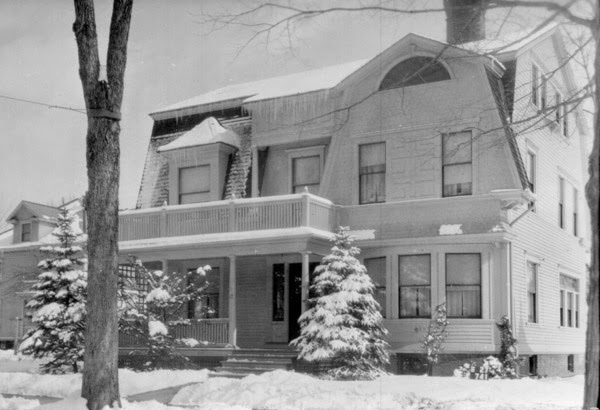 The house in 2017: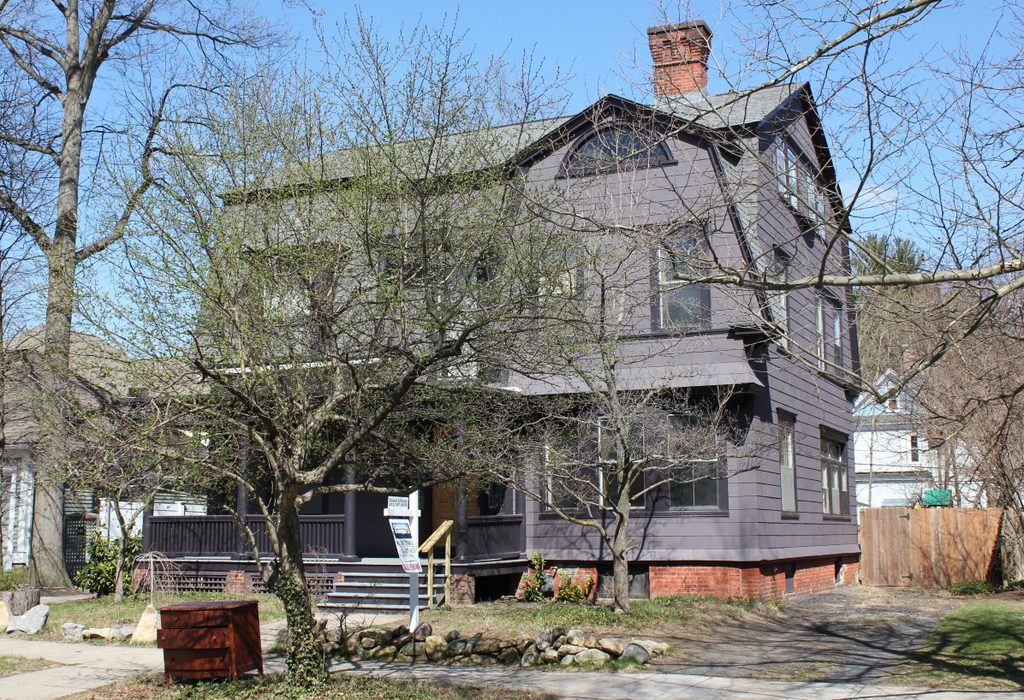 This house was built in 1896 for Henry B. Service, a bookkeeper who worked at the Springfield Envelope Company. He presumably purchased the house with his upcoming wedding in mind, because early the next year he married Alice M. Mullins, who worked as a dressmaker. The couple lived here in this house for about five years, and at some point Henry began working as a bookkeeper for a local fruit and produce company. However, he left this position during the summer of 1902, and evidently began using less scrupulous means of making money.
In late August, 1902, Henry was discovered to have swindled $6,000 from four Springfield banks by cashing checks with the forged signatures of two prominent Springfield men, Frederick C. Bill and W. C. Taylor. The forgeries were done so well that even these two had initially believed that the signatures were authentic, and the fraud was only discovered after closer examination. According to some newspaper accounts, Alice was also involved in the forgery, and was described as being critically ill as a result of the discovery.
Henry, however, fled the city before he could be arrested. It seems unclear whether Alice joined him, but Henry made his way to Santa Ana, California. Using the alias of M. B. Maynard, he began working for a water company, where he was soon charged with forging receipts. Fleeing again in late 1903, he made it as far as Ogden, Utah, where he was arrested, returned to California, and convicted of forgery. Alice, in the meantime, appears to have avoided prosecution, and by the 1910 census she was living in a different house in Springfield with her mother and several of her siblings.
Following Henry's hasty departure from Springfield, his house was sold, and by 1910 it was owned by Joseph N. Herrick, who lived here with his wife Eleanor, their daughter Ada, and Joseph's aunt Caroline. Joseph died sometime before the next census, though, and by 1920 Eleanor and Ada were living elsewhere in Forest Park. In the meantime, this house was purchased by Clarence Bacon, the treasurer and co-founder of the Bacon and Donnovan Engine Company, which manufactured agricultural machinery. In 1920, he was 51 years old, and he was living here with his wife Rose and their three teenaged children, Doris, Rosalind, and Norval.
The revolving door of residents in this house continued by the 1930 census, when it was being rented to insurance agent Oliver Heyman, his wife Susan, and their four children. Originally from West Virginia, Heyman was general agent for the Northwestern Mutual Life Insurance Company, and he lived here until sometime around the time when the first photo was taken. However, it was then sold again, to Thomas W. McCarthy, a salesman who lived here with his elderly parents, his sister, and his sister's husband.
In the nearly 80 years since the first photo was taken, there have been a few changes to the house. Like many of the other homes in Forest Park, the decorative balustrade over the front porch is long gone, but the most significant change is the asbestos siding, which replaced the original wood clapboards in the mid-20th century. However, the overall appearance of the house has not changed significantly, and along with the rest of the neighborhood it is now part of the Forest Park Heights Historic District on the National Register of Historic Places.