The house at 61 Washington Road in Springfield, around 1938-1939. Image courtesy of the Springfield Preservation Trust.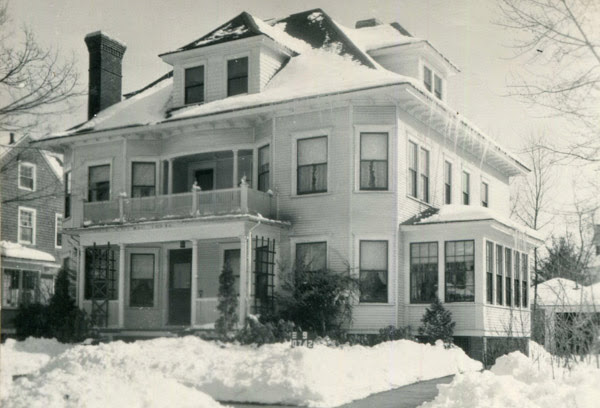 The house in 2017: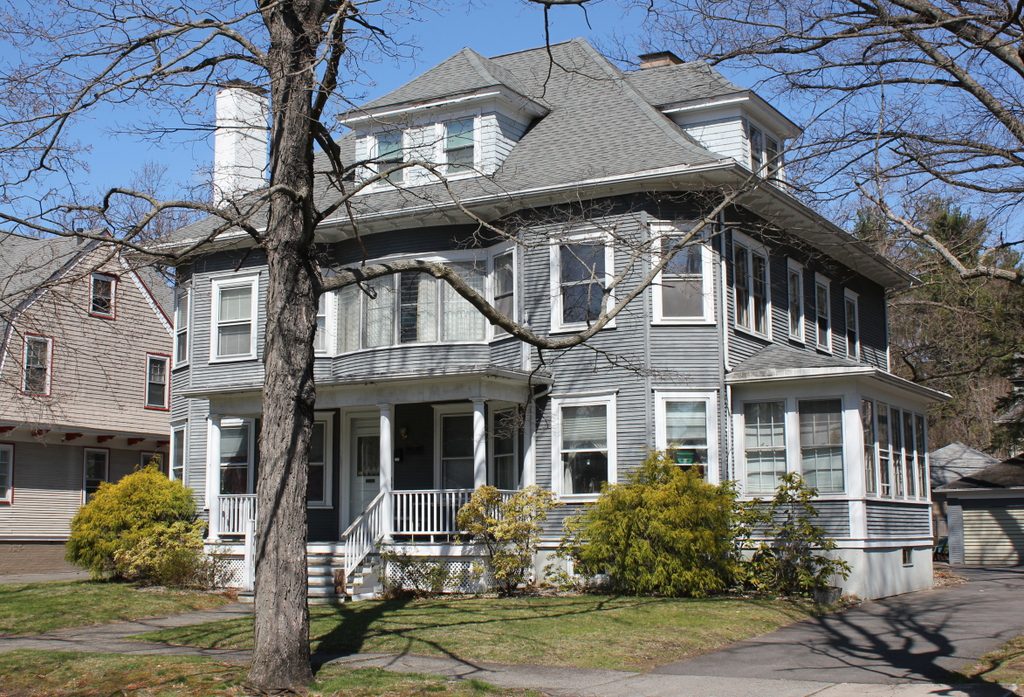 This house was built in 1896 on the street that was, at the time, named Hawthorne Place. Soon renamed Jackson Street and then Washington Road, it was one of the many new roads in the Forest Park Heights development, which was transforming a sparsely-settled section of the city into an upscale residential neighborhood. The first owner of this house was Faxon E. Nichols, a bookkeeper who purchased the property when he was in his early 20s, around the same time that he married his wife, Nellie. By the 1900 census, they were living here with another couple, William and Rose Baird, while also renting space to two young boarders.
Within a few years, the Nichols family had moved elsewhere in Forest Park, and this house was sold to Thornton W. Burgess, a 31-year-old editor who would go on to become a prominent children's author. Born in Sandwich, Massachusetts, Burgess came to Springfield as a young man in the 1890s, where he became an assistant editor at the Phelps Publishing Company. For a time, he and his mother Frances were lodgers at 10 Cornell Street, but in 1905 he married Nina Osborne and purchased this house. They lived here with Frances, and like the previous owners they also rented part of the house to another family. However, Nina died just a year later, at the age of 24, from complications after the birth of their only child, Thornton Jr.
It was here in this house that Burgess began creating bedtime stories for his son. He subsequently began writing down these stories, which formed the basis for many of his children's books. The first of these, Old Mother West Wind, was published in 1910, and introduced the character of Peter Rabbit. Many more books followed, along with thousands of newspaper columns that he would write over he next 50 years. He lived in this house for nearly his entire literary career, until finally moving out in 1955. During this time, he was also active as a naturalist and conservationist, and these themes were frequently found throughout his stories.
In 1911, a year after his first book was published, he remarried to Fannie P. Johnson. She was also a widow, and she moved into this house with two children of her own. They were still living here more than 25 years later, when the first photo was taken, but by this point Thornton's literary success had enabled him to purchase a second home in nearby Hampden. Built in the early 1780s, his Hampden house was already nearly 150 years old when he bought the property in 1925, and it served as his secondary home for many years. However, Fannie died in 1950, and later in the decade Thornton left this house in Springfield and moved to Hampden permanently, where he died in 1965 at the age of 91.
Coincidentally, Burgess is not the only world-renowned children's author who lived in the Forest Park neighborhood. A year after Burgess purchased this house in 1905, two-year-old Theodor Geisel and his parents moved into a house about a half mile away from here, on Fairfied Street. The future Dr. Seuss was much younger than Burgess, and their writing careers would only partially overlap, but they did both live here in the Forest Park neighborhood until 1925, when Geisel left to enter college. Today, both houses are still standing, and are now contributing properties in the Forest Park Heights Historic District on the National Register of Historic Places.