The house at 80 Buckingham Street in Springfield, around 1938-1939. Image courtesy of the Springfield Preservation Trust.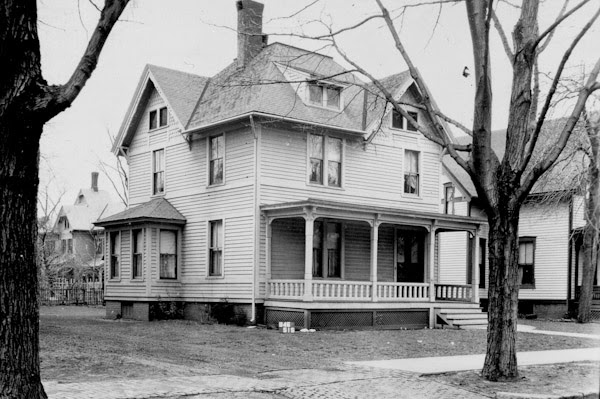 The house in 2017: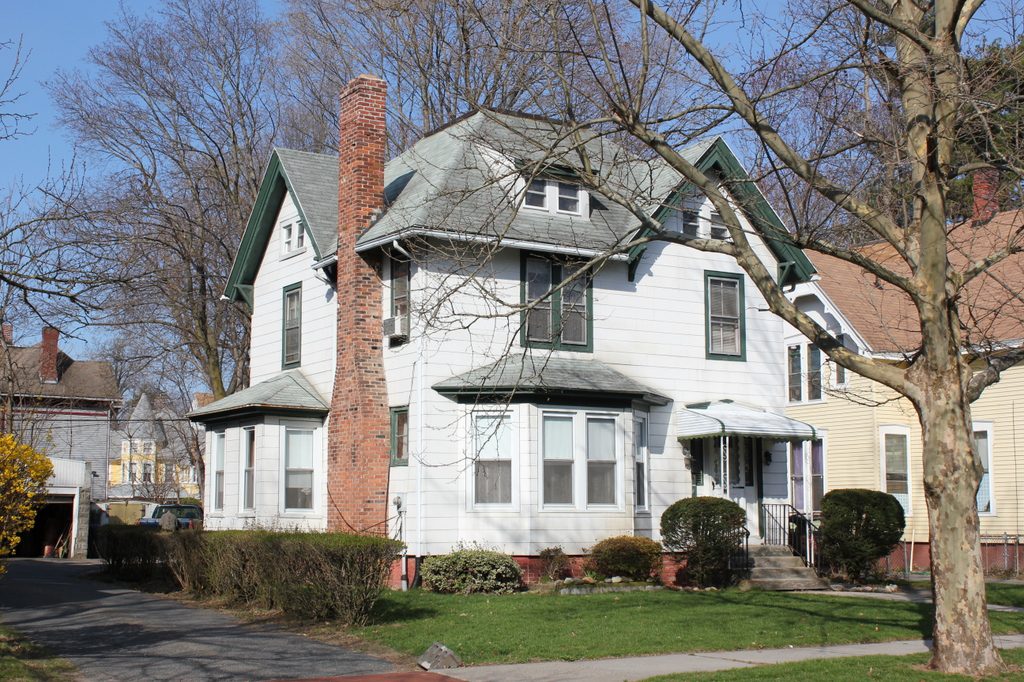 This house was built around 1880 for Benjamin L. Bragg, a native of Royalston, Massachusetts who moved into the house with his newlywed wife, Frances M. Sessions. He worked in the agricultural business, with the 1882 city directory listing him as the superintendent for Parker and Gannett's agricultural warehouse. Within a few years he went into business for himself, and by the end of the decade he was the owner of B.L. Bragg & Co., an agricultural warehouse and seed store that was located on Main Street.
The Bragg family lived here until about 1899, and by the 1900 census the house was being rented by insurance agent Arthur L. Fisk and his wife Carrie. By 1910, though, the house had been sold to Henry F. Rich, a furniture store clerk who lived here with his wife Minnie and their four children. They later moved to Park Street in the South End, and by 1914 the house was owned by Ellen S. Danforth. An elderly widow, she lived here with her two daughters, Alice and Anna, both of whom worked at the High School of Commerce, with Alice as a secretary and Anna as a teacher.
Ellen died in the 1920s, but her daughters continued to live here for many years. Neither of them ever married, and they were both still here when the first photo was taken in the late 1930s. During this time, they also housed a lodger, fellow teacher Georgia S. Marks, who was living here in both the 1930 and 1940 censuses. After Anna's death in 1951, Alice inherited sole possession of the property, and in 1956 she donated it to the Wesley Society of the Methodist Church, with a clause in the deed allowing her to continue living here for the rest of her life.
Nearly 50 years after she had moved into this house with her mother and sister, Alice died in 1963 at the age of 80, and a few months later the Wesley Society sold the property. At some point, probably within a few years before or after Alice's death, the house was altered, removing many of the original Queen Anne-style details in the process. The front porch was replaced with simple concrete front steps and a bay window, a new chimney was built, and the entire house was covered in asbestos siding. Despite these changes, though, the house still stands as one of many historic late 19th century homes in the neighborhood, and it is now part of the McKnight Historic District on the National Register of Historic Places.