The house at 76 Buckingham Street in Springfield, around 1938-1939. Image courtesy of the Springfield Preservation Trust.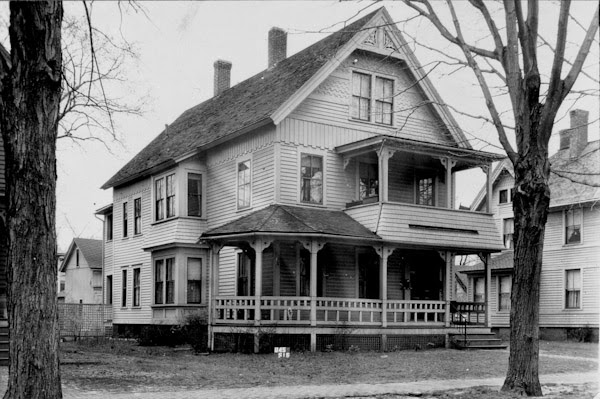 The house in 2017:

This house was built in 1883 for Henry J. Davison, a jeweler who owned a shop on Elm Street at Court Square. He and his wife Julia lived here with their three children, Henry, Ralph, and Jennie. The two boys were both teenagers when they moved into this house, but Jennie was significantly younger than her brothers, and was only about five at the time. By the 1888 directory, the younger Henry and Ralph were in business for themselves, selling fruit and groceries out of a store on State Street.
Henry was 25 when he married his wife, Clara Casey, in 1890. They had two sons, Howard and George, but Clara died in 1898. Less than a year later, Henry remarried to Carrie Mills, and that same year his mother Julia died. By the 1900 census, the older Henry was living here alone except for his daughter.. In the meantime, the younger Henry and his family were living on Walnut Street, and he had apparently abandoned the grocery business by then, because he was listed as being a jeweler.
After his father's death in 1904, Henry moved back into this house, but tragedy struck again a year later when Carrie died from pneumonia. Widowed twice by the age of 40, Henry remarried again a year later, to Marian Morgan. They were still living here as late as the mid-1910s, but they moved by the end of the decade. The 1920 census shows the house divided into two units, with two different families renting part of the house. In one unit was clothing store owner Archibald Ruggles and his wife Minnie, and in the other was Irish-born chauffeur Dennis J. Carney, his wife Bridget, and their two daughters.
By the 1930 census, the house was owned by Joseph B. Elvin, a teacher at the Springfield Trade School. He was 39 at the time, and lived here with his wife Ruth and his mother, Caroline. They also rented a portion of the house to road contractor Thornton Moulton, who lived here with his wife and three children. A decade later, shortly after the first photo was taken, the Elvins were still living here, and they were still renting part of the house, this time to Bruce and Viola Trumble, for $40 per month. Joseph's sister, who was also named Ruth, was also living here at the time, with the census indicating that she was an arts and crafts teacher for a WPA program.
The Elvins were living here until the late 1950s, and since then the exterior of the house has remained well-preserved, with few changes from the first photo. Like many of the other homes on this block of Buckingham Street, it is a good example of early Queen Anne style architecture, and it is now part of the McKnight Historic District, which was added to the National Register of Historic Places in 1976.