The house at 60 Buckingham Street in Springfield, around 1938-1939. Image courtesy of the Springfield Preservation Trust.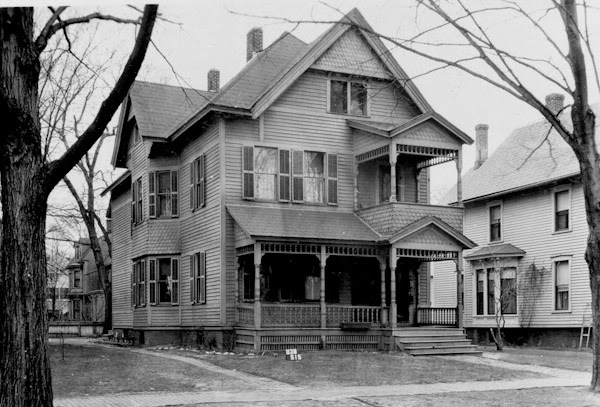 The house in 2017: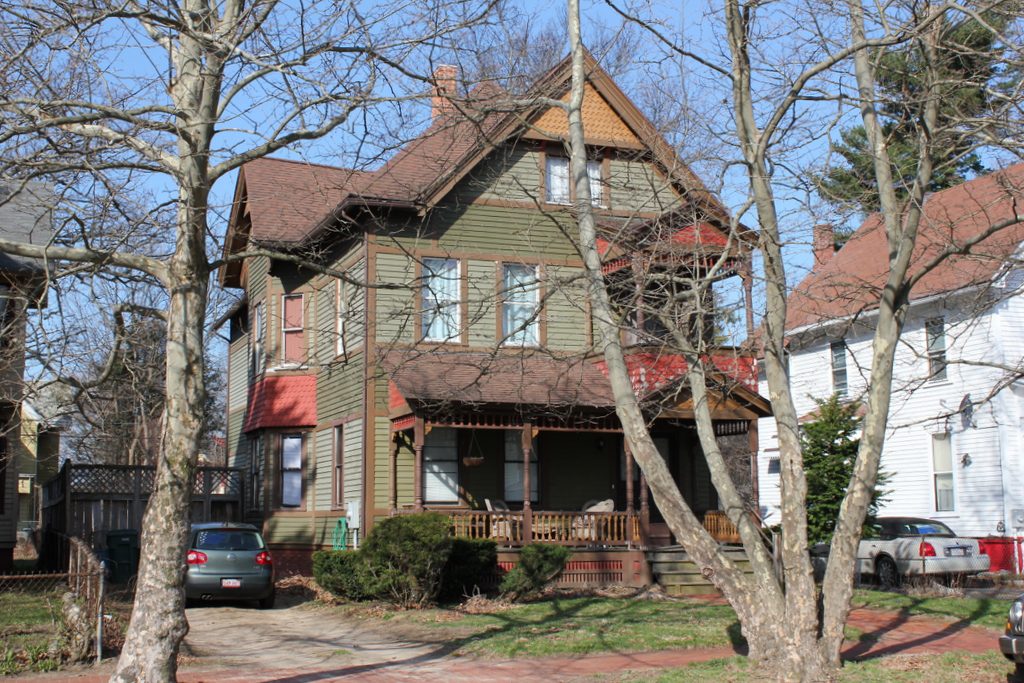 This house is slightly newer than most of the other homes on this block of Buckingham Street,  and dates back to around 1892. It was built for C. Wesley Hale, an insurance agent ho appears to have only lived here for a few years. He was living here as late as the 1896 city directory, but by 1900 the house was owned by Daniel P. Horr, a post office clerk. Both he and his wife Lydia were originally from Maine, and they were in their late 50s when they moved into this house, along with their sons Frank and Irving. At the time, Frank was working as the secretary of the school committee, while Irving worked as a clerk for a bookstore.
Lydia died in 1906, and by the 1910 census Daniel and his sons were still living here, with Frank's occupation listed as a publisher and Irving as working in advertising for a department store. Although both of his sons were bachelors well into adulthood, Irving married in 1919, and appears to have moved to Chicago around the same time. Daniel and Frank were still here during the 1920 census, and they also rented space to Harry E. Wheaton, a brass foundry employee who lived here with his wife Vera and their two young daughters. The Horrs also employed a live-in nurse, who was presumably hired as a caretaker for the aging Daniel, who died later that year.
Frank was no longer living here by the 1930 census, and the house was being rented to Jessie L. Blair, a widow who lived here with her son John and three roomers. However, Frank reappears here in the census a decade later, shortly after the first photo was taken. Curiously, though, the census lists George Mulholland as the owner, and he lived here with his wife Mildred and their three sons. Frank is listed only as a boarder, although this may have been an error on the part of the census taker. Adding even more mystery to this census record is Frank's occupation, which is listed as "Research", complete with the quotation marks around it.
City directories show Frank living here as late as 1945, but by the end of the decade the house was sold again. Today, the house is still standing, and very little has changed with the exterior since the Horr family lived here. Like the rest of the 19th and early 20th century homes in the neighborhood, it is now part of the McKnight Historic District, which was added to the National Register of Historic Places in 1976.