The house at 81 Mulberry Street in Springfield, around 1938-1939. Image courtesy of the Springfield Preservation Trust.
The house in 2017: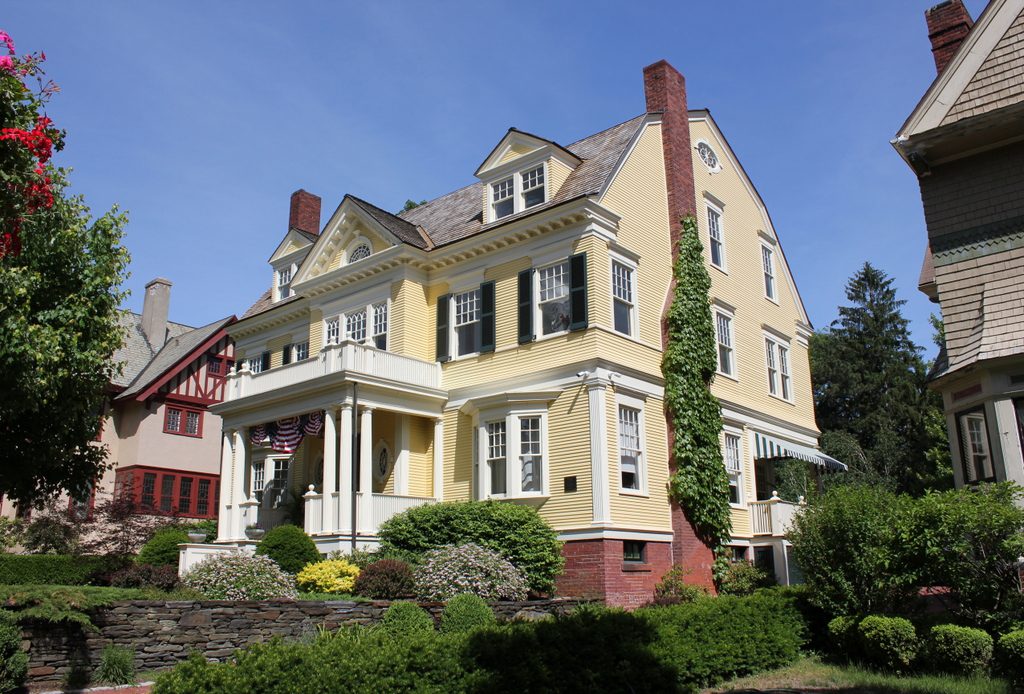 This massive house is one of Springfield's finest examples of Colonial Revival architecture, and was designed by Guy Kirkham, one of the city's leading architects of the late 19th and early 20th centuries. Completed in 1894, it was among his earliest works, and was designed for Charles A. Bowles, a paper manufacturer whose father, Samuel Bowles, had been the prominent editor of the Springfield Republican from 1851-1878. Charles's older brother Samuel succeeded their father as editor after his death in 1878, but Charles went into the manufacturing business instead. He attended Sheffield Scientific School at Yale for a year, but did not graduate. Instead, he worked briefly for the Pennsylvania Railroad before entering the papermaking industry in 1884.
In 1885, at the age of 24, he married Nellie S. Harris of Rutland, Vermont, and early in their marriage they lived in a house nearby at 34 Avon Place. By the time they moved into this house on Mulberry Street in 1894 they had two children, Charles and Dorothy, and they would have one more son, Chester, who was born in 1901. During this time, Charles went into business for himself, becoming a partner in the firm of Dexter & Bowles, which sold paper pulp and other supplies for paper manufacturers.
Charles Bowles lived here until his death in 1933, but Nellie was still living here with her daughter Dorothy when the first photo was taken at the end of the 1930s. Dorothy was in her early 40s at the time, and she worked as a dressmaker, with a shop on Vernon Street. She lived here in this house until her mother's death in 1943, and she subsequently moved to a house on Maple Court. In the meantime, Charles and Nellie's older son, Charles, Jr., lived here with his parents until his marriage in 1917, and he and his wife Helen lived in Springfield's Forest Park neighborhood until his death in 1946.
It was Charles and Nellie's youngest child, Chester, who would go on to have the most prominent career, becoming a successful politician, diplomat, and advertising executive. He grew up here in this house and lived here until the mid-1920s, around the time that he married his first wife, Julia Fisk. He briefly worked as a reporter for the Springfield Republican from 1924 to 1926, but he saw limited opportunities for himself in a newspaper that was crowded with other family members. So, he moved to New York City and, in 1929, established the advertising agency of Benton & Bowles, which would go on to become highly successful in the early years of radio advertising. The firm introduced soap operas to radio programming, largely in an effort to advertise to housewives who listened to the radio at home, and during the 1930s the company's clients included General Foods, Bristol-Myers, Colgate, Dr. Pepper, Prudential Life Insurance, Columbia Records, and Procter & Gamble.
However, Bowles left the advertising industry in 1941, and he went on to become a member of Franklin D. Roosevelt's administration during World War II. From 1943 to 1946 he served as the administrator of the Office of Price Administration, and then served one term as governor of Connecticut from 1949 to 1951. Later in 1951, he was appointed as ambassador to India, and served until the end of Harry Truman's administration in 1953. He served one term in Congress, from 1959 to 1961, and after being defeated for re-election he was appointed Under Secretary of State by John F. Kennedy. In 1963, Kennedy appointed him as ambassador to India again, and Bowles went on to serve in this capacity until the end of Lyndon Johnson's presidency in 1969.
By the time Bowles was in the midst of his political and diplomatic career, his childhood home here on Mulberry Street had been converted into apartments. It would remain a multi-family home until 1991, when it was severely damaged by a fire that gutted the back of the house and destroyed much of the roof. For the next decade, the house stood vacant and exposed to the elements, and was nearly demolished by the city several times. However, it was sold in 2000 and restored the following year, earning an award from the Springfield Preservation Trust in the process. Today it hardly looks any different from when the Bowles family lived here 80 years ago, and it still stands as one of the finest homes in the Ridgewood Local Historic District.