The house at 175 Mill Street in Springfield, around 1938-1939. Image courtesy of the Springfield Preservation Trust.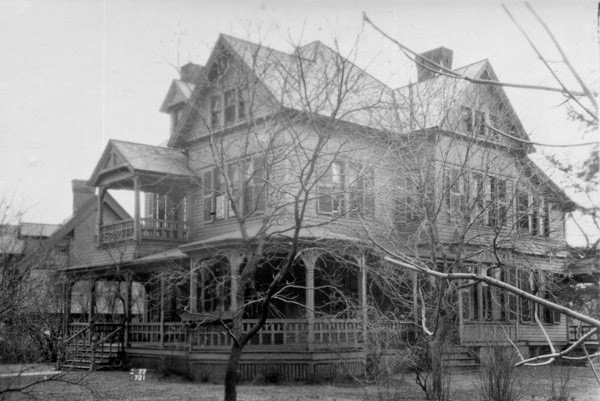 The house in 2017: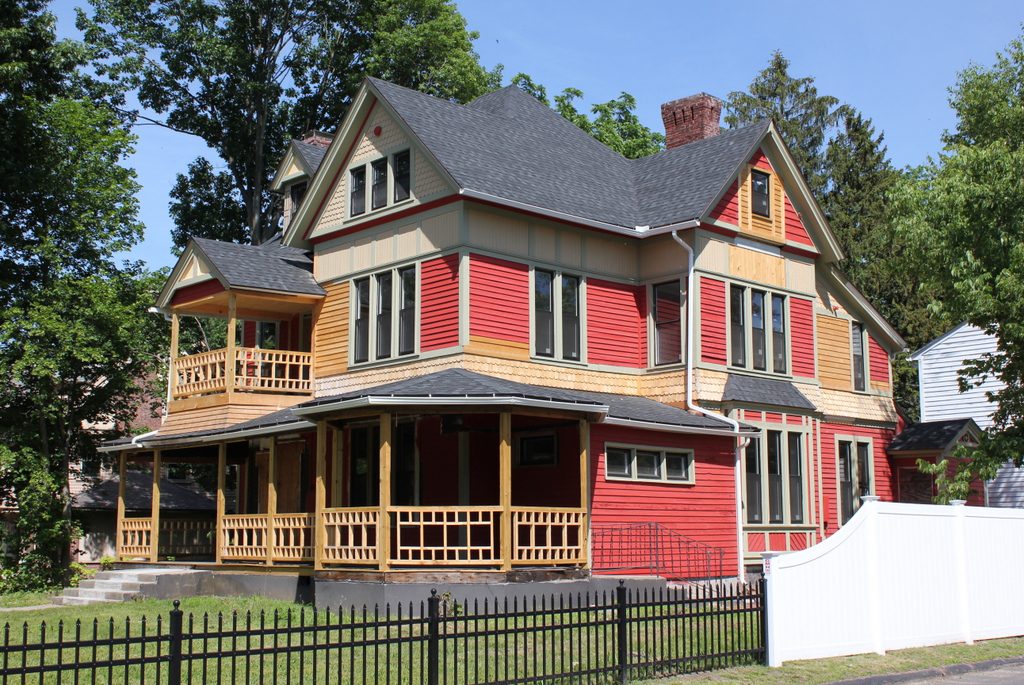 This house was built around 1890, and was originally the home of Hannah E. Griffin, an elderly widow whose son, Solomon B. Griffin, was the managing editor of the Springfield Republican. According to the 1899 city atlas, Solomon owned the house, although he and his wife Ida were living on Round Hill at the time, with Ida's mother. During the 1900 census, Hannah was 80 years old, and was living in this house with her unmarried daughter Mary, as well as a servant. Hannah lived here until her death in 1903, and the following year Solomon built his own house on an adjacent lot, which is visible in the distance on the left of both photos.
Solomon's sister Mary continued to live here until the late 1910s, and by 1920 the house was the home of Solomon's son Courtlandt and his newlywed wife, Alice. Courtlandt was a salesman for the Carew Manufacturing Company, a paper manufacturer in Holyoke, and he and Alice lived here for several years, before moving to Sumner Avenue around 1924. The house was subsequently rented to Charles C. Ramsdell, the vice president of the  Gilbert & Barker Manufacturing Company, a West Springfield-based company that made gasoline pumps, oil burners, and similar equipment. He and his wife Marguerite lived here until around 1927, but by the end of the decade they had moved to an apartment at the Hotel Kimball on Chestnut Street.
This house sat vacant for several years, but by the early 1930s it was being rented by Dr. Arthur Edgelow, an English-born physician who lived here with his mother Caroline, his wife Cybel, and their four young daughters: Carol, Catherine, Honour, and Margaret. They were still living here when the first photo was taken in the late 1930s, and the 1940 census shows them paying $80 per month in rent, while also employing two maids. However, the family only lived here for a few more years before moving to a house on Oxford Street in the Forest Park neighborhood.
Over the years, the house declined to the point where, by the early 2000s, it was tax-foreclosed and vacant. The house remained abandoned and boarded-up until 2015, when it was purchased from the city and restored. At some point over the years the porches had been enclosed, so part of the restoration included rebuilding these to match their original appearance, and today the house does not look much different from how it looked when the first photo was taken nearly 80 years ago.