Looking south on Springfield Street from the corner of Stearns Terrace in Chicopee, around 1892. Image from Picturesque Hampden (1892).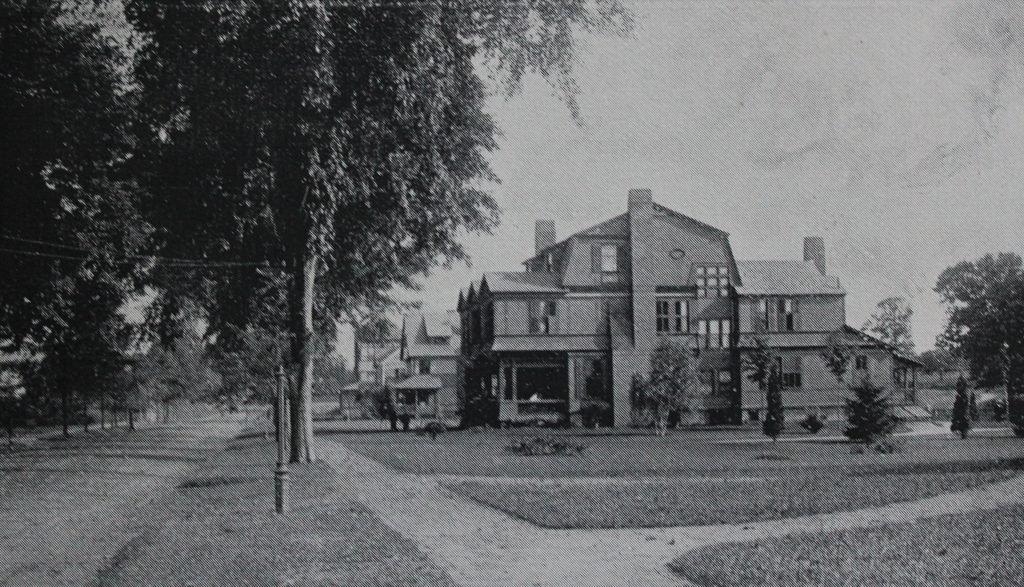 The scene in 2017: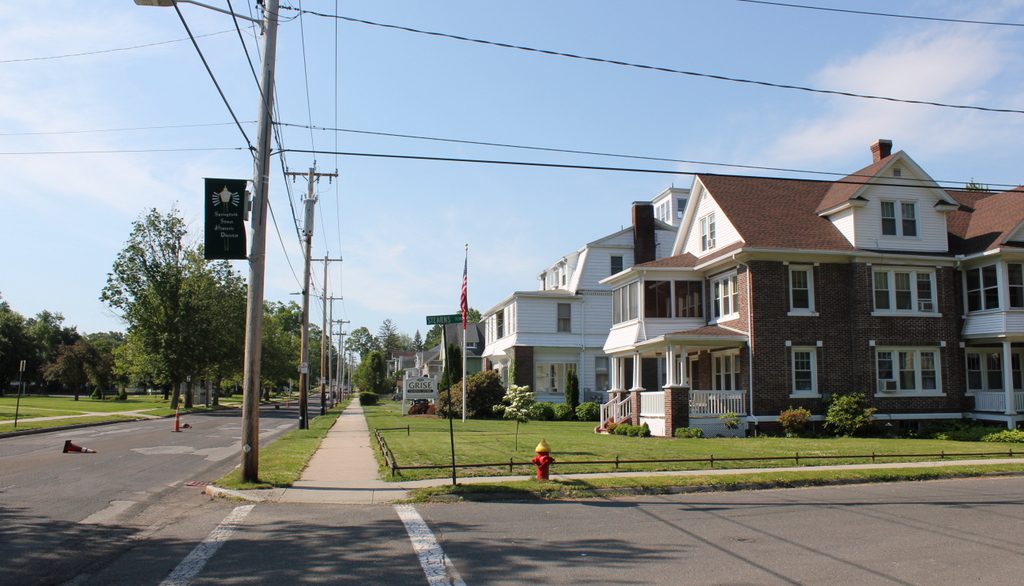 Until the late 19th century, this section of Chicopee was primarily farmland, with little development to the south of South Street and Fairfield Avenue. However, this began to change by the 1880s, as Chicopee grew into a major manufacturing center. This particular area, located just south of the city center between Springfield and Hampden Streets, was developed by Frank E. Tuttle and James L. Humphrey, who built a number of upscale homes on a 50-acre parcel that had once been the farm of Veranus Chapin. The development was named Veranus in his honor, and consisted of gently-curving side streets, as well as an elm-lined Springfield Street, as seen here.
The house in the center of the photo was Frank Tuttle's own home, and was built in 1888 on the west side of Springfield Street. Originally from Chicopee, Tuttle had moved to Springfield with his parents when he was a teenager, and he spent his early adulthood working as a bookkeeper for Howard & Brothers, a railroad supply company. He later went into business for himself, forming a partnership with John Olmstead. They dealt in cotton waste, using excess material from cotton mills to produce items such as felt mattresses, carpet linings, floor mops, comforters, and a variety of other consumer products. Their company was originally located in Springfield, but in 1887 they moved to a new facility here in Chicopee, next to the land that he and Humphrey would develop.
Frank Tuttle's first wife was Mary C. Stearns, whose father, George M. Stearns, was a politician and lawyer who, from 1886 to 1887, served as the United States Attorney for the District of Massachusetts. They were married in 1876, and had two children, one of whom died in infancy. Mary died in 1883, and two years later Frank remarried to Sarah F. Knapp. He and Sarah did not have any children together, but they lived here in this house with Emily, Frank's daughter from his first marriage, who was about 10 years old when this house was built.
Frank lived here in this house until his death in 1913, and within a few years Sarah and Emily moved to Boston. However, Sarah later returned to western Massachusetts, living in Springfield until her death in 1947. In the meantime, this house was sold to Charles C. Abbey, a businessman who owned the Springfield Coal and Wood Company. Along with this, he was the president of the Chicopee Falls Wheel Company and the Chicopee Co-Operative Bank, and he was also a director of the Chicopee Street Railway. Charles lived here with his wife Emily and her elderly mother, Mary Lombard, until his death in 1919 at the age of 66. Emily's father had died in 1865 while serving in the Civil War, and her mother died in 1920, at the age of 89.
Emily moved out of this house soon after her mother's death, and by the late 1920s the house had become the Grisé Funeral Home. At some point over the years, the house saw some changes, including an addition of a cupola, some alterations of the second-story porch, and modern siding. However, it is still in use as the Grisé Funeral Home, and it is part of the Springfield Street Historic District on the National Register of Historic Places.
The surrounding neighborhood has also undergone some significant changes since the first photo was taken. Most of the homes that Tuttle and Humphrey built in the late 19th century are still standing, but there are also a few more recent homes, including the one on the right side of the photo, which was built in 1926. The elm trees that once lined Springfield Street are long gone, presumably lost to Dutch Elm Disease in the mid-20th century. However, the name of the trees lives on with The College of Our Lady of the Elms, better known as Elms College, which is located directly across the street from here on the left side of the photo.