Looking north on Broadway from near the corner of Spring Street in Newport, around 1904. Image courtesy of the Providence Public Library.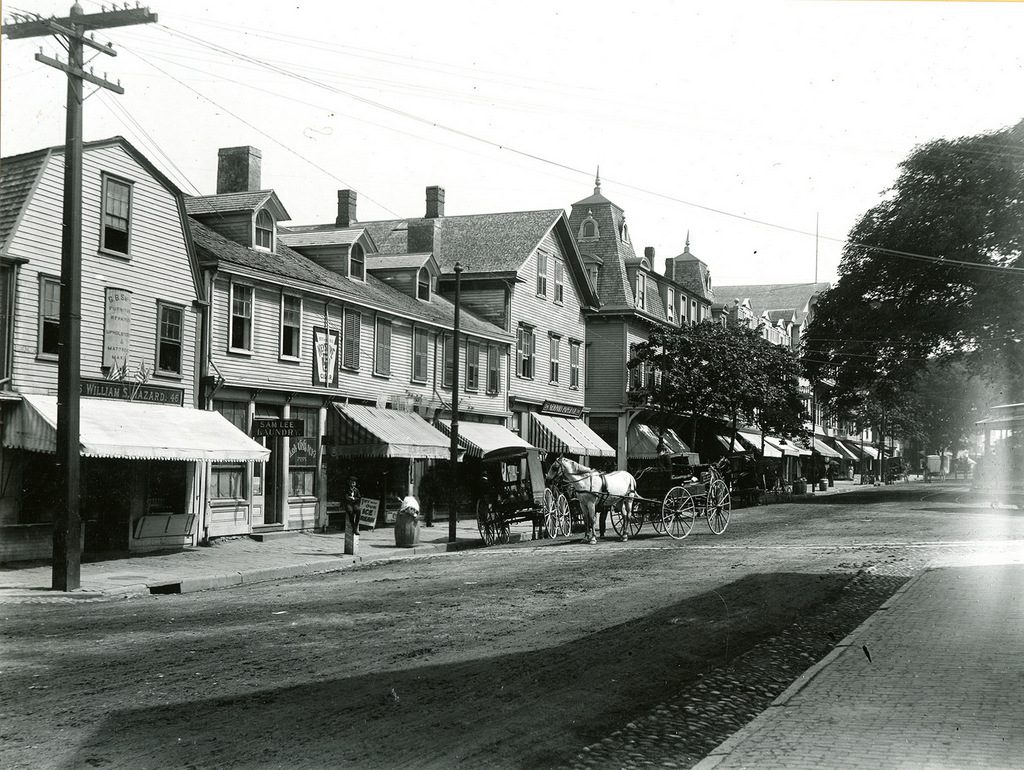 The scene in 2017: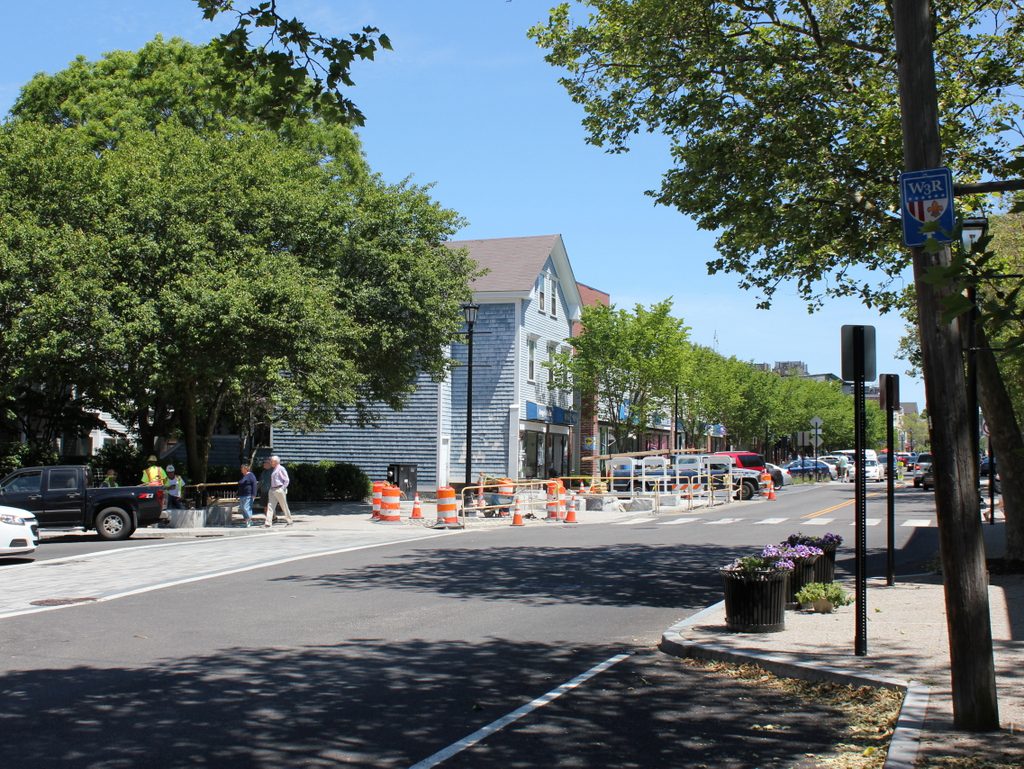 When the first photo was taken, the west side of Broadway was lined with a variety of wood-framed commercial buildings that dated back to the 19th century. The ones in the foreground, at the corner of Marlborough Street, appear to have been the oldest, with the gambrel-roofed building on the far left probably over a century old at this point. The building just to the right of it, with the three dormer windows, may have been almost as old, and was probably built in the early decades of the 19th century. Just beyond it, the gable-roofed building was somewhat newer, dating to around the 1840s, and the larger, more ornate building on the right side was probably built around the 1860s or 1870s.
The first photo shows signs for a number of different businesses in these storefronts. The one on the left was William S. Hazard's meat market, while G. B. Smith's furniture repair company was located out of the back of the building. Continuing to the right was Sam Lee Laundry, followed by an ice cream shop with a sign on the sidewalk that reads "Try our ice cream." A carriage blocks the view of the next storefront, but the gable-roofed building to the right of it has a sign for the Newport Paper Company. A young boy was apparently posing for the camera, and can be seen seated on a hitching post in front of Sam Lee Laundry.
Today, much of downtown Newport has remained remarkably well-preserved, but this particular scene along Broadway has seen more drastic changes over the past 113 years. Only one building, the 1840s gable-roofed one in the center of the scene, is still standing from the first photo. The two buildings on the left are long gone, and the site is now a small plaza at the corner of Broadway and Marlborough Street. Further in the distance, these buildings were demolished by the late 1920s to build the Paramount Theatre, which opened in 1929. This project also included the construction of one-story commercial buildings on either side of the theater, and these are still standing today. The theater building is also still there, partially visible in the distant center, but it was converted into apartments in the 1980s.