Looking west on Pelham Street from the corner of Spring Street in Newport, around 1883. Image courtesy of the Providence Public Library.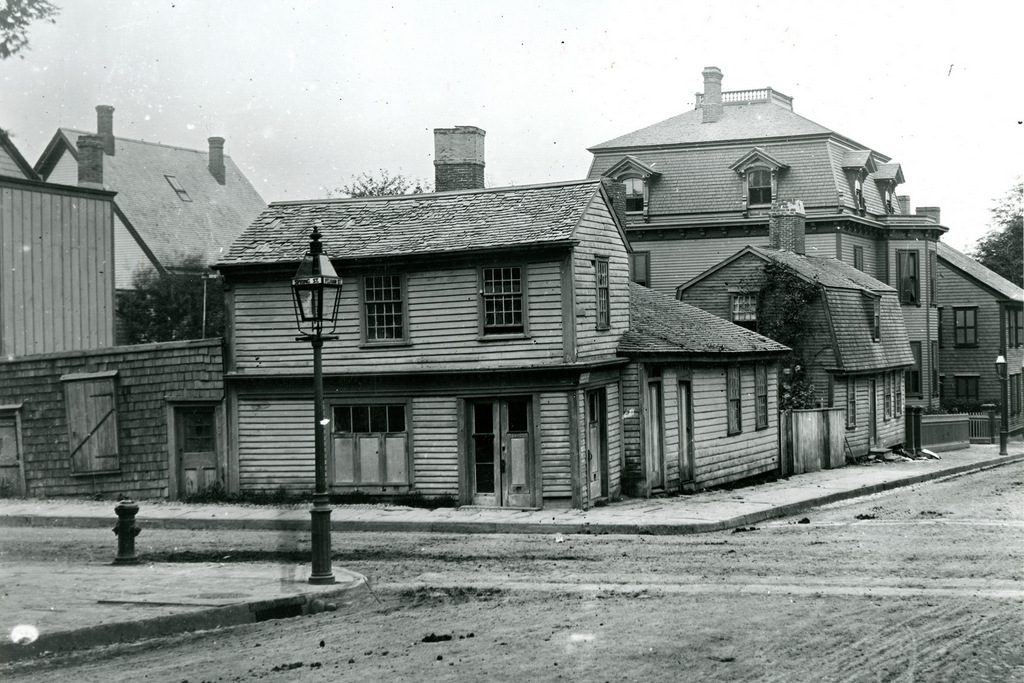 The scene in 2017: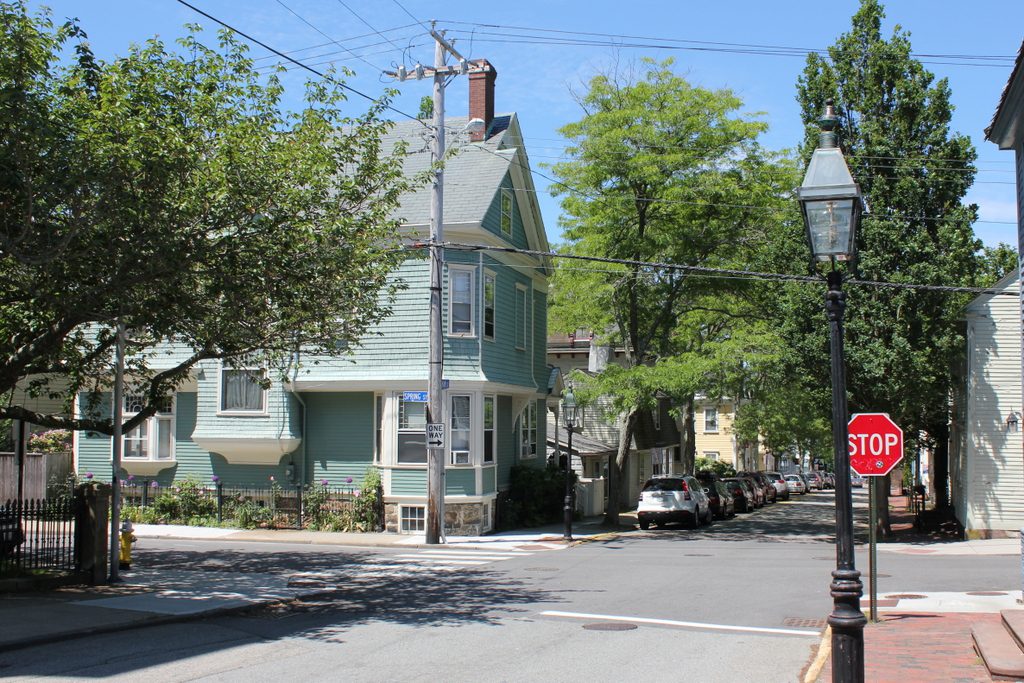 Newport is well-known for its many Gilded Age mansions, but long before it was a summer playground for the rich and famous it was a prosperous seaport. Unlike the massive homes and spacious lawns of the Bellevue Avenue area, the center of Newport features narrow colonial-era streets, lined with historic 18th and 19th century houses. Spring Street, which runs from left to right through this scene, is one of the primary north-south streets in downtown Newport, and both it and its many cross streets have been remarkably well-preserved over the years, with few significant changes in the past two centuries.
When the first photo was taken, this scene was a mix of modest colonial-era buildings and larger, more elegant 19th century homes. The house at the corner was probably built sometime in the 1700s, as was the small gambrel -roofed house just beyond it on the right side, which predates the American Revolution. The exact date of this smaller house is unclear, but it was built sometime before 1771, and was the home of Lucina Langley. Just beyond the Langley house is a much more modern house at 41 Pelham Street. It was the home of Anthony Stewart, Jr., and it was built sometime around the 1860s or early 1870s.
More than 130 years after the first photo was taken, the only significant change in this scene is the house on the corner. The original colonial-era house was demolished shortly after the photo was taken, and its replacement is still standing today. Completed in 1883, this house was originally the home of William M. Austin, a house painter who had a prosperous business here in Newport. He was a lifelong resident of the city, and served on the city council, representing Ward 4 from 1884 to 1890. He and his wife Emily had three children: Percy, Susan, and Edward. Susan died young, long before the family moved into this house, but their two sons followed their father into the painter's trade, eventually taking over the business after William's death in 1897.
Since then, this scene has remained essentially unchanged. His house is still there, and now operates as the Austin House Inn. Further down Pelham Street, both the Langley and Stewart houses are still standing, as are the other historic 18th and 19th century homes on the street. Like much of downtown Newport, this area retains its colonial-era appearance, and the neighborhood now forms the Newport Historic District, which was designated as a National Historic Landmark in 1968.