The house at 7 Crescent Hill, at the corner of Pine Street in Springfield, around 1938-1939. Image courtesy of the Springfield Preservation Trust.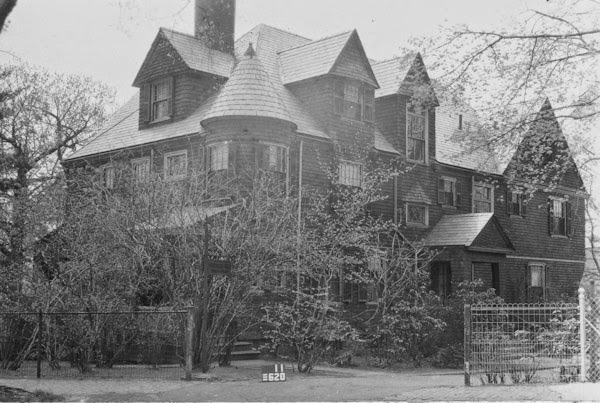 The house in 2017: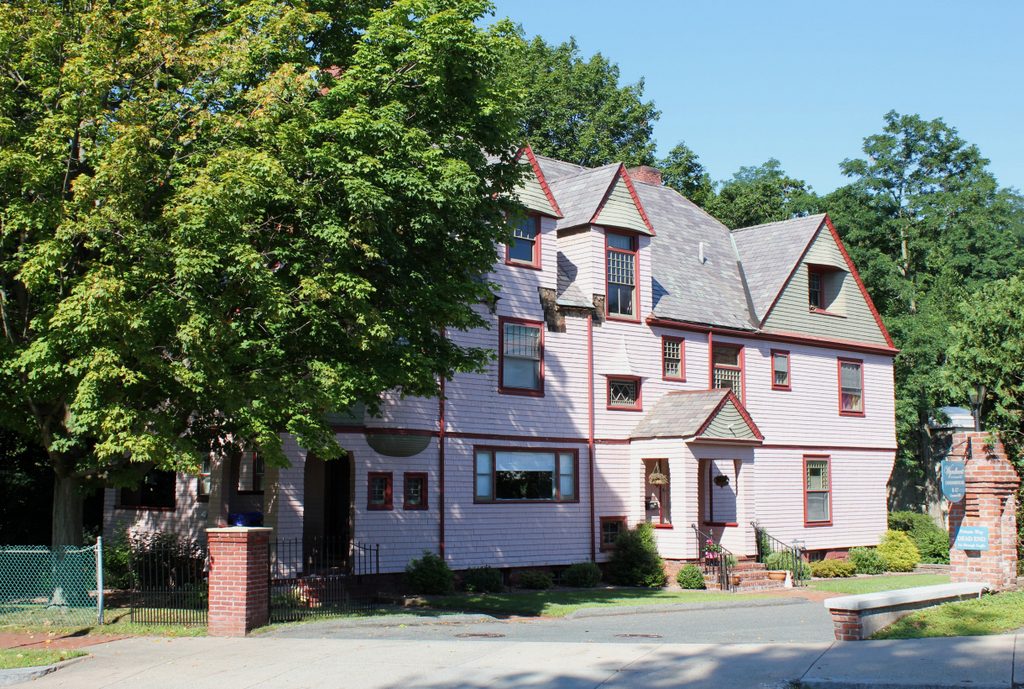 This house is one of the finest surviving examples of Shingle-style architecture in Springfield, and was built in 1888. It was designed by the prominent Boston architectural firm of Hartwell and Richardson, and was originally the home of Harriet Southworth, the widow of paper manufacturer Edward Southworth. Her son Mase lived next door in a similar house at 6 Crescent Hill, and Harriet lived here until about 1905, when, according to that year's city directory, she moved south.
Harriet Southworth apparently did not return to Springfield, but she owned this house until her death in 1910. In that same year's census, the house was being rented by Charles H. Hall, a merchant who was the president and treasurer of Charles Hall, Inc. This store, which sold china, glass, silverware, lamps, furniture, and other high-end household goods, was established in Springgield in 1873 by his father, who was also named Charles. The son of former Vermont congressman and governor Hiland Hall, the elder Charles had moved to Chicago in 1871 to run a boot and shoe company, but lost everything in the Great Chicago Fire later that year. He moved to Springfield two years later, where his son Charles was born in 1874.
The younger Charles took over the company after his father's death in 1907, and by the 1910 census he was living here in this house with his wife Grace and their three young children: Nichols, Hiland, and Elizabeth. Although they were renting at the time, Charles later purchased the house, and by the next census in 1920 they had a fourth child, Mary, along with three live-in servants. The family remained here until the early 1930s, but by 1933 they had moved to New York, where Charles and Grace lived until their deaths in 1959 and 1968, respectively.
By the time the first photo was taken, the house was being rented by Arthur M. Rowley, a salesman who lived here with his wife Earla, their son Douglas, their daughter Earla, and her husband, Parker Carlson. Arthur had grown up here on Crescent Hill, in a nearby house that had been demolished around the 1920s. His grandfather, Homer Merriam, had been president of G. & C. Merriam, the prominent Springfield-based dictionary publishers, and his father, H. Curtis Rowley, was the company's treasurer. Arthur also worked for the company, and he lived with his father in his Crescent Hill house until the family relocated to Forest Park in the mid-1910s. However, he returned to Crescent Hill by the late 1930s, and rented this house until around 1943, when he moved to Suffield, Connecticut.
By the early 1950s the house was the home of Leonard and Jeanette Brown. Leonard was an insurance agent, and Jeanette was a librarian, but they were both also noted art patrons. Their collection included works of Abstract Expressionism, Dada, and Surrealism, and they also amassed a significant archive of materials relating to these 20th century art movements, which Jeanette would later sell to the J. Paul Getty Center for the History of Art and the Humanities in 1985. Their son, Jonathan Brown, also lived here in this house, and went on to become a noted art historian, specializing in Spanish art.
Jeanette and Leonard lived here in this house until Leonard's death in 1970, and Jeanette subsequently moved to Tyringham, where she lived until her death in 1994. In the meantime, this house has remained well-preserved, with few exterior changes since the first photo was taken almost 80 years ago. Along with the other historic homes in the neighborhood, it is now part of the Ames Hill/Crescent Hill Historic District, which was added to the National Register of Historic Places in 1974.